KeyBank Honors Former KeyCorp Chairman & CEO Beth E. Mooney with $2 Million Investment in Diversity, Equity and Inclusion Efforts in Cleveland
KeyBank Honors Former KeyCorp Chairman & CEO Beth E. Mooney with $2 Million Investment in Diversity, Equity and Inclusion Efforts in Cleveland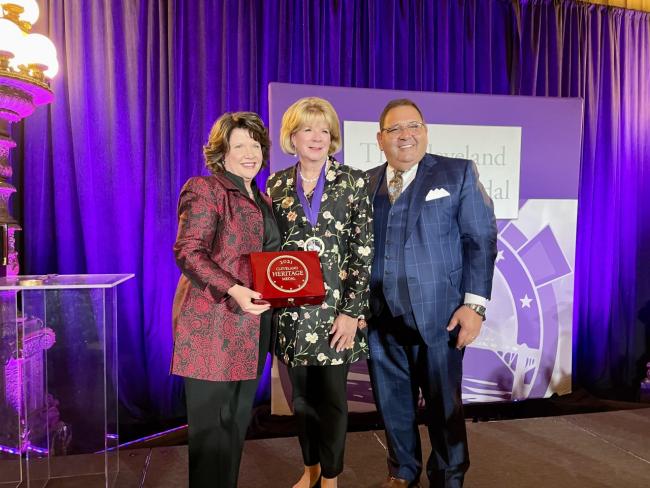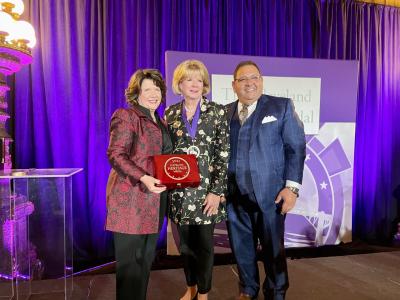 Friday, November 19, 2021 - 9:00am
CLEVELAND, November 19, 2021 /3BL Media/ – KeyBank is celebrating the legacy of former KeyCorp Chairman & CEO Beth E. Mooney with investments in two local institutions, the Cleveland Clinic and Cleveland State University. The gifts, totaling $2 million, honor Mooney and her unwavering commitment to diversity, equity, and inclusion.
$1 million to the Cleveland Clinic ASPIRE Program: The ASPIRE program provides minority high school students with career information, skills training and mentorships in healthcare. Upon high school graduation, they begin post-secondary studies alongside part-time employment at Cleveland Clinic. This pipeline of future professionals plays a vital role in increasing diversity in the healthcare field.
$1 million to establish The Beth E. Mooney Center for Transformative Leadership at Cleveland State University: The Center will offer groundbreaking, interdisciplinary education, and civic and professional leadership training for leaders who will serve Northeast Ohio for decades to come.
Both grants were announced on November 18th at a ceremony honoring Mooney and three other recipients of the 2021 Cleveland Heritage Medal. Modeled after the Presidential Medal of Freedom, the Heritage Medal recognizes those who have made meritorious contributions to the welfare and development of Cleveland and its citizens and who, as role models, represent the core values of service to others, teamwork, courage, respect, inclusion and diversity.
"Each one of us at KeyBank are better bankers and better leaders for having worked alongside Beth Mooney. She championed a culture of diversity, inclusion, philanthropy and volunteerism and pointed our collective efforts toward delivering on Key's dual purpose of helping our clients and communities thrive," said KeyCorp Chairman and CEO Chris Gorman. "Both of these investments reflect Beth's values-forward leadership and her belief in the power of public and private partnership to lift a community."
"Beth's commitment to our patients and caregivers has been unwavering. Equally, she has been a champion of educational opportunities for minority students. We are grateful for our friendship with Beth and KeyBank these many years and delighted to be partnering on the ASPIRE training program in Northeast Ohio," said Tom Mihaljevic, MD, CEO and President, Cleveland Clinic.
"Beth Mooney is a leader who pays it forward," said Cleveland State University (CSU) President Harlan Sands. "There is no better tribute to her legacy than a learning center that prepared regional managers and CSU students from a wide range of disciplines to lead. KeyBank's generosity will help us prepare the next generation of transformational leaders – leaders that will emulate Beth's values and commitment to community."
Mooney served as KeyCorp's Chairman and CEO from 2011 until her retirement in 2020 and was the first woman to serve as Chairman and CEO of a top-20 U.S. bank. Her steady leadership guided KeyCorp through the recovery from the 2008 financial crisis. In 2015, Mooney also led KeyCorp's acquisition of First Niagara Financial Group based in Buffalo, NY, the largest industry merger since the financial crisis. She was named the Most Powerful Woman in Banking in 2013, 2014 and 2015 and ultimately Banker of the Year in 2017 by American Banker.
Through Mooney's efforts and leadership, KeyBank transformed into a top tier regional bank and well positioned for sound, profitable growth. Mooney also left behind a strong, values- forward culture of being both a responsible bank and citizen in all of the communities that Key serves. Mooney was also the recipient of Cleveland State University's Presidential Medal, the highest non-academic honor, in 2018.
Mooney is currently Chair of the Board of Directors of the Cleveland Clinic, and is a director of Accenture, AT&T and Ford Motor Company. She is also a member of the Board of Trustees of The Conference Board, a member of the Business Council, and a Trustee of the Board of the Musical Arts Association, which operates the Cleveland Orchestra.
Mooney holds an MBA in Finance from Southern Methodist University and earned her bachelor's degree from the University of Texas at Austin.
ABOUT KEYBANK
KeyBank's roots trace back nearly 200 years to Albany, New York. Headquartered in Cleveland, Ohio, KeyCorp is one of the nation's largest bank-based financial services companies, with assets of approximately $187.0 billion at September 30, 2021. Key provides deposit, lending, cash management, and investment services to individuals and businesses in 15 states under the name KeyBank National Association through a network of more than 1,000 branches and approximately 1,300 ATMs. Key also provides a broad range of sophisticated corporate and investment banking products, such as merger and acquisition advice, public and private debt and equity, syndications and derivatives to middle market companies in selected industries throughout the United States under the KeyBanc Capital Markets trade name. For more information, visit https://www.key.com/. KeyBank is Member FDIC.