The IWBI Special Report Chapter Series: "Sustainability Requires Both Thriving People and a Thriving Planet"
The IWBI Special Report Chapter Series: "Sustainability Requires Both Thriving People and a Thriving Planet"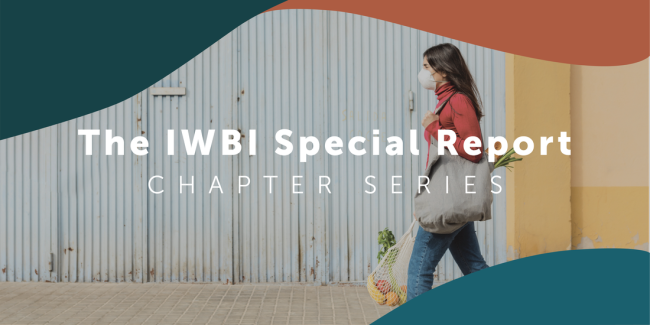 Thursday, February 3, 2022 - 2:30pm
The IWBI Special Report Chapter Series: "Sustainability Requires Both Thriving People and a Thriving Planet"
In 2021, IWBI released an in-depth report that lays out research approaches and specific operational strategies as the world continues to respond to the COVID-19 pandemic and prepares for acute health threats into the future. Prevention and Preparedness, Resilience and Recovery: An IWBI Special Report integrates proven strategies from the WELL Building Standard (WELL) and actionable insights garnered from IWBI staff and nearly 600 members of the Task Force on COVID-19 and Other Respiratory Infections.
We've been reposting chapters from the report to help highlight specific themes and insights. The IWBI Special Report Chapter Series continues with "Sustainability Requires Both Thriving People and a Thriving Planet," authored by Jessica Cooper, WELL Faculty, LEED AP, NCIDQ, Chief Commercial Officer.
Excerpt republished from: Prevention and Preparedness, Resilience and Recovery: An IWBI Special Report
The COVID-19 pandemic is a powerful reminder of the complex and fundamental connections between human health, responsible development and the long-term sustainability of our planet.
Human activity has long damaged and disrupted ecosystems, impacts that contribute to the emergence of new illnesses like SARS, MERS and, most recently, COVID-19. Rapid urbanization has also accelerated the rapid transmission of such diseases—especially in communities that lack access to clean water, clean air and quality health care. Meanwhile, the worldwide drop in carbon emissions resulting from COVID-19-related lockdown measures clearly illustrates humanity's impact on the environment.
With much of the global economy on pause during the pandemic, greenhouse gas emissions are projected to decline by the largest rate on record. And while it will take seeing a level of decline of this magnitude every year if we are to make good on our mandate to mitigate climate change, we can't continue to shutter the economy as a strategy to achieve this goal. Rather, if we tackle the system as a whole—industry, energy, buildings, transportation, food production and waste management—we can run more sustainably for the longer term. Why? Because human health and planetary health, at scale, are the same thing…
Excerpt: The Next Revolution: The Mutual Attainability of Health and Sustainability
Thanks to the pioneering efforts of leaders in the sustainability movement, the environmental and economic benefits of building green are well established. After all, the building and construction sectors account for 39 percent of global carbon emissions. Meanwhile, sustainable building practices reduce electricity usage by 25 percent and decrease overall operating costs by 20 percent. The case is now clear that building green can benefit both our planet and our bottom lines.
At the same time, it is increasingly apparent that we've only scratched the surface of what's possible. Leaders in sustainability may miss out on huge opportunities to maximize their investments if they don't make similar commitments in the area of human health. And our society's response to COVID-19 can serve as a tipping point for the next revolution, in which sustainability leaders also embrace the role they can take in the realm of public health…
Excerpt: Real Buildings, Real Benefits
Researchers have made a clear and convincing case for the potential of building with both sustainability and human health in mind. And these benefits represent more than a theoretical exercise. All across the world, innovative builders and designers are demonstrating how to identify and capitalize on the natural synergies between planetary and human well-being.
One exemplary model is EDGE Olympic in Amsterdam, which is known across Europe as a state- of-the-art, sustainable and smart building. The space constantly evaluates and optimizes indoor air flow by using more than 1,600 air quality sensors. At the same time, its energy-efficient ventilation system helps the building minimize its environmental impact and achieve energy neutral status. In addition, EDGE Olympic contains a series of biophilic design features, including abundant plant life. These natural sources of oxygen help cut down on ventilation-related energy costs and are also proven to improve people's mental health…
Excerpt: The Future of Work: People, Place and Planet in the time of Pandemic
Of course, over the past months, we have seen the second wave of sustainability encounter another transformational global force: the emergence of COVID-19. The pandemic is fundamentally reshaping the nature of work—and with it, the impact our working culture has on human and environmental health. These changes will take place not only inside the buildings where we work, but also in how we arrive at and move between them.
The pandemic underscores the urgent need to center our physical surroundings around safeguarding human health. And while the examples discussed above offer bold and inspirational solutions that may serve as models for other institutions, not every organization may be in a position to completely redesign their existing office spaces. Fortunately, there are several immediate actions most individuals and organizations can take within their buildings to better balance the health- and sustainability-related challenges posed by this crisis.
Conclusion
We're all eager to return to a world where the threat of COVID-19 is no longer an all-encompassing concern. But the reality is that we cannot—and should not—go back to life exactly as it was before the pandemic.
We must take advantage of the moment before us. We have an opportunity to embrace the inextricable relationship between advancing sustainability and human health and to champion the role that business leaders, architects, designers and their sustainability consulting partners can play in pushing our society forward…
It's a future we all are eager to embrace.
Read the full section here.