The IWBI Special Report Chapter Series: "A European Experiment: Independence and Interdependence"
The IWBI Special Report Chapter Series: "A European Experiment: Independence and Interdependence"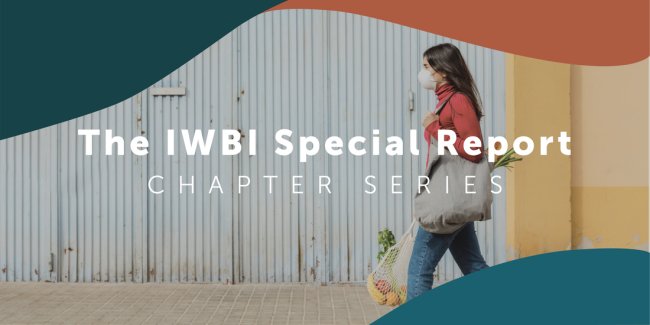 Monday, November 29, 2021 - 10:15am
In September 2021, IWBI released an in-depth report that lays out research approaches and specific operational strategies as the world continues to respond to the COVID-19 pandemic and prepares for acute health threats into the future. Prevention and Preparedness, Resilience and Recovery: An IWBI Special Report integrates proven strategies from the WELL Building Standard (WELL) and actionable insights garnered from IWBI staff and nearly 600 members of the Task Force on COVID-19 and Other Respiratory Infections.
Over the next few months, we will repost a chapter from the report every week to help highlight specific themes and insights. The IWBI Special Report Chapter Series continues with "A European Experiment: Independence and Interdependence" authored by IWBI's Ann Marie Aguilar, WELL Faculty, LEED AP, CEnv., Senior Vice President, Commercial, EMEA Region and Kristen Coco, Vice President, External Affairs.
Excerpt republished from: Prevention and Preparedness, Resilience and Recovery: An IWBI Special Report
Freedom of movement is a fundamental right of European Union citizenship. Along with the passport comes the freedom to live and work in any of the 27 member states. But of course, Europe is more than just the EU. It is a continent with 51 independent countries, each with its own borders and governments—and, therefore, each with its own response to COVID-19.
As interdependent as these countries are in terms of travel and trade, each maintains autonomy over its public health protocols. In fact, treaties among EU member states often prohibit "interference" with each other's health systems. The European Centre for Disease Prevention and Control (ECDC) only has jurisdiction within the European Economic Area (EEA), a free trade zone that includes EU countries as well as Iceland, Liechtenstein and Norway.
With no continental public health authority to set unified guidelines, each country's government has had to decide for itself how best to tackle the pandemic. This has slowed down the response across the continent, as different jurisdictions tackle hyper-local circumstances.
Throughout Europe, many measures have been effective in slowing the virus, such as handwashing, social distancing and, most recently, wearing masks in public places. But since each country has different rules and policies—not to mention different cultures, economies and healthcare systems—the results vary…
Excerpt: Eastern Europe: Early but Inconsistent Action in Poland and the Czech Republic
Early action is key, but so is persistence. Throughout most of Eastern Europe, proactive measures slowed the early spread of the virus, putting governments in a better position to respond to the shocks and snares that followed.
For example, Poland was the first country in Europe to close its borders, entering lockdown on March 11, 2020, after it recorded just 0.1 cases of COVID-19 per 100,000 people. On average, Central and Eastern European (CEE) countries announced lockdown measures with less than 0.5 cases per 100,000 people, compared to average Western European levels of 6.4 per 100,000. Slovenia leapt into action when the situation worsened in neighboring Italy, closing its borders to prevent rampant viral transmission.
The governments of Eastern Europe immediately implemented widespread testing, and countries like the Czech Republic and Slovakia mandated the wearing of face masks earlier, too. At first, Eastern Europeans respected the new rules, and the virus was kept under control…
Excerpt: Western Europe: A Tale of Two Systems
Long-term investment in public health infrastructure is critical. In Germany, a swift initial response to COVID-19 helped keep the early death rate low. As in Eastern Europe, the German government implemented preventative measures early, administered a high volume of testing and activated their robust healthcare system to contain the virus.
Several specific characteristics of the German healthcare system gave the country a significant advantage. General practitioners were available to treat Germans with mild COVID-19 cases, leaving more availability for hospitals to provide emergency care for those suffering more severely. With adequate time to prepare for the virus, the country was able to increase its ICU capacity by 12,000 beds…
Excerpt: Southern Europe: Italy, the One-Time Hotspot
Lockdown measures work, but only if everyone follows the rules. The first case of COVID-19 in Italy occurred in mid-February in the small, northern town of Codogno. The local government implemented a lockdown immediately, and Codogno avoided the worst of the oncoming pandemic. The rest of Italy was not so swift to take action—and, as a result, not so fortunate.
This includes the province of Bergamo, which borders the province of Lodi where Codogno is located. Life in Bergamo remained relatively unchanged until March 8, 2020, despite the lockdown enacted in Codogno. Then, during a five-day span that month, positive cases in Bergamo surged by 76 percent—compared to only a 21 percent increase in Lodi…
Excerpt: Northern Europe:Sweden's Unique Response
Government intervention is a necessary part of its public health response. As countries across Europe scrambled to determine which measures would best slow the spread of COVID-19, Sweden took a different approach. It did almost nothing at all.
The Swedish government recommended a voluntary lockdown for its residents without imposing a mandatory one. The only compulsory measure was a ban on gatherings of 50 people or more. This was later reduced to eight. One reasoning behind this inactivity was to achieve herd immunity—that is, when a community at large is immune because a high enough proportion of individuals in the population are immune, either by vaccination or infection…
Excerpt: Freedom of Movement: Migrants and Asylum Seekers
Of course, some issues are bigger than any one country or region. For many of the migrants seeking refuge in Europe, border closures have meant homelessness and even death. Millions of asylum seekers have come to Europe over the past five years, displaced by conflict and instability in home countries in the Middle East and Northern Africa. For these families, the pandemic has been even deadlier.
The migrant crisis in Europe came to a head in 2015–16, when more than one million people came to the continent in search of a better life. Europe's asylum systems were already on the edge of crisis long before COVID-19. The pandemic has pushed some of them into full-fledged disaster mode…
Conclusion
Going forward, the ECDC can consider extending and enhancing its role by funding public health research and disease prevention efforts. This will pave the way for a truly coordinated European response, working with the WHO Regional Office for Europe. At the same time, given the impact of COVID-19 on 51 distinct but connected economies, the European Central Bank (ECB) will have a part to play as well.
But if there is one lesson to take away from the course of the pandemic in Europe—with its 51 independent and interdependent states—it is the importance of coordination and communication. That's how Europe—indeed the world—will move past this moment and be better prepared for the moments to come.
Read the full section here.