Interns Win with Artificial Intelligence Drone for Reconnaissance at Booz Allen's Summer Games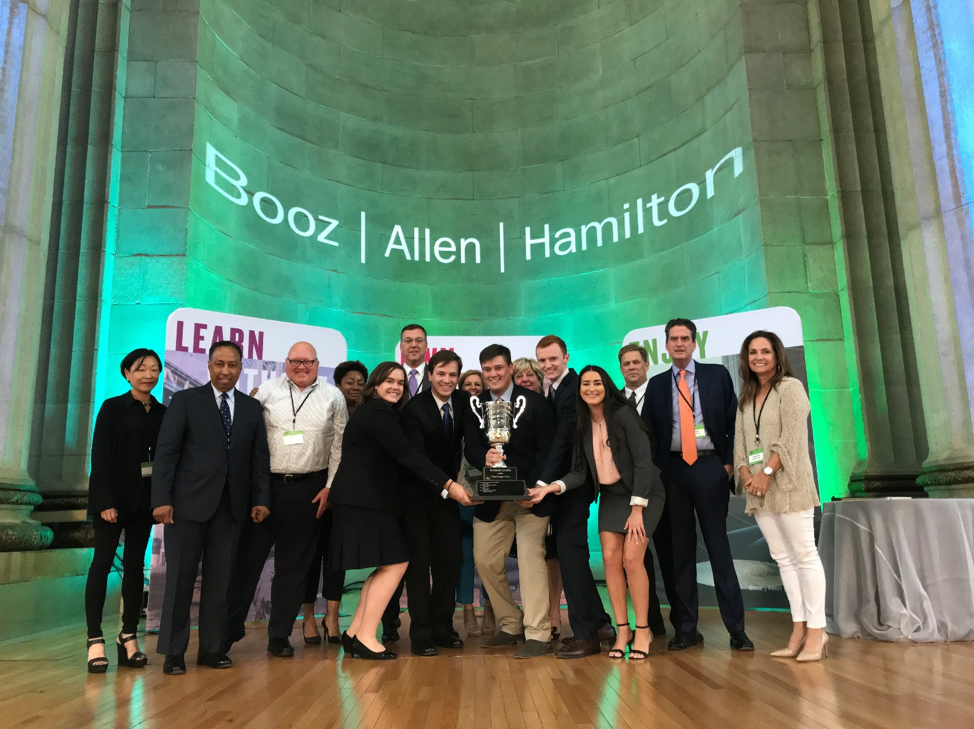 Winning Summer Games Intern team with Booz Allen leadership.
Move over Shark Tank—Booz Allen's Summer Games interns are budding entrepreneurs in their own right. Whether the solution is a modular, cost-effective reconnaissance drone, a mixed-reality airmanship training application, or a browser extension that detects fake news, the firm's interns are taking their innovative ideas to the next level.
After 10 weeks of intense collaboration as nearly 400 interns researched, developed, and designed functional client solutions, it was crunch time. In mid-August, more than 80 intern teams presented their projects to a panel of senior leaders at Booz Allen. Ten teams advanced to the final round, and one team won the coveted Challenge Cup.
Learn more about the winning team's solution in their own words:
Customized Drone Harnesses Machine Learning for Quicker Decision Making

"We designed, fabricated, tested, and validated an unmanned aviation system, or drone, that can provide instant aerial reconnaissance for our nation's warfighters," says Robyn Kincade of the Huntsville, Alabama-based team.

Dubbed Yellowhammer, the drone integrates machine learning algorithms and intelligence capabilities. It's a simple, plastic device that warfighters can transport in their backpacks—and they can assemble it quickly, without tools. "With a 3D printed frame and print-on-demand replacement parts, Yellowhammer is cost effective and can be snapped together in less than 4 minutes," says Catherine Henderson. Her teammate Bradley Evans adds, "At less than 5 pounds, and about the volume of a basketball, the parts can easily fit into a standard military rucksack."

Most conventional drones stream full-motion video, so limited bandwidth and connectivity hampers the ability to receive and analyze data—but Yellowhammer operates a bit differently. "With onboard image processing and object classification, our drone sends back still images within minutes, for quicker intel and decision making," says Phillip Davignon.

In addition to helping the warfighter, the team envisions expanding the drone's software to aid other mission-critical work. "Customized drones could be used for search and rescue, disaster relief operations, firefighting, and more," adds Ryan Fernandez. "No matter who we're helping, Yellowhammer saves time, money, and—most importantly—lives."
As the summer draws to a close, Booz Allen will say goodbye to all of the doers, drivers, and dreamers that made up this year's Summer Games internship program. The projects that these interns invented over past few months will go on to be further evaluated for client application with the possibility of further development by the interns that transition into full-time employees.
Are you ready to join them… and empower people to change the world? Learn more about Booz Allen's Summer Games internship program, here.