International Paper's Advance Water Stewardship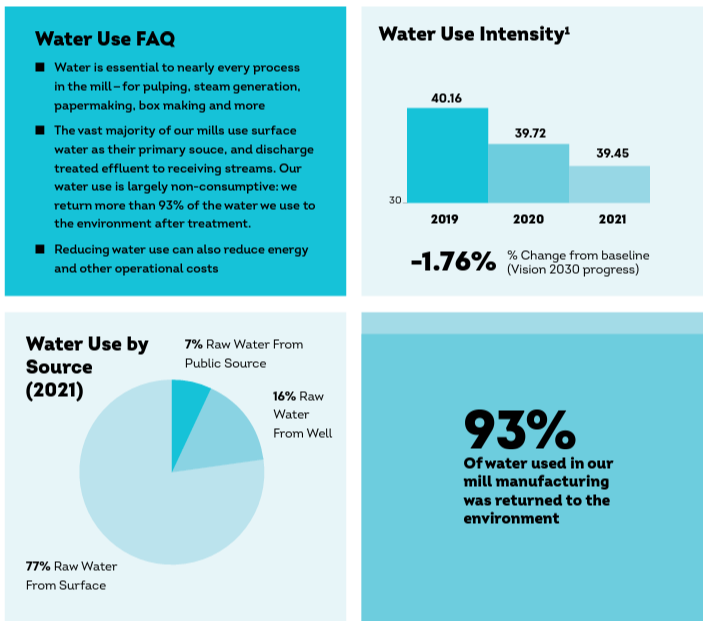 Originally published in International Paper's 2021 Sustainability Report
Water is a critical input to our manufacturing process, and we can play a key role in conserving and protecting local water resources. We are assessing the characteristics of each watershed where we operate in order to address the most important water issues for our company, local communities, other water users and the environment. We are committed to reducing our water use per ton by 25% by 2030.
Our approach is built on a foundation of regulatory compliance, strong internal governance and transparency. Our strategy is led by a high-level, cross-functional leadership team and implemented through a task team of technical experts from across the company.
We conduct a comprehensive facilities water risk assessment through an in-house methodology combining relevant internal and third-party data, including the World Resource Institute's (WRI) Aqueduct Baseline Water Stress indicator. This assessment serves as the foundation for our water stewardship strategy, and guides our prioritization of sites for water-related operational improvements and watershed protection efforts.
In 2021, we completed detailed surveys at each of our mills to help us understand water use, water management systems and practices by location. The effort was led by our mill water champions in coordination with subject matter experts across each mill. Informed by the findings, we launched an internal Water Wise campaign to propel initial water reduction efforts at our operations through the implementation of no- and low-cost best practices. Initial results are promising. In 2021, we reduced water use intensity by nearly 2% from 2019.
The water management survey findings are also informing the development of context-based water management plans for each of our mills. The plans focus on water use reduction and wastewater improvements within our mills and, with input from local stakeholders, developing watershed partnerships to improve the long-term sustainability of our shared water resources.
Our approach is aligned with cross-sector best practice such as Alliance for Water Stewardship standard, and adapted to address industry-specific priorities. In parallel, we are working closely with our industry association, American Forest and Paper Association (AF&PA), to develop a framework promoting common approaches to water stewardship among North American paper and pulp producers. Finally, our partnership with the World Resources Institute through its Aqueduct Alliance program keeps us connected to the latest research, tools and best practices across industries, which inform our strategy on a continual basis.
1 Measured as cubic meters of process water intake per ton of paper & pulp produced
About International Paper
International Paper (NYSE: IP) is a leading global supplier of renewable fiber-based products. We produce corrugated packaging products that protect and promote goods, and enable worldwide commerce, and pulp for diapers, tissue and other personal care products that promote health and wellness. Headquartered in Memphis, Tenn., we employ approximately 38,000 colleagues globally. We serve customers worldwide, with manufacturing operations in North America, Latin America, North Africa and Europe. Net sales for 2021 were $19.4 billion. See how we're building a better future for people, the planet, and our company at internationalpaper.com/Vision-2030.