International Paper Supports Infectious Diseases Hospitals in Poland with Essential Paper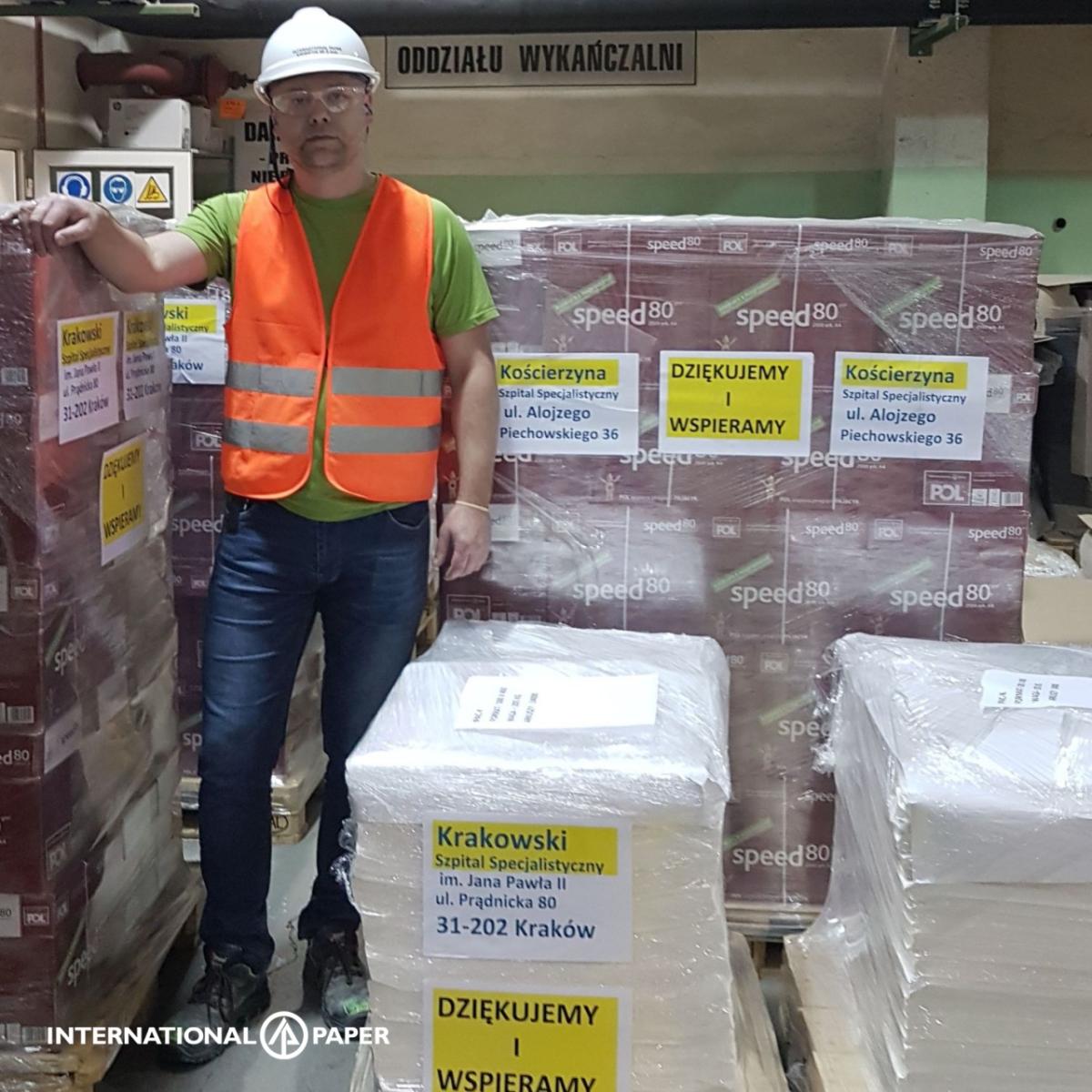 KWIDZYN, Poland, May 1, 2020 /3BL Media/- International Paper (NYSE: IP) is taking action to address critical needs in the communities in which its employee live and work during the unprecedented COVID-19 pandemic. The world's leading producer of renewable, fiber-based packaging, pulp and paper has donated an essential product, paper, to respond to the growing needs of infectious diseases hospitals and medical units in Poland.
The company's Kwidzyn Mill donated 4,500 reams of POL® office paper to hospitals in Pomerania and Lesser Poland where the company has operations in Kwidzyn, Gdańsk and Kraków. International Paper also provided pallets of its IPack Kraft packaging paper, enabling the hygienic packaging of meals for patients and hospital staff.
"As a long standing and committed member of the Polish community, International Paper is pleased to be able to offer support in this time of need with our products that people depend on every day," said Tomasz Brodecki, Kwidzyn Mill Manager. "We thank and applaud all the many Polish people who are working in the front line to fight COVID-19."
About International Paper
International Paper (NYSE: IP) is a leading global producer of renewable fiber-based packaging, pulp and paper products with manufacturing operations in North America, Latin America, Europe, North Africa, and Russia. We produce packaging products that protect and promote goods, and enable world-wide commerce; pulp for diapers, tissue and other personal hygiene products that promote health and wellness; and papers that facilitate education and communication. We are headquartered in Memphis, Tenn., employ more than 50,000 colleagues and serve more than 25,000 customers in 150 countries. Net sales for 2019 were $22 billion. For more information about International Paper, our products and global citizenship efforts, please visit internationalpaper.com.
In Europe, Middle East, Africa & Russia (EMEA), International Paper focuses on the production and marketing of office papers and fiber-based packaging. We are a leading supplier of high-quality cutsize papers, coated and uncoated paperboard and corrugated containers for a wide range of applications, and employ approximately 10,000 people. Net sales for International Paper in EMEA were approximately $3.1 billion in 2019.
###
Media Contacts:
David.Higgins@ipaper.com
Claudia.Brand@ipaper.com