International Paper Provides Funding to Feeding America
Donation provides additional support to fight food insecurity across the nation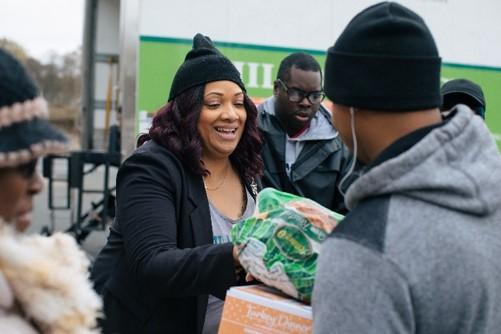 MEMPHIS, Tenn., April 16, 2020 /3BL Media/– International Paper (NYSE: IP), one of the world's leading producers of renewable, fiber-based packaging, pulp and paper, has made a $100,000 donation to Feeding America® to support year-round hunger relief efforts. The donation is above and beyond the company's annual $500,000 Leadership Partner commitment to Feeding America®, which supports the nation's largest relief organization.
The company's latest donation provides additional funding to help ensure the Feeding America nationwide network of food banks, pantries and meal programs continue to serve people who face hunger in America. This support is just one example of International Paper's commitment to the company's signature causes, which include education, hunger, health and wellness, disaster relief and initiatives that improve the planet.
"One in nine people face hunger in America, including more than 11 million children. Feeding America is grateful to International Paper for its commitment to fighting hunger and for helping to ensure that the people we serve don't have to worry about where they will find their next meal," said Lauren Biedron, vice president of corporate partnerships at Feeding America.
"We are committed to mobilizing our resources to address critical needs in the communities where our more than 50,000 employees live and work," said Dr. Alissa Campbell Shaw, senior manager, Community Engagement, International Paper and executive director, IP Foundation. "We commend the strategic and critically important work that Feeding America does to take on food insecurity in our communities."
About Feeding America
Feeding America® is the largest hunger-relief organization in the United States. Through a network of 200 food banks and 60,000 food pantries and meal programs, we provide meals to more than 40 million people each year. Feeding America also supports programs that prevent food waste and improve food security among the people we serve; educates the public about the problem of hunger; and advocates for legislation that protects people from going hungry. Individuals, charities, businesses and government all have a role in ending hunger. Donate. Volunteer. Advocate. Educate. Together we can solve hunger. Visit www.feedingamerica.org, find us on Facebook or follow us on Twitter.
About International Paper
International Paper (NYSE: IP) is a leading global producer of renewable fiber-based packaging, pulp and paper products with manufacturing operations in North America, Latin America, Europe, North Africa and Russia. We produce corrugated packaging products that protect and promote goods and enable worldwide commerce; pulp for diapers, tissue, and other personal hygiene products that promote health and wellness; and papers that facilitate education and communication. We are headquartered in Memphis, Tenn., employ more than 50,000 colleagues and serve more than 25,000 customers in 150 countries. Net sales for 2019 were $22 billion. For more information about International Paper, our products and global citizenship efforts, please visit internationalpaper.com.
###
Media Contact: Thomas J. Ryan, 901-419-4333