Illumina's Chief Financial Officer, Sam Samad, Selected As a San Diego Business Journal 2022 CFO of the Year
Illumina's Chief Financial Officer, Sam Samad, Selected As a San Diego Business Journal 2022 CFO of the Year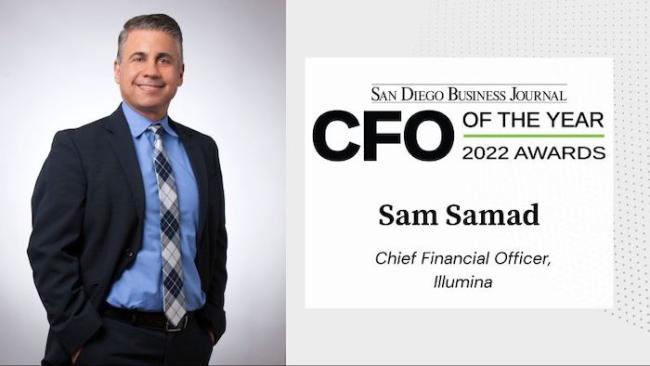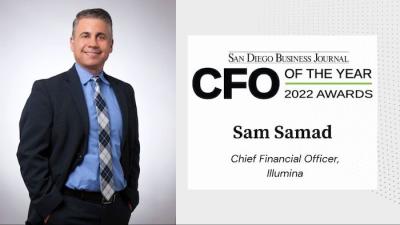 Monday, April 18, 2022 - 1:00pm
Congratulations to Sam Samad, Illumina's Chief Financial Officer (CFO), on being selected San Diego Business Journal's 2022 CFO of the Year!
Sam Samad joined Illumina in 2017 and holds the role of Chief Financial Officer with responsibility for the company's finance, accounting, investor relations, internal audit, treasury, and global information systems functions.
Before joining Illumina, Samad held several senior leadership positions at Cardinal Health including Senior Vice President and Corporate Treasurer, leading all tax and treasury functions. During his tenure as Treasurer, Samad served as Senior Vice President and Chief Financial Officer for Cardinal Health's $85B pharmaceutical segment, among other leadership roles. Prior to Cardinal Health, Samad spent thirteen years at Eli Lilly and Company, in a variety of sales and finance roles, both domestically and internationally, including his role as Chief Financial Officer of the Canada affiliate prior to leaving Eli Lilly. Samad started his career at Pepsico Inc.
Samad has served as Director on the Board for IDEXX Laboratories, Inc. (IDXX) since July 2019 and on the Board of Visitors at the Owen Graduate School of Management since 2016.
Samad holds a BBA degree from the American University of Beirut in Lebanon and an MBA from McMaster University in Hamilton, Canada.
Sam's integrity and commitment to Illumina and the community inspire us daily. We are grateful for his leadership as we advance Illumina's mission to improve human health by unlocking the power of the genome.
Learn more about Illumina here