Illumina Recognized as a Top-Scoring Company on Disability:IN and American Association of People With Disabilities' Disability Index
Illumina Recognized as a Top-Scoring Company on Disability:IN and American Association of People With Disabilities' Disability Index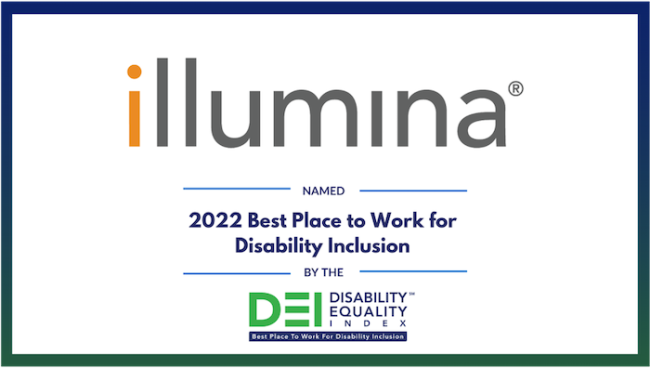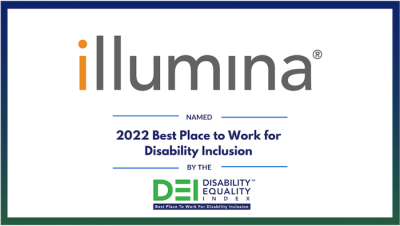 Thursday, July 21, 2022 - 9:00am
Illumina is proud to be a top-scoring company on Disability:IN and American Association of People with Disabilities' Disability Equality Index and recognized as a Best Place To Work for Disability Inclusion.
The inclusion of people with disabilities is core to our commitment to foster a diverse and inclusive culture as we work to advance equity and belonging in all that we do. 
Some of our ongoing disability inclusion efforts include:
Working to ensure that our recruitment and employment journeys include accommodation practices that fully consider and include individuals with disabilities.
 
Raising awareness, understanding, and knowledge of disabilities, disability employment, and the disability community through educational conversations and employee events.
 
Ensuring that our benefits support individuals with disabilities.
 
Making our communications more inclusive, including having an ASL interpreter for company-wide meetings.
 
Increasing our partnerships with diverse suppliers including disabled person-owned businesses.
Learn more about Illumina's Corporate Social Responsibility program, community impact, and progress here.
About Illumina
Illumina is improving human health by unlocking the power of the genome. Our focus on innovation has established us as a global leader in DNA sequencing and array-based technologies, serving customers in the research, clinical and applied markets. Our products are used for applications in the life sciences, oncology, reproductive health, agriculture and other emerging segments. To learn more, visit www.illumina.com and connect with us on Twitter, Facebook, LinkedIn, Instagram, and YouTube.