Iconic U.S. Companies to Participate in a Business Showcase of Climate Action at COP23
The U.S. Climate Action Center at COP23 will host the first major international gathering of American business climate leaders since the announcement of We Are Still In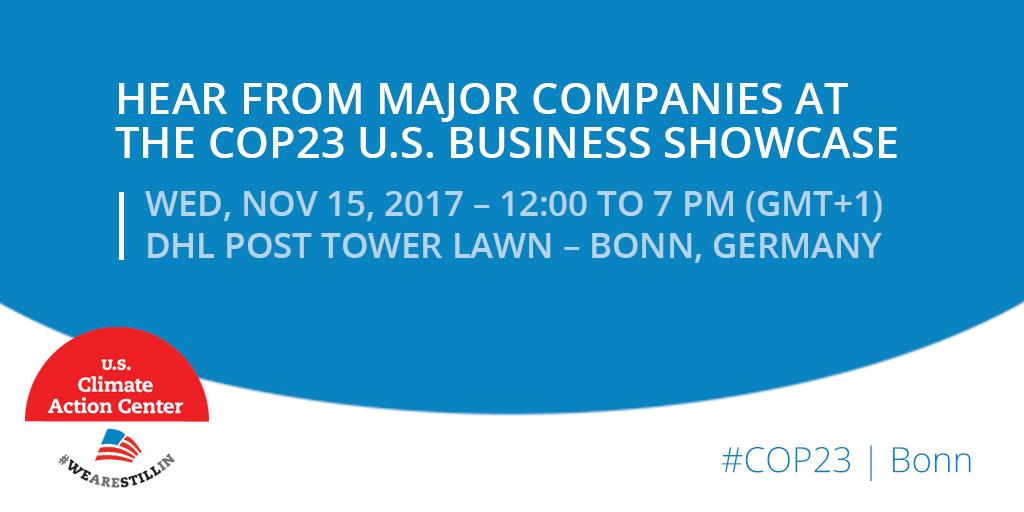 WASHINGTON D.C., November 14, 2017 /3BL Media/ – Corporate leaders from iconic U.S. companies will explore their efforts to help decarbonize the American economy at the U.S. Business Showcase hosted in the U.S. Climate Action Center at COP23 in Bonn, Germany.
2017 has been a remarkable year for business climate action. Following the Trump Administration's June announcement of intent to withdraw from the Paris Agreement, an unprecedented number of businesses banded together with cities, states and universities to announce they would uphold the goals of the Agreement. They are doing so though innovation, investment and action on critical areas such as science-based targets and renewable energy.
This showcase is the first major international gathering of American business climate leaders since the June announcement. It will bring together companies from diverse sectors, and the NGOs that work to lead climate action across the U.S. economy, to share their latest advances and priorities for the road ahead. The showcase will comprise of sessions ranging from target setting to how states can work with business and how to finance the transition to a low carbon economy.
WHEN: Wednesday, November 15, 2017, 12:00 PM – 7 PM (GMT+1)
AGENDA: https://www.wearestillin.com/BusinessShowcase
WHO:
Moderators and individual speakers including:
Amy Harder, Climate & Energy Reporter, Axios
Sheila Bonini, Senior Vice President, Private Sector Engagement, World Wildlife Fund – U.S.
Aimee Barnes, Senior Advisor, Governor's Office, State of California
Anne Kelly, Senior Director, Policy and BICEP Network, Ceres
Tim Juliani, Director, Corporate Engagement & Sustainability, Edison Energy
Allison Fajans-Turner, Manager, Strategic Communications, Climate Nexus                 
Lou Leonard, Senior Vice President for Climate Change & Energy, World Wildlife Fund – U.S.
With sessions including representatives from:
Mars, Inc., Walmart, The Coca-Cola Company, Microsoft, Patagonia, PG&E Corporation, Citi, HP Inc, Ingersoll Rand, Johnson Controls, Target, S&P Global Ratings, JPMorgan Chase, AECOM, Jupiter Oxygen Corporation, Fetzer Vineyards, and Bank of America Merrill Lynch
WHERE:
DHL Post Tower
Charles-de-Gaulle-Straße 20, 53113
Bonn, Germany
REGISTER: https://www.eventbrite.com/e/us-business-showcase-at-cop23-tickets-39658455508
LIVESTREAM: https://livestream.com/nexusmedia/usclimateaction
The Business Showcase is hosted by World Wildlife Fund – U.S. and Ceres, with support from the Center for Climate and Energy Solutions (C2ES), the Business Council for Sustainable Energy (BCSE), and World Resources Institute (WRI). The U.S. Climate Action Center is sponsored by We Are Still In, the coalition of more than 2,300 mayors, governors, CEOs, and college presidents that are committed to supporting climate action to help meet the U.S. emission reduction targets under the Paris Agreement. 
###