HPE Listed in Dow Jones Sustainability Index for the Sixth Consecutive Year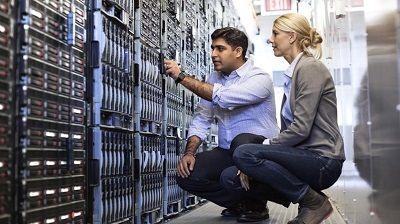 Hewlett Packard Enterprise (HPE) is proud to be listed in the 2017 Dow Jones Sustainability World Index, recognizing HPE as one of the most sustainable companies in the world.  It is the sixth consecutive year HPE has been included in the DJSI indices1. The indices are a family of best-in-class benchmarks for investors who have recognized that sustainable business practices are critical to generating long-term shareholder value and who wish to reflect their sustainability convictions in their investment portfolios.
"The significance of sustainability is growing year-over-year among investors and customers who are increasingly considering ESG performance in their investment and purchasing decisions" says Christopher Wellise, Chief Sustainability Officer. "We're honored to be included on the prestigious DJSI World Index, which exemplifies HPE's commitment to operating responsibly, driving sustainable innovation, and ensuring the resiliency of our business across our entire value chain". 
The World Index is based on the largest 2,500 companies in the Dow Jones Global Total Stock Market Index (DJGTSMI) and includes only the top 10% of these companies in terms of economic, environmental, and social criteria. HPE received the highest scores in our industry for climate strategy, human rights, and talent attraction & retention; as well as for economic dimensions including corporate governance, policy influence, and privacy protection.
The industry-leading score for climate strategy is particularly rewarding as the IT sector must constantly innovate and respond to the globe's exponentially increasing demand for connectivity and computing power. HPE has taken a complete value chain approach to addressing our climate impact. Carbon reduction targets for our operations, product portfolio, and supply chain are all approved by the Science Based Target Initiative, in line with climate science to keep global warming below the critical 2 degree Celsius threshold. "We recognize that limited resources and impacts on the climate are some of the most complex challenges facing our world today and we're committed to innovating transformative sustainable solutions that decrease the time to value for our customers, while also working together with our suppliers and industry peers to drive strategies that reduce climate impacts" says Wellise.
HPE's Living Progress strategy is constantly evolving to incorporate new frameworks like the U.N. Sustainable Development Goals. According to Wellise, "HPE is focused on generating business value while also addressing the social and environmental challenges of our company, our customers, and our world – ultimately ensuring we operate responsibly while creating long-term value for our shareholders". 
HPE continues to demonstrate industry-leading environmental and social leadership, which has earned us a number of additional notable recognitions, including:
Received a perfect score of 100% on the 2017 Corporate Equality Index
Listed on CDP's Climate 'A' List in 2016
Named one of the Civic 50's top 50 most community-minded companies
Awarded Gold Level Recognition by EcoVadis, ranking in the top 3% of suppliers assessed
Learn more about HPE's sustainability performance in the latest Living Progress Report.
1With legacy company Hewlett-Packard Company