How Early Detection Saves Lives: Breast Cancer Prevention at the Forefront During the Month of October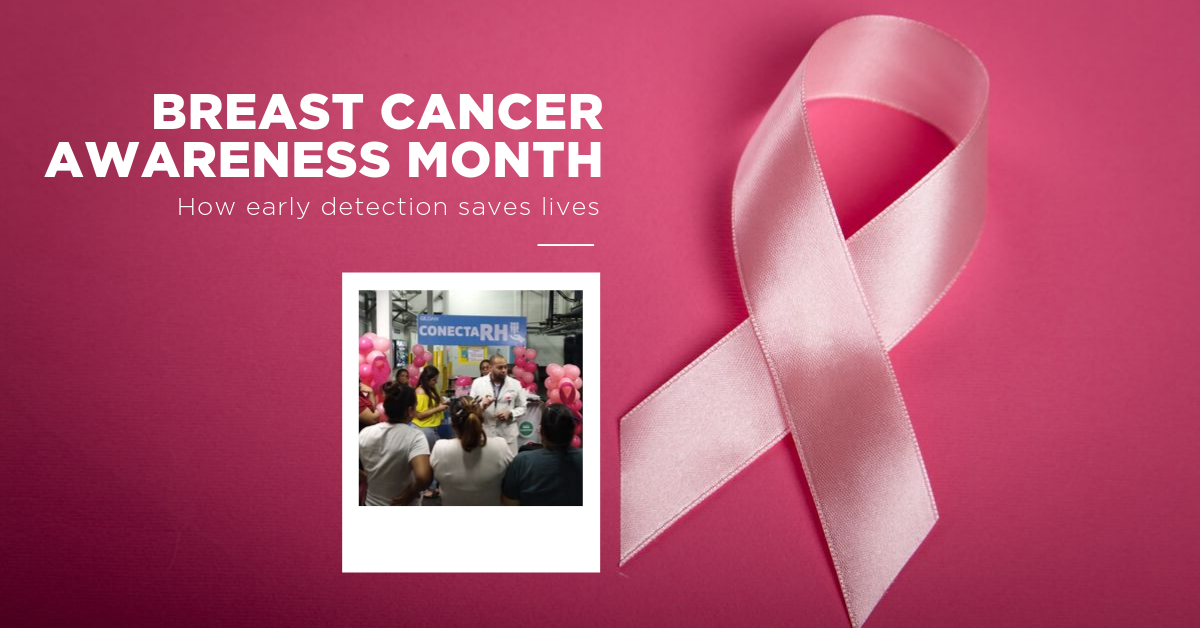 Gildan's Pink Tour incites employees to get involved in the fight against breast cancer through early detection and intervention.
In honour of Breast Cancer Awareness Month, Gildan's Pink Tour takes action to raise awareness of breast cancer among women in its facilities in Central America and the Caribbean Basin.  
Engels Borjas, Manager of Occupational Health at Gildan, discusses why the Pink Tour event has grown in popularity over the years, and how progress is being made in early detection.
Q. The Pink Tour was started in 2010, what is some of the feedback that you have received from past events?
Employees love this event.  It is one of the most anticipated activities carried out during the year.  Information is provided through presentations and murals and employees can undergo breast evaluations by doctors.
Our employees are very motivated to participate and there is always plenty of people who want to ask questions on the topic.  They also participate actively in the elaboration of the murals displayed throughout the facility.
Every year we try to innovate and introduce something new. For example, we have ultrasounds for employees which serve to identify an abnormality during their evaluation with a doctor.  This has a tremendous impact on facilitating and expediting a timely diagnosis.
Q. Why do you feel that the Pink Tour is an important initiative for employees?
The Pink Tour is important because it educates, sensitizes and raises awareness about breast cancer, including signs and symptoms, to recognize the disease and aid in early detection. We feel that this is useful information both for employees and their families, because not only does it equip them with the tools and understanding to take their health in their own hands, but they can also be advocates for prevention with their families and friends outside of work.
Q. What do you think is the level of general awareness of employees around breast cancer?
We believe that the level of awareness of breast cancer prevention has increased due to all the campaigns we have carried out since 2010.  We can confidently say that almost 100% of our employees at our facilities have more practical knowledge about prevention. Even today, when employees consult our clinics, they ask more questions about breast cancer.  Employees tell us that they practice their breast self-examination and periodically perform imaging studies such as ultrasound and mammography to be proactive.
Q. What do you teach during the month?
We demonstrate how to perform breast self-examinations. We also reinforce the fact that breast cancer does not respect gender lines, because it can occur in both women and men. During the sessions people can ask questions and explore their concerns more fully.
Through our Pink Tour, we organize talks on the production floor, we have announcements on our PA system, presentations on the TVs in our cafeterias, as well as collective murals throughout the facility offering information on prevention.
Q.  Is the Pink Tour meeting a need that might not otherwise be met?
Our Pink Tour educates and raises awareness of how to detect breast cancer early, through periodic self-examination. According to the Honduran Foundation for the Fight Against Breast Cancer, 98% of breast cancer cases are curable, if detected early. When employees have the appropriate knowledge and information, they have the tools for timely and preventive detection.
Q.  What are the biggest challenges that you are trying to address? 
The subject is very broad, but the challenge is very individual.  For individuals to perform the self-examination, they must first know their body and what is normal and what is not. This means that regular examinations are key.
Another would be access to screening tests, as there is often long waiting periods for ultrasounds or mammograms at the IHSS (Social Security Hospital).  There are also economic limitations to performing the tests in private clinics. This is why we offer ultrasounds for employees which serve to identify an abnormality during their evaluation with a doctor.
However, among the activities that have also been considered is to facilitate some imaging studies for employees with obvious risks or when irregularities are detected during self-examination or during breast exams.
Q.  What do you feel is the one most important thing that women can do to prevent breast cancer?
If I can only name one, it would be breast self-examination.