Highlights of BIER 2017 Fall Meeting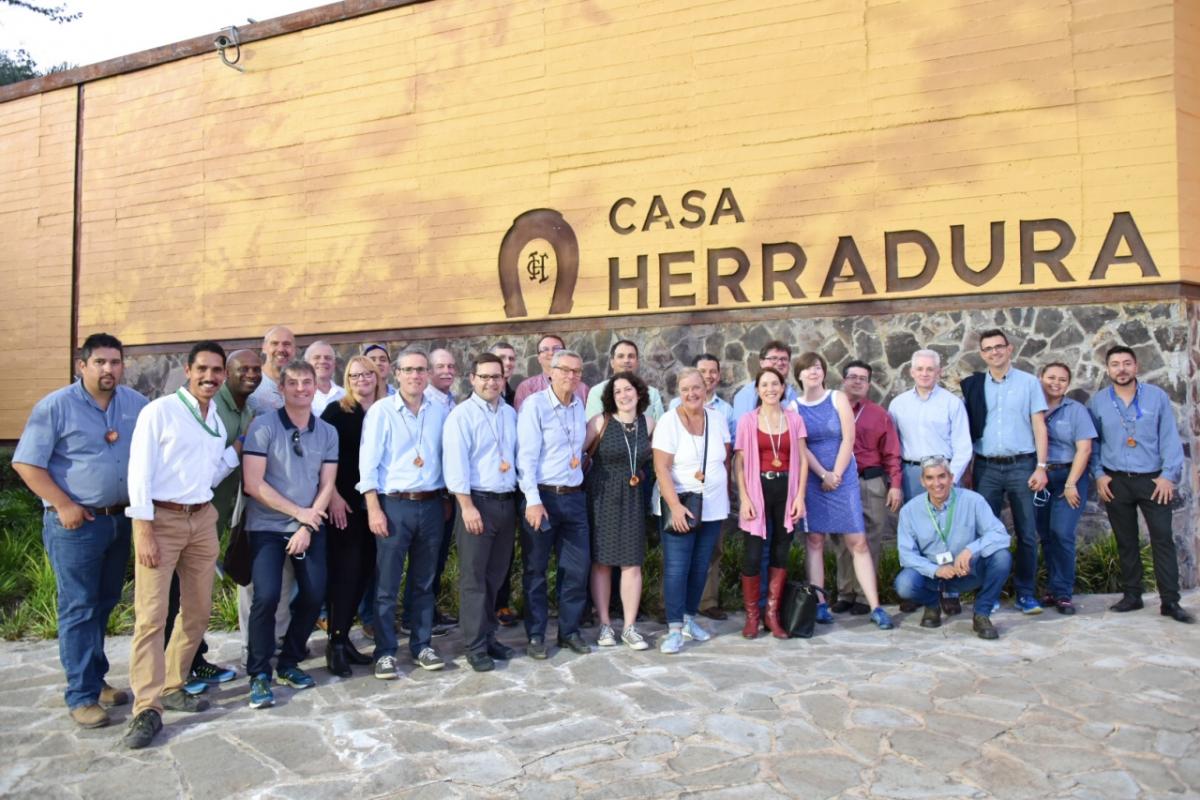 BIER members tour Brown-Forman's Casa Herradura Facility.
Highlights of BIER 2017 Fall Meeting
Global beverage industry leaders convened October 17-19, 2017 in Guadalajara, Mexico for the Beverage Industry Environmental Roundtable (BIER) semi-annual meeting. Hosted by Brown-Forman, this three-day meeting's agenda tackled pressing environmental sustainability issues such as performance in watershed context, energy and climate change, regenerative agriculture, and transparency and disclosure. Additionally, a regional perspective was shared with a presentation on sustainability from the Tequila Council, an insights review of the recent Latin American Water Forum, and the discussion of regional best practices between members.
Meeting attendees also received a tour of Brown-Forman's Casa Herradura Facility and enjoyed a Brown-Forman hosted Tequila Experience.
BIER has pursued and championed environmental sustainability practices since its inception in 2006 and views collaboration and open sourcing as primary success factors. Responding to increasing pressure from internal corporate decision-makers, investors, and external stakeholders, BIER offers a unique voice. Current BIER initiatives include defining context-based metrics for water use, developing energy assessment tools to help prioritize and mitigate climate change impacts, and establishing guiding principles around ecosystem dependencies and biodiversity conservation measures across the beverage product value chain.
About BIER
The Beverage Industry Environmental Roundtable (BIER) is a technical coalition of leading global beverage companies working together to advance environmental sustainability within the beverage sector. BIER aims to affect sector change through work focused on water stewardship, energy efficiency and climate change, beverage container recycling, sustainable agriculture, and eco-system services. BIER members include: American Beverage Association, Anheuser-Busch InBev, Bacardi, Beam Suntory, Brown-Forman, Carlsberg Group, The Coca-Cola Company, Constellation Brands, Danone Waters, Fetzer Vineyards, Diageo, Heineken, Jackson Family Wines, New Belgium Brewing, MillerCoors, Molson Coors, Pernod Ricard, Ocean Spray Cranberries, and PepsiCo. For more information, visit www.bieroundtable.com.
About Brown-Forman
For nearly 150 years, Brown-Forman Corporation has enriched the experience of life by responsibly building fine quality beverage alcohol brands, including Jack Daniel's Tennessee Whiskey, Jack Daniel's & Cola, Jack Daniel's Tennessee Honey, Jack Daniel's Tennessee Fire, Gentleman Jack, Jack Daniel's Single Barrel, Finlandia, Korbel, el Jimador, Woodford Reserve, Old Forester, Canadian Mist, Herradura, New Mix, Sonoma-Cutrer, Early Times, Chambord, BenRiach, GlenDronach and Slane. Brown-Forman's brands are supported by over 4,700 employees and sold in more than 165 countries worldwide. For more information about the company, please visit http://www.brown-forman.com/.