Hear Her Story: Q&A With Ilca Lindo, Technical Manager at Gildan
Hear Her Story: Q&A With Ilca Lindo, Technical Manager at Gildan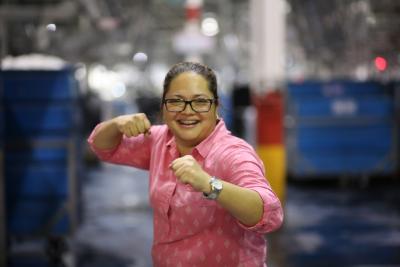 Monday, March 18, 2019 - 8:00am
With over 13 years of experience at Gildan and over 7 positions later, Ilca is a fighter who has always been up for the next challenge. Here is the story of a woman who has always said "yes" to the unknown and never been afraid to speak her mind.
Q: Can you tell us about your career journey at Gildan?
When I started here 13 years ago I was supervising color optimization in our dyeing factory. Now I'm a Technical Manager at our Choltex Facility, it's been quite the journey. My growth has been rather untraditional because I didn't move up in a linear way like most people. I am the kind of person who constantly needs to be challenged and try new things. Throughout my career here, I was very lucky to have superiors who understood that and introduced me to new roles and departments. No matter how hard the task was, I knew that if I put my mind to it, I could do anything.
Q: What leadership lessons have you learned along the way?
Oh boy, I've learned a lot of lessons along the way! I've made a lot of mistakes as a manager but I'm not ashamed to say it. Managing people has been the hardest job I've ever had and I think that anyone could ever have. Every individual is different; their expectations, their emotions, their work ethic, and more. 
Over the years I've learned some valuable lessons that have made me a better manager. I've learned to acknowledge that I don't know everything and to admit when I'm wrong.  I've learned to listen, to delegate, to ask for ideas and opinions from a diversified range of employees, and I've learnt to always tell my team that I'll have their back in the good times and in the hard times.
Q: What advice do you have for women who are trying to advance in their careers?
I think the first thing I would say is "be proactive". Don't be afraid to let yourself be heard, to tell HR and your manager now what you are interested in because no one can read your mind. If you don't say anything there is no one else to blame but yourself.
The second advice I would give is find a "trusted mentor". Throughout my life at Gildan I always gravitated back to my first boss. She's been there for me from the start and she's been a huge source of inspiration. I have a lot of respect for her and the trusting advice she gives me has always guided me down the right path. Every time I had doubts or questions, I went to see her and she always had positive things to say. Find that person and they will guide you towards success.
Click here to read the other stories of the women featured in this series.