Hear Her Story: Q&A with Amanda Thornhill, Merchandising Manager at Gildan
Hear Her Story: Q&A with Amanda Thornhill, Merchandising Manager at Gildan
From concept to shelf, a woman's passion for retail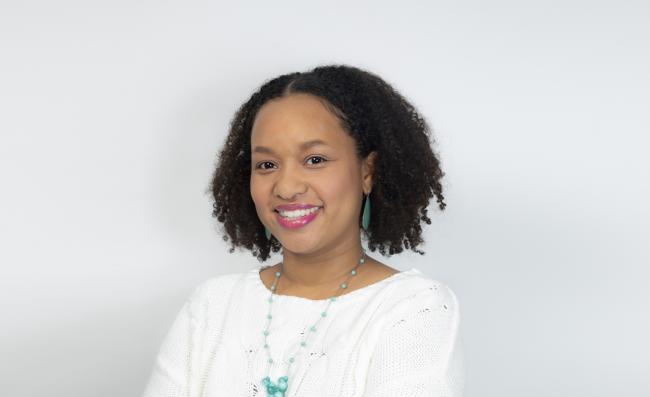 Monday, April 1, 2019 - 8:00am
Amanda, Merchandising Manager for Gildan, shares her passion for product development and the leaders that have helped her along the way in her nine years at Gildan. Here is her story:
Q: How did you end up at Gildan?
My husband and I were living in Arkansas where I was working for a large retail company. He had wanted to move back home to Charleston for a while, so in 2010 we made the big move. To be honest, I was really sad about it. I loved my job back in Arkansas and I never thought I would find another job quite like it here.
After a few weeks, I heard of this company called Gildan that was looking for someone in my field, I was so excited. I applied right away and ended up getting the job. I started in sourcing and product development, then two years later the VP of Merchandising & Design gave me the opportunity to join her team!
Q: Where does your passion for retail come from?
I just like knowing how things are made: the story of the yarn, what fiber is used, what kind of attributions it has, what kind of stitching, the technical specifications, and more. Knowing all of that excites me! There is a sense of ownership that comes from knowing that I've made something from concept to shelf, and every little step in between. I just can't help but have a passion for it all!
Q: How do you feel when one of your products finally hits the shelves?
It's usually a very good day when we place a new product. It's even more exciting when we see that the item is selling well or becomes one of our top performing products.
We are a small team, so when I see how much business is actually handled through us, it makes me very proud. 
Q: Tell us about this team of yours.
We have a really good team here. We work together, appreciate each other and have a "let's get it done" type of attitude.
I have some pretty incredible women guiding me. I have my VP of Merchandising & Design and my Director of Design Merchandising to thank for that; they lead by example and embody all the values good leaders should have.
They have taught me many things like how to think about the solution rather than the problem, how to prioritize, and how to become a good manager.
They have also given me the room to figure things out on my own. I don't like it when someone just gives me the blueprint or the answers, without the opportunity to learn.
I can honestly say that I've rarely experienced leadership like this before.
Q: What are some of the other things that those women helped you accomplished?
The biggest challenge I've faced is myself. I'm naturally a quiet person, I don't really like to speak up and give my opinion. Over the years, they have pushed me to learn to be heard during meetings, build confidence, and not worry about what people think.
Now I realize that I have a voice for a reason and it deserves to be heard.
Click here to read the other stories of the women featured in this series.