A Guide to Successful Marketing Pro Bono
[Webinar] Build communications capacity with Taproot volunteer support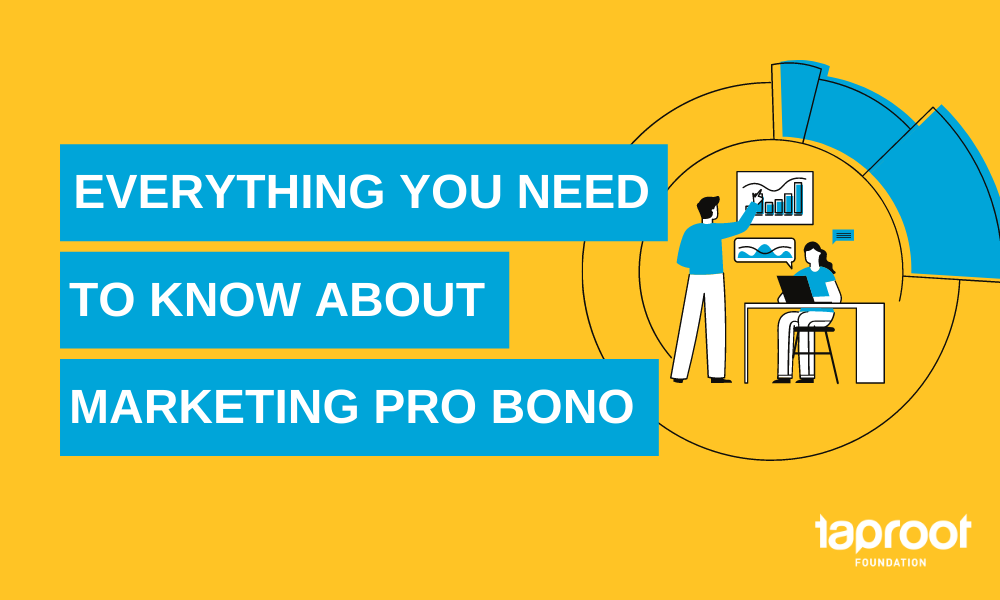 [Webinar] Build communications capacity with Taproot volunteer support
Everything You Need to Know About Marketing Pro Bono
Wednesday, March 31 at 1 PM ET / 12 PM CT / 11 AM MT / 10 AM PT 
No matter the annual budget, staff size, or issue area—the need for additional marketing and communication resources seems to unite nonprofits. You need great imagery to pull people into your mission, strategies for reaching folks on social media, email, or online search, and powerful copywriting to engage community members. Instead of adding those tasks to your long to-do list, bring in a skilled marketing volunteer who can fill in gaps in capacity while taking your communications efforts to new heights.  
During Taproot Foundation's free one-hour webinar on Wednesday, March 31 at 1 PM ET/10 AM PT, their team will cover everything you need to know about marketing pro bono: 
The value of marketing and communications pro bono 
Recommendations for projects in social media, PR, design, and more where your team can connect with immediate volunteer support through the Taproot Plus platform  
Best practices for managing marketing and communications volunteers 
Your organization is doing amazing work. Let's make sure you're able to tell the world about it! Register now to join this free webinar for nonprofits, public schools, and small businesses on how to use marketing pro bono—and bring a friend! All registrants will receive a recording of the event.  
Wednesday, March 31 at 1 PM ET / 12 PM CT / 11 AM MT / 10 AM PT 
Access to this webinar and the Taproot Plus pro bono platform are completely free of cost for nonprofits, public schools, and fiscally social good organizations in the US, UK, EU, and India. Select Taproot Plus services are also accessible to US-based small businesses.