GRI Standards Now Available in German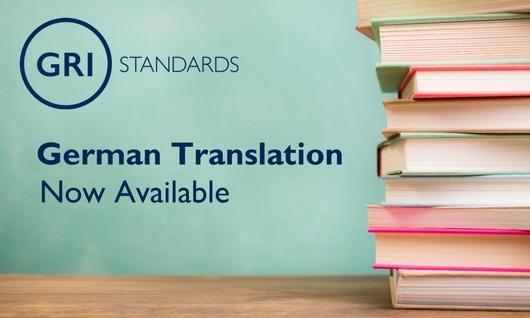 The German translation of the GRI Standards is now available to download in time for the reporting cycle at hand, thanks to the sponsorship of the Bundesministerium für Arbeit und Soziales (BMAS), and the work of the peer reviewers. ​The GRI Standards are for global use and the translations program intends to make them as accessible and impactful as possible in key territories around the world. German is a very welcome translation, with sustainability disclosure on the agendas of thousands more companies across Europe following the EU Directive on Non-Financial Reporting. With the new German translation, even more organizations in Germany and other German speaking countries will be able to benefit from reporting.
GRI would like to thank BMAS, part of the German Government, for sponsoring the translation, and to the three peer reviewers for their contribution to ensuring the accuracy and quality of the translation:
Dr.-Ing. Thomas Fleissner, Gründer und CEO, DFGE Institut für Energie, Ökologie und Ökonomie, Deutschland, Chairman des Peer Review Committee
Doreen Herrmann, Inh., CQC Consulting – Experts in CSR, QM & Communication, Deutschland
Dr.-Ing. Sied Sadek, Geschäftsführer, CEO, DQS CFS (Deutsche Gesellschaft für Nachhaltigkeit), Deutschland
The German translation of the GRI Standards was launched at a GRI Standards event in Austria on 22 November and will be introduced at a forthcoming event in Germany in the first quarter of 2018; details will be announced soon.
If you are interested in contributing to a future translation, please learn more, or get in touch.