GM Earns Perfect Score on Equality Index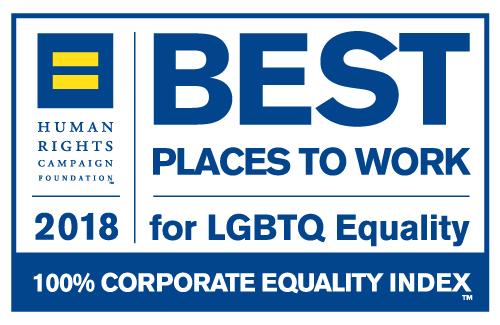 GM scored a perfect 100 on the 2018 Corporate Equality Index conducted by the Human Rights Campaign, a national benchmarking survey and report on corporate policies and practices related to LGBTQ workplace equality. 2018 makes it six years in a row with a perfect score, and 10 out of the last 11 years with a perfect score.
"The Corporate Equality Index has become a key benchmark for diversity leaders and top talent within the LGBTQ community," said Global Chief Diversity Officer Ken Barrett. "Although we're always pleased to receive recognition for our efforts, it is even more encouraging to see that we are part of a growing group of leading employers earning consecutive perfect scores." 
GM has a history of supporting a fully inclusive work environment, including its 700-member-strong employee resource group GM PLUS, which recently established new chapters in Mexico, Brazil, Phoenix and Australia.
"One of the key goals of GM PLUS is to ensure that all employees can bring their full selves to work to better contribute to GM's business success," said Adam Bernard, chair of GM PLUS. "Our perfect Corporate Equality Index score not only validates GM's policies to ensure an inclusive workplace, but is a tool for both marketing and talent acquisition to help tell our story."
The 2018 CEI evaluates LGBTQ-related policies and practices including non-discrimination workplace protections, domestic partner benefits, transgender-inclusive health care benefits, competency programs and public engagement with the LGBTQ community. GM's efforts in satisfying all of the CEI's criteria resulted in a 100 percent score and the designation of a Best Place to Work for LGBTQ Equality.
For more information on the 2018 Corporate Equality Index, or to download a free copy of the report, visit here.