GM Builds Winning Culture With Diversity
Diversity & Inclusion Report highlights key initiatives that spur innovation and inclusion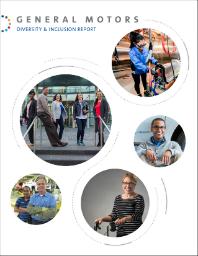 General Motor's Diversity & Inclusion Report highlights key inniatives that spur innovation and inclusive thinking.
GM Builds Winning Culture with Diversity
DETROIT, August 9, 2018 /3BL Media/ – Culture is everything in today's agile business climate. General Motors outlines in its latest Diversity & Inclusion Report (www.gm.com/diversity) how it leverages diversity to build an industry-leading workplace of choice that drives business results.
"At General Motors, we recognize the power of diversity and the role it plays in sparking ingenuity and creativity," said Ken Barrett, General Motors global chief diversity officer. "As we continue to face new challenges and innovate new solutions, we know the diversity among us will give the company a competitive advantage in the global marketplace."
Diverse and inclusive teams bring greater perspectives and experiences to help us address global transportation challenges. Each solution drives us closer to a future of zero crashes, zero emissions and zero congestions.
General Motors' diversity, in all its dimensions, strengthens our workplace, our products, our understanding of our customers, and is key to reaching our vision and living our values. The Diversity & Inclusion Report highlights key initiatives, strategic partners, workforce development and community engagement, including:
How We Manage Diversity –The General Motors' Senior Leadership Team, chaired by our Chairman and CEO, serves as the company's senior diversity council and six additional diversity-focused councils support key internal and external partner groups.
Engaging Workplace Diversity –Our 11 Employee Resource Groups play a key role in fostering an inclusive place to work with nearly one out of three employees belonging to an ERG. In 2017, GM's ERGs were collectively recognized as number one in the nation by PRSIM International, Inc.
 
Winning Culture for Women – General Motors' Take 2 program is a key initiative that provides women an opportunity to rejoin the workforce and learn technical skills through a 12-week internship.
Driving a Culture of Inclusion for People with Disabilities –This year, General Motors scored another 100 percent on the Disability Equality Index, which rates the best companies for people with disabilities.
Diversity within the Supply Chain – Celebrating its 50th anniversary, the GM Supplier Diversity program continues its unwavering commitment to the development and growth of diverse suppliers with over $100 billion spent to grow and support these important business partners.
Diversity within our Dealers – General Motors has more minority-owned dealerships than any other car company in the U.S. Today, ethnic minority and women dealerships represent more than 12 percent of the company's U.S. dealer network.
Diversity in the Community – General Motors is committed to fostering smart, safe and sustainable communities around the world. In 2017, the company supported 266 partner organizations, utilizing more than 18,500 employees to volunteer in community/partner programs, which accounted for more than 161,000 volunteer hours.
To learn more about how General Motors' leverages diversity, visit www.gm.com/diversity. To learn about some of the other ways General Motors is driving value through environmental, social and governance factors, visit www.GMSustainability.com  
# # #
General Motors is a global company committed to delivering safer, better and more sustainable ways for people to get around. General Motors, its subsidiaries and its joint venture entities sell vehicles under the Chevrolet, Buick, GMC, Cadillac, Holden, Baojun, Wuling and Jiefang brands. More information on the company and its subsidiaries, including OnStar, a global leader in vehicle safety and security services, and Maven, its personal mobility brand, can be found at http://www.gm.com/.
CONTACT:
Carolyn Markey, General Motors Communications
313-806-9124