Gildan's Innovation Centre in Action During COVID-19
Q&A with Israel Salinas, VP of Global Product Management & Innovation at Gildan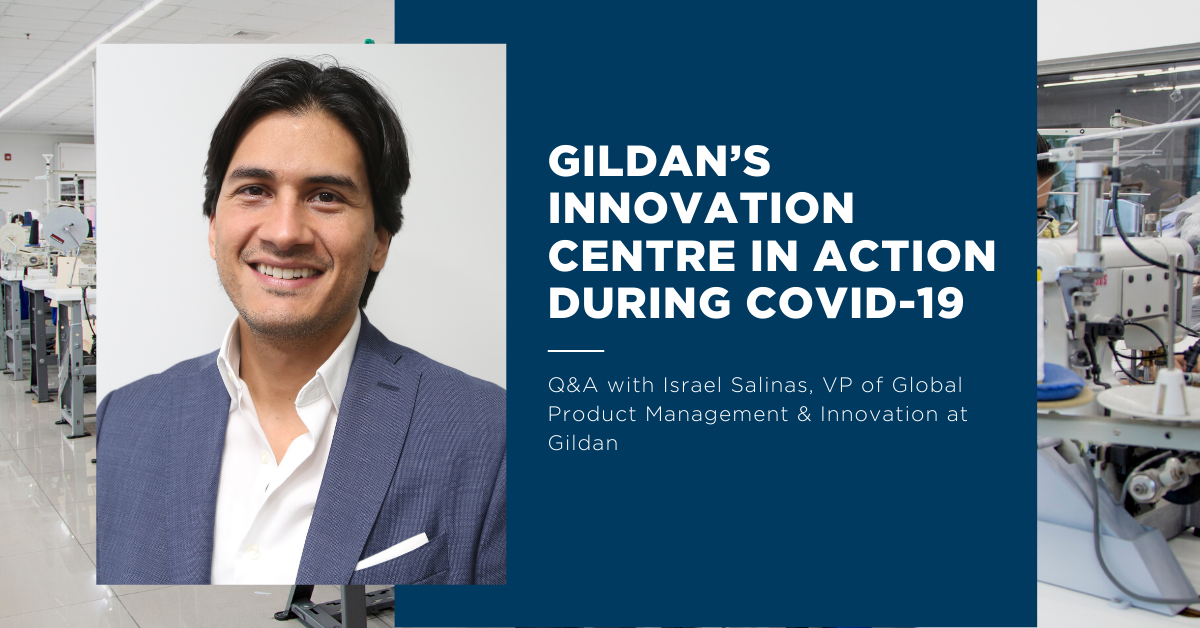 Earlier this year, Gildan joined international efforts to produce personal protective equipment (PPE) to help fight the COVID-19 pandemic. Thanks to the Company's Innovation Centre, strategically located inside Gildan's manufacturing complex in Honduras, the Company was able to leverage its state-of-the-art product-development process to help with this important initiative. To learn more about this special facility and the role it played in the Company's PPE production efforts, we sat down with Israel Salinas, VP of Global Product Management & Innovation at Gildan, to hear what he had to say:
Can you explain what Gildan's Innovation Centre is and why it's important for the Company?
Product innovation has been in place for many years at Gildan, and we have a skilled technical team responsible for carrying it out. This team has experience in areas such as fabric, apparel, hosiery, colour, chemistry, and engineering, among others. Their main role is to design, develop, improve, and assess new product opportunities. By bringing together these capabilities, we can develop and test products, as well as their performance characteristics, under controlled conditions using advanced technologies and testing methods.
Just recently, we expanded our Innovation Centre to further support our chemical, textile, and colour development capabilities and help make our products more sustainable, fashionable, and cost-effective. With the support of this centre, we can perform an effective product launch from concept to scale, ensure quality consistency, and create a meaningful value proposition for our customers.
How did the Innovation Centre help Gildan prepare for manufacturing PPE? 
We wanted to support efforts to mitigate the worldwide shortage of PPE, so our team had to quickly start learning more about PPE production so that we could get a better grasp of what was needed to begin manufacturing. Fortunately, our Innovation Centre is well-equipped to facilitate the design and development of new products, and that helped us develop and test PPE in a short period of time.
Beyond this, the centre was also an essential component to creating PPE that could provide customers with protection while harnessing a design scheme that wouldn't disrupt our traditional textile manufacturing processes.
In what ways would the absence of the Innovation Centre have impacted the PPE production process?
Without the Innovation Centre, it would have taken us much longer to design and start producing PPE. Our overall capabilities; combined with the team's talent, their outstanding investigation efforts, the tools and processes we had access to, and the proximity of the centre to our manufacturing facilities; allowed us to complete the design and implementation of our PPE under a very short timeframe.
What are some of the most important lessons you've learned about the Innovation Centre following COVID-19? 
First and foremost, the Innovation Centre team demonstrated exceptional commitment and resilience during this entire process – amid a pandemic, no less. This experience has reaffirmed the confidence I have in them and their talent.
More generally, this effort gave us the opportunity to use the advanced tools and procedures we've been implementing as part of our overall innovation process, allowing us to witness just how capable our Innovation Centre can be. We were also able to learn about the value that comes with investing in innovative tools, processes, and human resources, which proved to be exceptionally beneficial to our productivity by driving speed to market, delivering consistent quality, and providing flexibility to changing customer requests. It also shows that our business model and the investments we make in innovation and state-of-the-art facilities allow us to be more resilient during challenging circumstances.
What do you hope or envision for the future of the Innovation Centre?
Our vision for the future of this centre is a multifaceted one: We hope to establish and drive a culture of continuous improvement; strengthen our operational execution from concept to scale; allocate resources to build stronger innovation and technical teams, which may lead to further innovations; and drive sustainable initiatives that positively impact our environment, customers, and communities.
We are all proud to have played a role in launching our PPE-production efforts in such a short period of time so that we could assist healthcare workers and support the general population, and I am excited to see how we can continue to harness the centre's potential in the future.