Fuel Your Fundraising With Pro Bono
[Webinar] Team up with volunteers to build your capacity to fundraise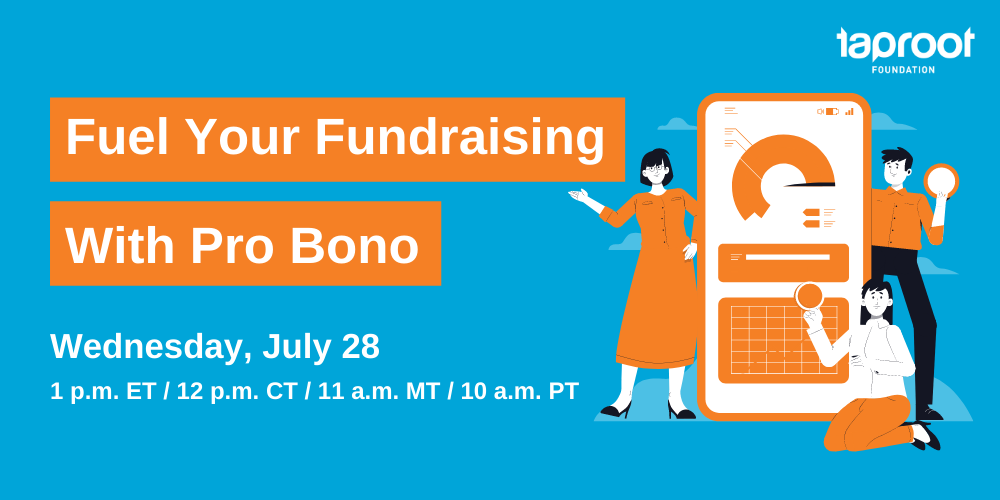 Fuel Your Fundraising With Pro Bono
Wednesday, July 28 at 10 AM PT // 11 AM MT // 12 PM CT // 1 PM ET 
With all the changes we've seen in traditional nonprofit fundraising this past year, thinking ahead to planning and executing a successful fundraising campaign can be daunting. Your nonprofit needs inviting graphics, inspiring messaging, an engaging social media strategy, and a stand-out pitch deck. But don't panic. Virtual volunteers can help. 
Join Taproot Foundation for a free webinar on Wednesday, July 28 where they'll show you how to harness the expertise of marketing strategy, graphic design, videography, and communications professionals who want to volunteer to help your cause. Their team will walk through:
How pro bono support can help fuel each stage of your fundraising process
Recommendations for projects to dive into with volunteers in advance of the holiday giving season
How to access and manage pro bono through Taproot's free programs
Fundraising is an ever-present need for nonprofits. Let's get you the extra (expert!) helping hands that you need to bring in more dollars to support your organization's important mission. Register now to join the webinar and bring a friend! Taproot's community events and services for nonprofits are completely free of cost.
Wednesday,  July 28 at 10 AM PT // 11 AM MT // 12 PM CT // 1 PM ET 
 Access to this webinar and Taproot's nonprofit programs are free, now and always.  All webinar registrants will receive a recording of the event.