FSC® Strategic Plan, New Markets and More: SCS Shares Highlights From the 2017 FSC General Assembly
By Sarah Harris, SCS Global Services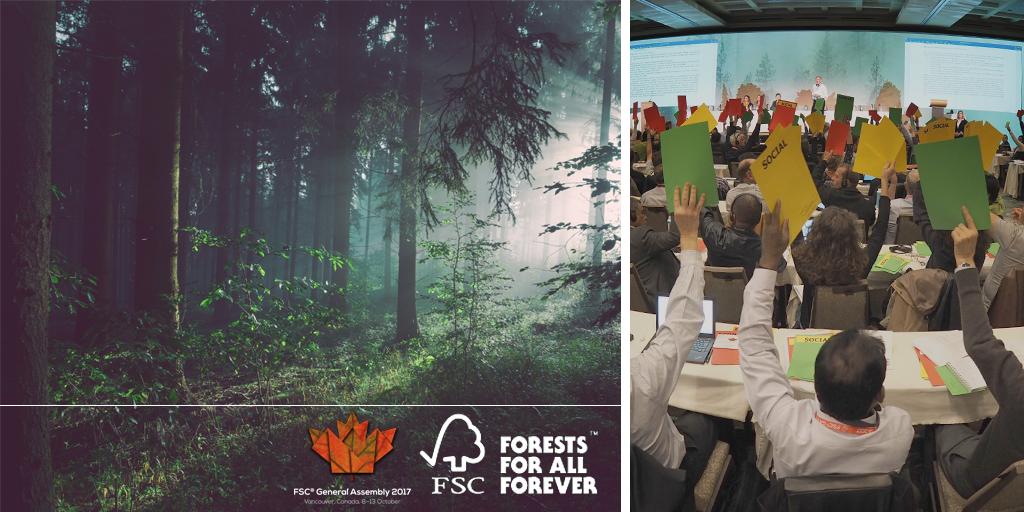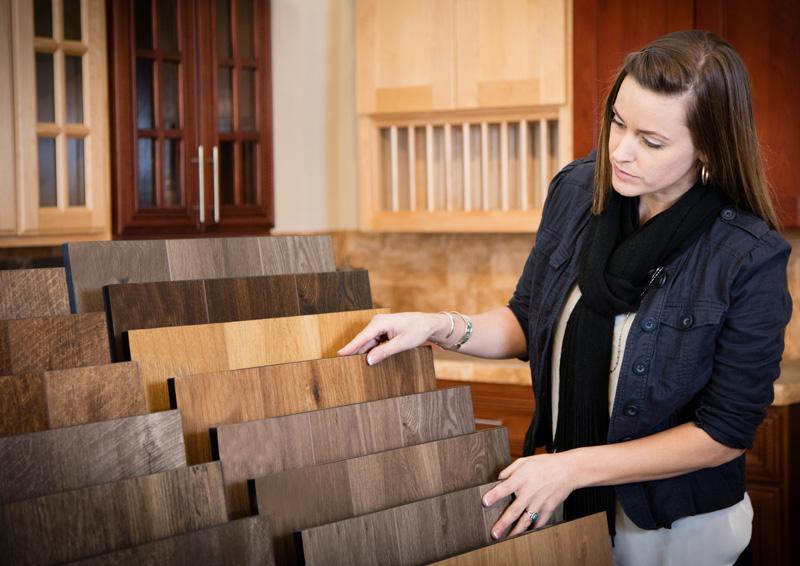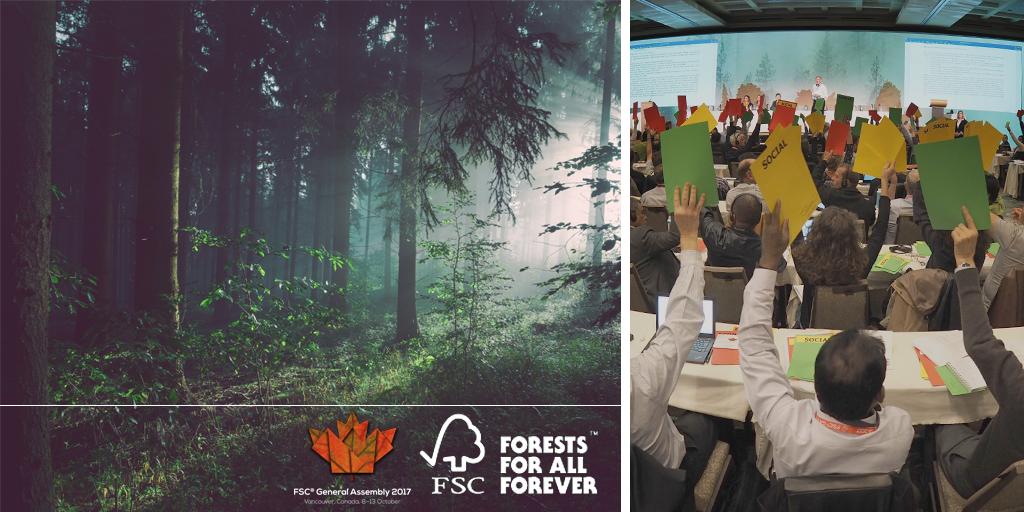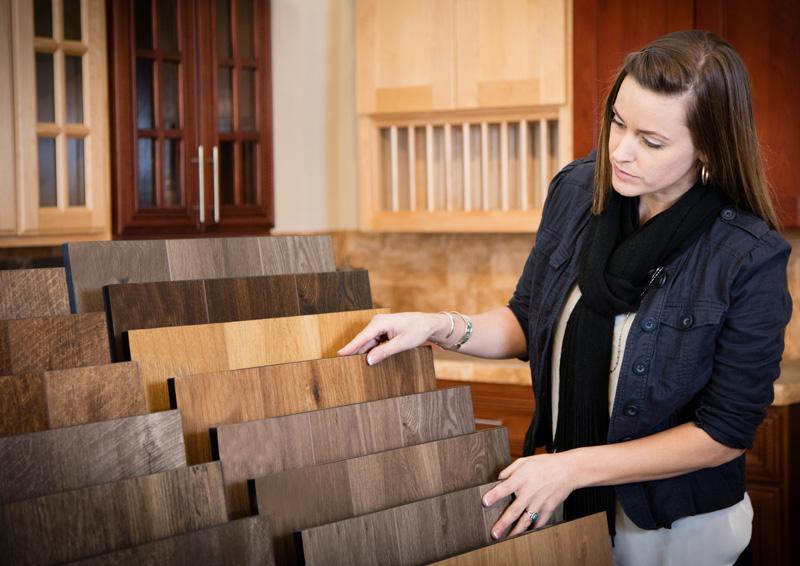 FSC® Strategic Plan, New Markets and More: SCS Shares Highlights from the 2017 …
Our forestry team recently returned from the 2017 Forest Stewardship Council® (FSC®) General Assembly (GA), which took place this year from October 8-13 in Vancouver, Canada. It was an exciting gathering, attended by more than 700 FSC international members, including forestry companies, NGOs, a wide diversity of wood-based product manufacturers, and more. Moreover, it was the FSC's first North American-held General Assembly since 1993, a treat for those of us headquartered on this side of the pond.
The GA, held every three years, is the platform for FSC's highest decision-making body – its members – to come together to set the direction, the priorities, and the governance of the organization. Participating in and following up the motions from the FSC General Assembly in Manaus in 2005 was a highlight for me, during the years I worked at FSC headquarters in Bonn, Germany, before joining SCS. It's invigorating to experience the engagement and dedication of all of the members, staff and other interested FSC stakeholders working together to improve and promote the organization.
Joining me from SCS this year were Dr. Robert Hrubes, an internationally recognized forest champion who served on the original FSC board and who headed our forestry and natural resource programs for two decades, and Brendan Grady, our current director of forest management certification.
 Key Observations
Comparing notes, here were some of our key observations from this year's event.
FSC remains vital and relevant on the world stage, and its presence and influence continues to grow, as evidenced by the presence of many globally influential companies who specify and promote FSC products, including Tetra Pak, International Paper, Kimberly-Clark, Apple, Marks & Spencer, Kingfisher, and many more.
Heightened enthusiasm for FSC certification is translating into new markets. For example, two emerging new industry sectors taking advantage of FSC certification are forest-based textiles, such as rayon, viscose, modal, and lyocell, and woody-biomass used for energy production. The packaging industry has made remarkable strides in recent years as well: 100% of SIG International Services' packaging is now eligible to carry an FSC label, and Tetra Pak, certified for more than 10 years, has labelled over 250 billion packages with the FSC logo. Notable achievements, such as the Vancouver Declaration, were announced with high-profile signatory companies such as IKEA, Carillion, Oji Nepia and H&M setting new ambitious FSC responsible sourcing commitments.
Productive deliberations were held on many complex, dynamic topics such as FSC Controlled Wood, Intact Forest Landscapes, and Indigenous Cultural Landscapes, setting the direction for continued conversations to take place into next year.
It was great to see many of our clients, including Mendocino Redwood Company, Georgia Pacific, New Forests, WestRock, Minnesota DNR, Michigan DNR, DuraCert, Timberlands Limited, Duratex, Ecotrust Forest Management, and others in attendance, contributing to important policy decisions. As usual, the assembly delegates were fully engaged, placing high priority on chamber gatherings, side meetings, and negotiating motions.
This was my first time voting in a General Assembly, and I felt the responsibility each member has in deciding the focus and direction of this complex organization. It's striking to see a room of hundreds of people – many of whom are wearing headsets and relying on simultaneous translation to follow the fast-paced, nuanced and often highly technical conversations – holding up green, yellow and red cards to vote. Many times at this GA, perhaps more frequently than at any other, it was too close to call and we had to default to paper ballots.
FSC Strategic Plan
This was the first GA following the approval of the FSC Global Strategic Plan, now effective and in implementation. After three days of discussion and negotiation, the number of motions were winnowed down from a mind-numbing 71 to 35. By the end of the 2nd day of voting, 15 were passed. From my perspective, in many cases this was not due to lack of support for the intent of the motion, but rather because the motions were either lacking in clarity, or the membership chose to trust in the implementation of the strategic plan already in place to deliver these desired outcomes. I am confident that if the membership does not see sufficient progress made by the next GA, some of these motions will be raised again.
All the motions outcomes can be viewed at https://ga2017.fsc.org/motions-outcome/.
It has been particularly rewarding for SCS to see the FSC program grow over the years. We launched our Forest Conservation Program way back in 1991, and were among the first third-party certification bodies accredited to conduct FSC assessments. Since then, we have issued more than 6,000 FSC certificates for Forest Management, Chain of Custody, and Project Certification. We have certified more than 41 million acres of forestland to the FSC Forest Management Standard, and currently hold 45% of the US market for FSC Chain of Custody Certification. To learn more about FSC Certification, contact Michelle Tuyen.
Sarah Harris is Director of Chain of Custody Services, and Managing Director of SCS' Natural Resources Division. For more information, reach Sarah at sharris@scsglobalservices.com.