Freight Hauling Just Got Greener in the Golden State
SCE helps Penske Truck Leasing add EV charging for electric big rigs at various California sites.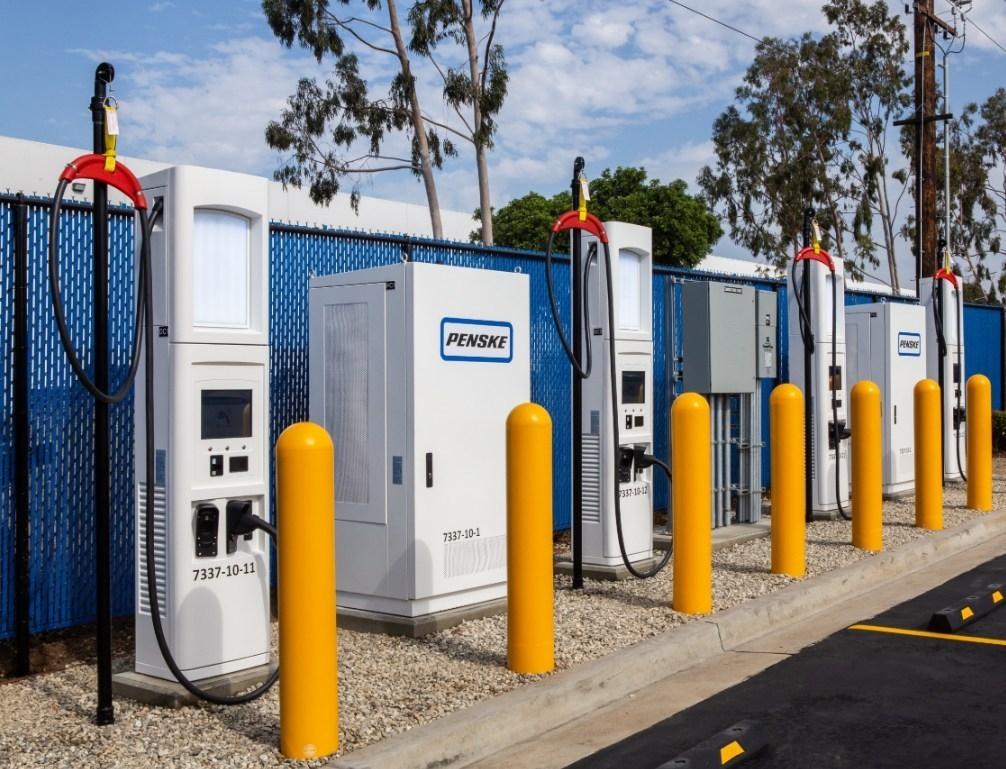 SCE helped Penske bring heavy duty truck fast charging to Southern California truck leasing sites.
by Paul Griffo
Hauling freight with big rigs in the Golden State just got greener, thanks to Penske Truck Leasing. The Pennsylvania-based company recently announced the installation of 14 fast charging stations for heavy-duty electric vehicle trucks at four Southern California facilities.
Mike Marelli, vice president of Southern California Edison's Business Customer Division, was on hand at a ribbon-cutting ceremony to celebrate the installation of the fast chargers at Penske's La Mirada site. The event was live-streamed to the Advanced Clean Transportation Expo, a clean vehicle technology conference for fleet owners being held this month in Long Beach.
"SCE is proud to be a part of this major step Penske is taking to begin to electrify its fleet and provide zero-emission electric transportation to its customers," Marelli said. "SCE is supporting Penske and other forward-looking companies in California as leaders in the zero-emission transformation of the commercial transportation sector."
SCE advised Penske's engineering team on design, layout and installation of the charging facility and helped contractors navigate the construction and inspection process. Andrew Cullen, senior vice president of fuels and facilities at Penske Truck Leasing, described the partnership with SCE as "absolutely tremendous."
"SCE exceeded our expectations in being able to not only get the equipment, but get it through all the permitting, have it installed and have it in working order in such a short period of time," said Cullen. "They just totally blew us away."
Penske has also installed EV truck charging stations at its facilities in Anaheim, Chino and San Diego. The fast chargers will support 10 heavy-duty eCascadia and 10 medium-duty eM2 trucks that the company is putting into service this year in California and the Pacific Northwest. Both models are manufactured by Daimler - Opens in new window.
"It is important for SCE customers who are considering moving forward with fleet electrification to involve us early so we can work together to meet their needs," said Katie Sloan, SCE director of eMobility. "Penske is a good example of this type of partnership."
To help others follow Penske's example of fleet electrification, next month SCE will launch Charge Ready Transport, a program designed to assist commercial customers with the installation of the electrical infrastructure needed for medium- and heavy-duty EV chargers.
Charge Ready Transport will provide funding for installation of infrastructure for a minimum of 870 SCE customer sites over five years. The sites are expected to support 8,490 medium- and heavy-duty electric vehicles