Free Webinar: Leadership and a Reimagined Approach to Corporate Equity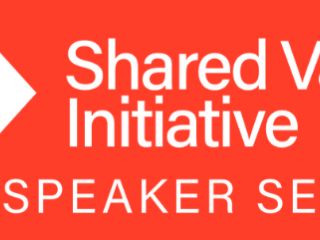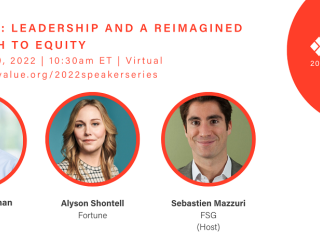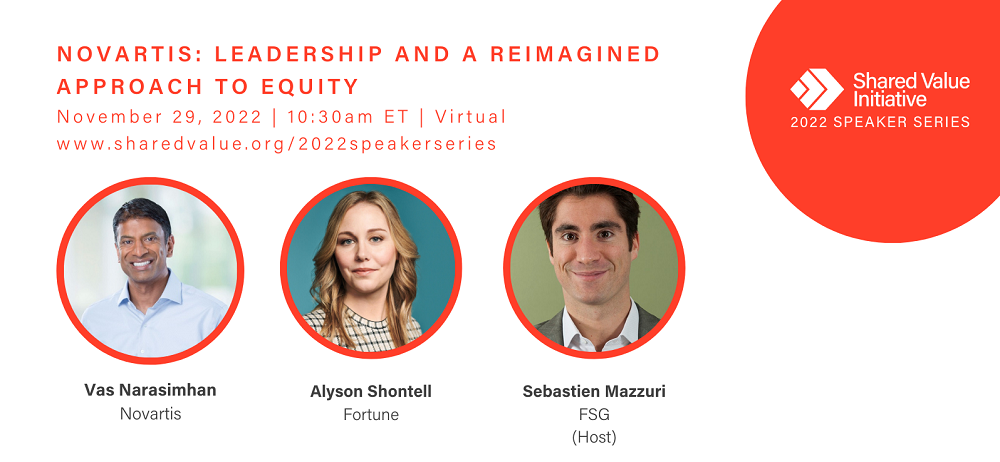 Free Webinar: Leadership and a Reimagined Approach to Corporate Equity
October 4, 2022 /3BL Media/ - How can the private sector reimagine their approach to equity? As corporate leaders are looking for ways to create positive impact through new practices, policies and, importantly—their core business—they consider how their purpose, culture, and governance align with their equity ambitions, and the leadership it takes to bring these commitments to fruition.
Join FSG and the Shared Value Initiative on November 29 at 10:30AM ET for a reimagined approach to equity with a Global Fortune 500 CEO who is reimagining the ways his company uses innovative science, technology, and an "inspired, curious, unbossed" culture to deliver greater access to medicines. Vas Narasimhan, M.D., CEO of global medicines company Novartis and Alyson Shontell, Editor-in-Chief of Fortune, will cover topics of strategy, innovation, impact, and leadership in this important conversation.
Can't make the live event? Register today and you will receive a recording of the event.
About the Speaker Series
The Shared Value Initiative is hosting a virtual speaker series throughout 2022 that will feature thought leaders, industry influencers and innovators discussing a range of topics that address the most pressing ambitions and concerns of shared value and purpose practitioners with a focus on advancing equity.
Each virtual webinar in the 2022 Speakers Series is designed to strengthen the knowledge, tools, and networks of shared value leaders and practitioners around the world. We are excited to welcome a diverse group of influencers who have helped shape their industries, purpose thought leaders, and cutting edge thinkers who will inspire us to innovate.
Join us for these upcoming events:
October 11, 2022 at 12pm-1pm ET join us for "Leadership Conversation: Economic Inclusion and the Private Sector" featuring Kathleen McLaughlin, Executive Vice President and Chief Sustainability Officer, Walmart Inc. and President, Walmart Foundation in conversation with April Chou, Chief Strategic Growth Officer of OneTen. This event will also feature framing comments from Lynette Bell, President, Truist Foundation, and is hosted by Shumeca Pickett, Managing Director, FSG.
November 29, 2022 at 10:30am-11:30am ET join us for "Novartis: Leadership and a Reimagined Approach to Equity" featuring Vas Narasimhan, M.D., CEO of global medicines company Novartis and Alyson Shontell, Editor-in-Chief of Fortune.
More details can be found on our website for these upcoming virtual events as well as the recordings from the previous Speaker Series: https://www.sharedvalue.org/events/2022speakerseries/
About FSG
FSG is a global, nonprofit consulting firm that partners with foundations and corporations to create equitable systems change. Through customized consulting services, innovative thought leadership, and learning communities, we're working to create a world where everyone can live up to their full potential.
We believe real change requires an expert understanding of systems. As advisors and facilitators who blend rigorous data analysis with empathy, we are comfortable working in complex environments with clients, partners, and community members. We share the insights from our work on topics that range from equity and shaping markets to strategy, learning, and evaluation. With our partners, we develop initiatives and grant-funded programs to put some of those insights into practice. These efforts include Talent Rewire (engaging employers for equitable economic mobility), GLOW (empowering women in India), PIPE (supporting activity-based learning in India), the Shared Value Initiative, and the Collective Impact Forum.
Learn more at www.fsg.org.