A Free Home Provides a Strong Foundation for a Veteran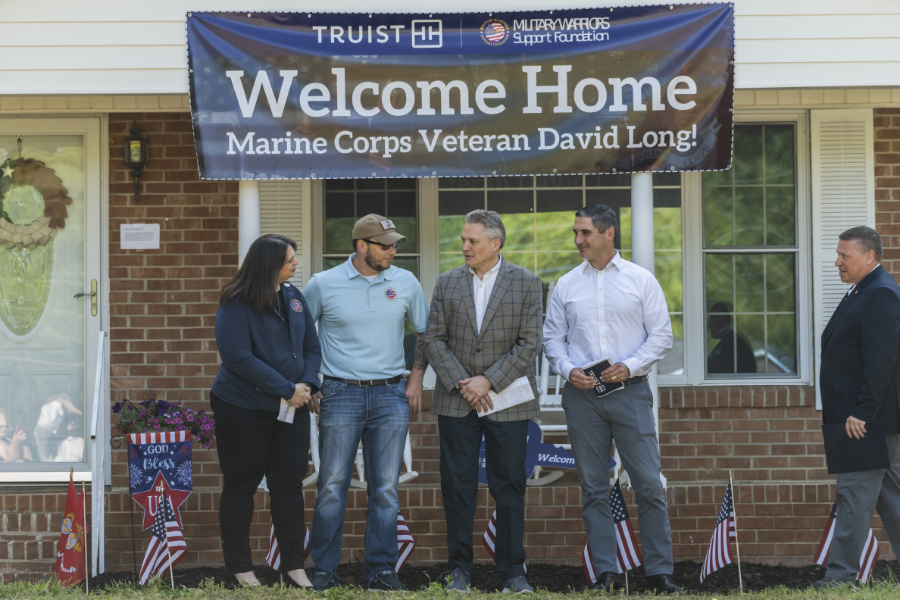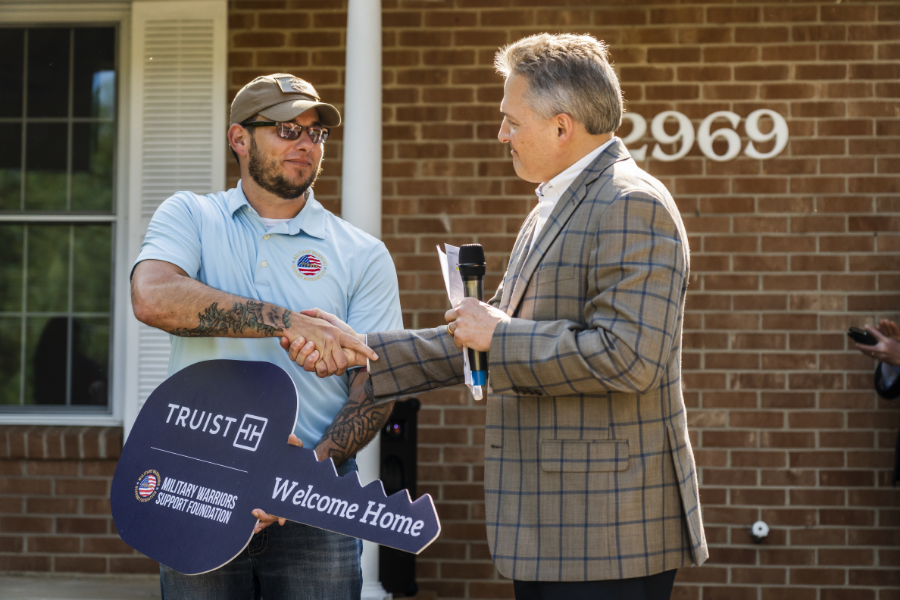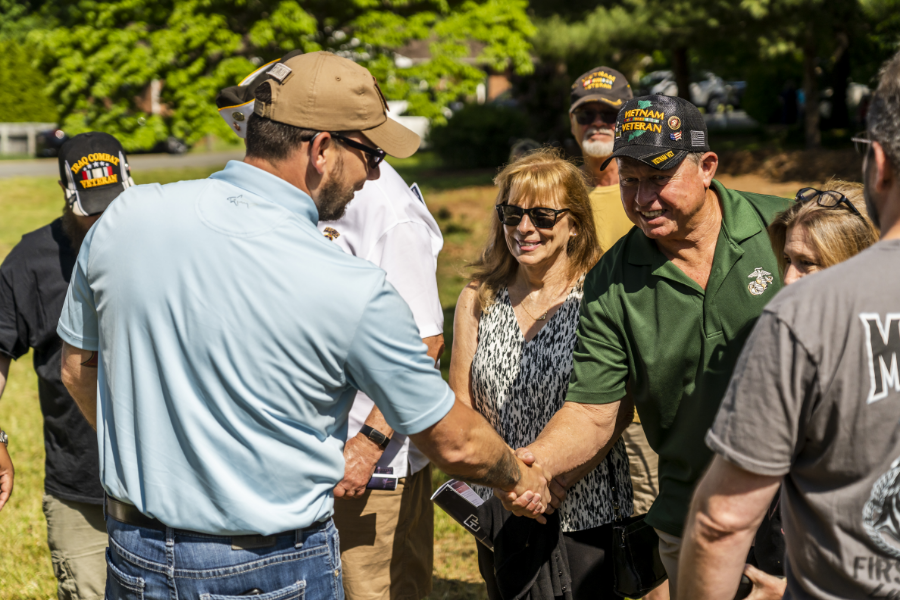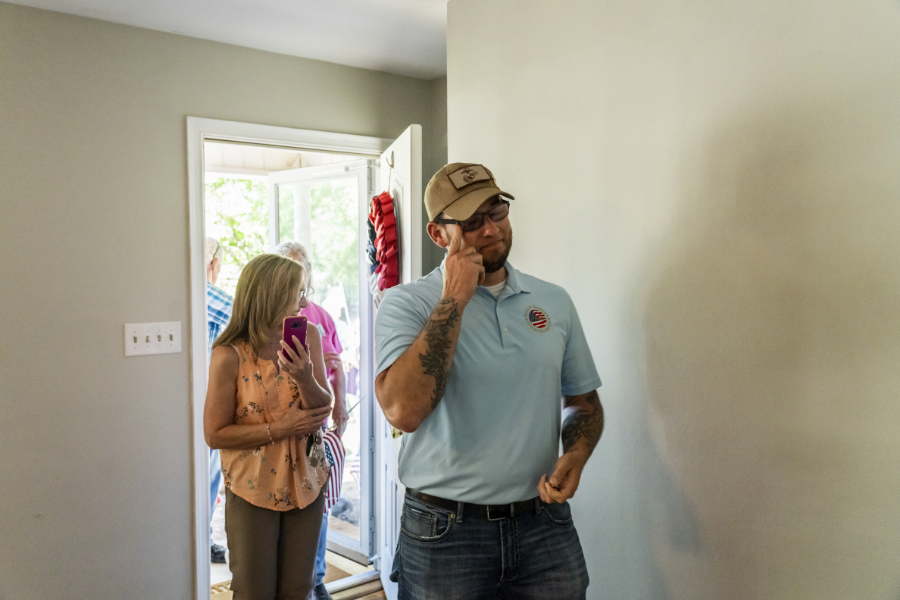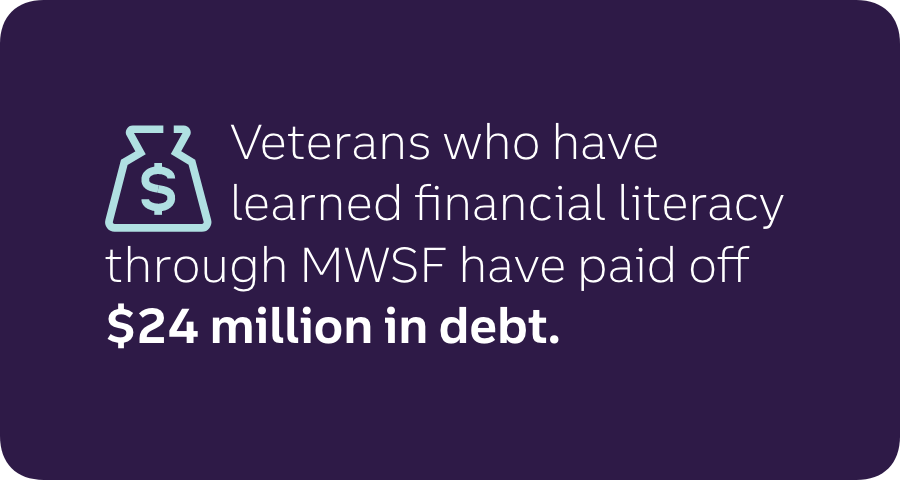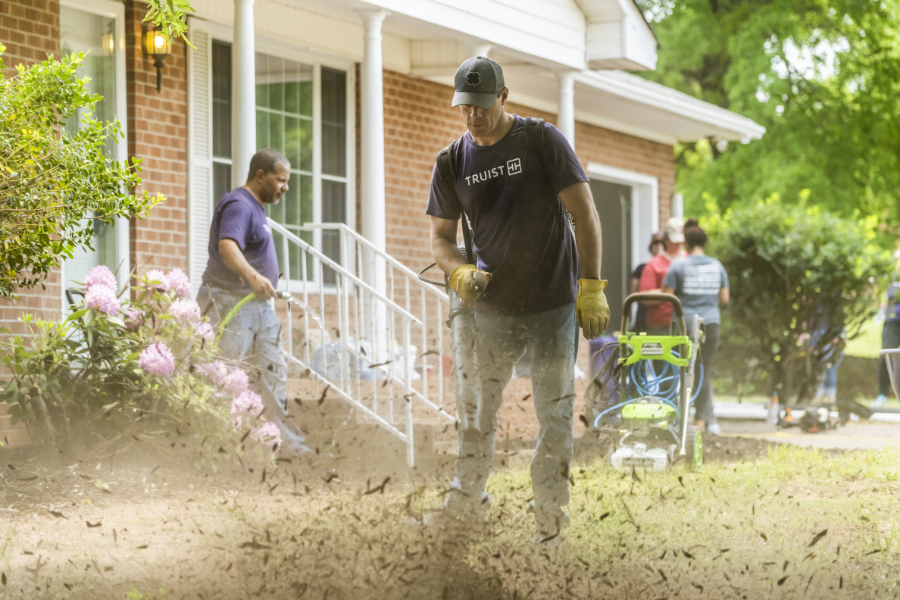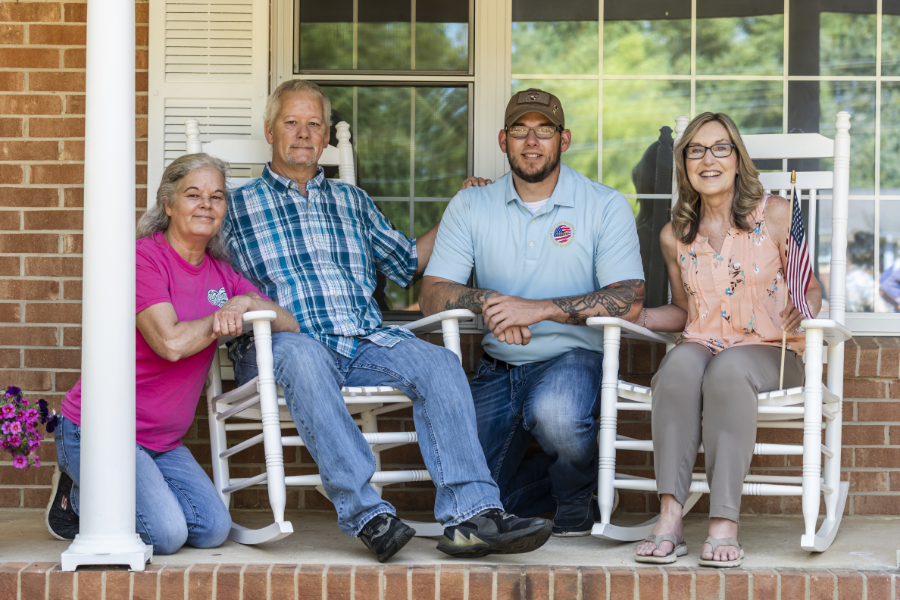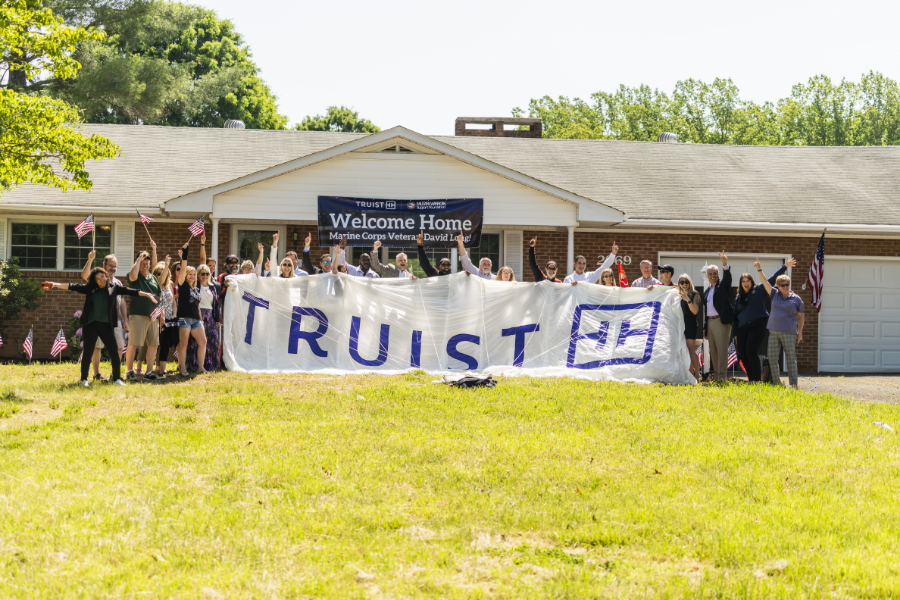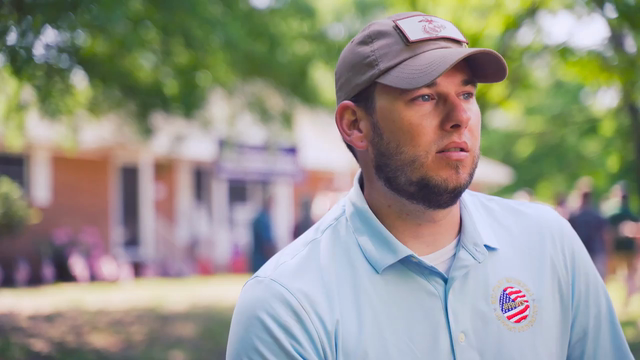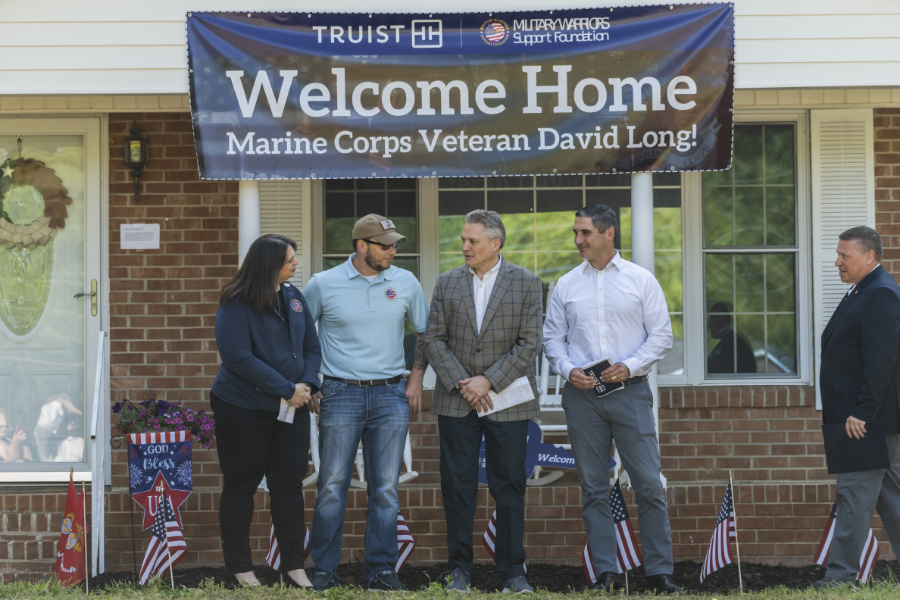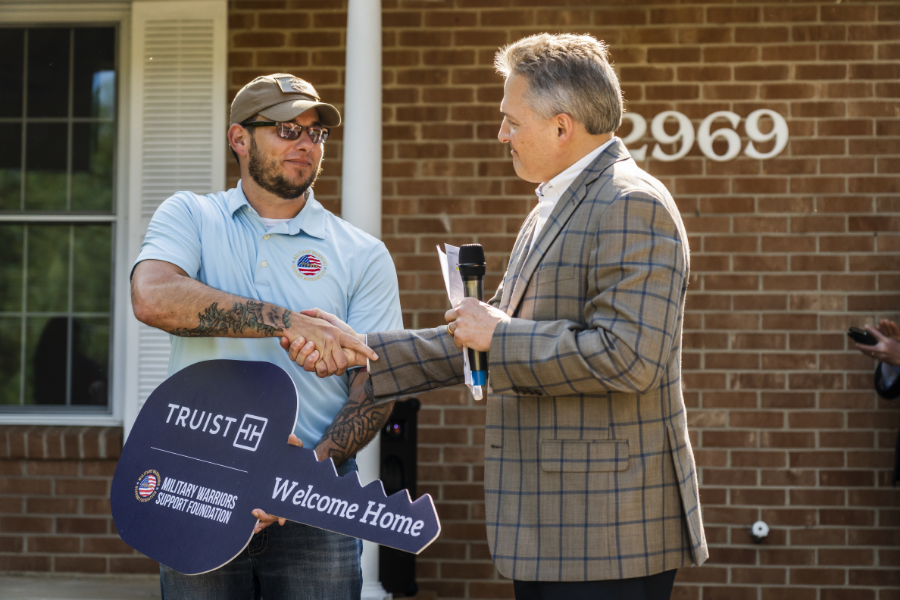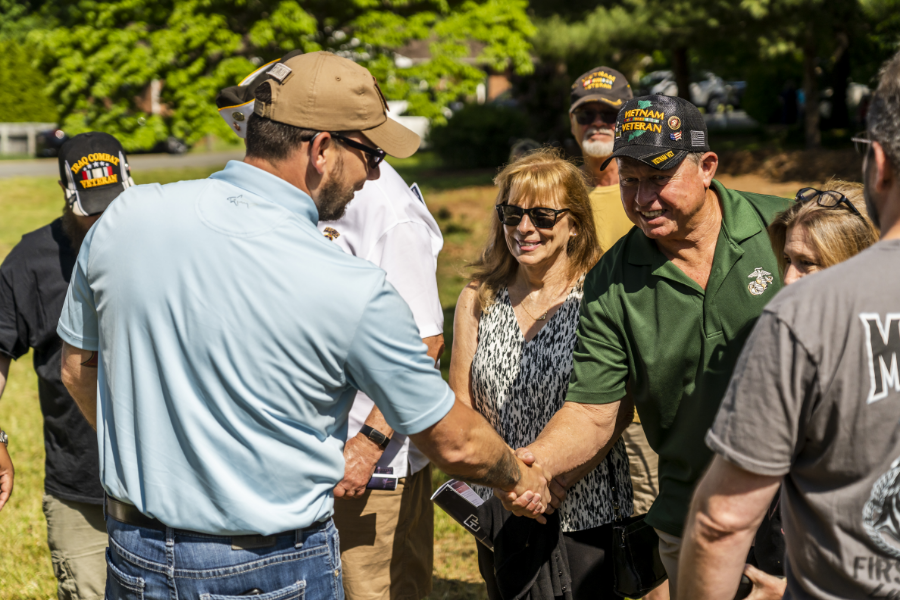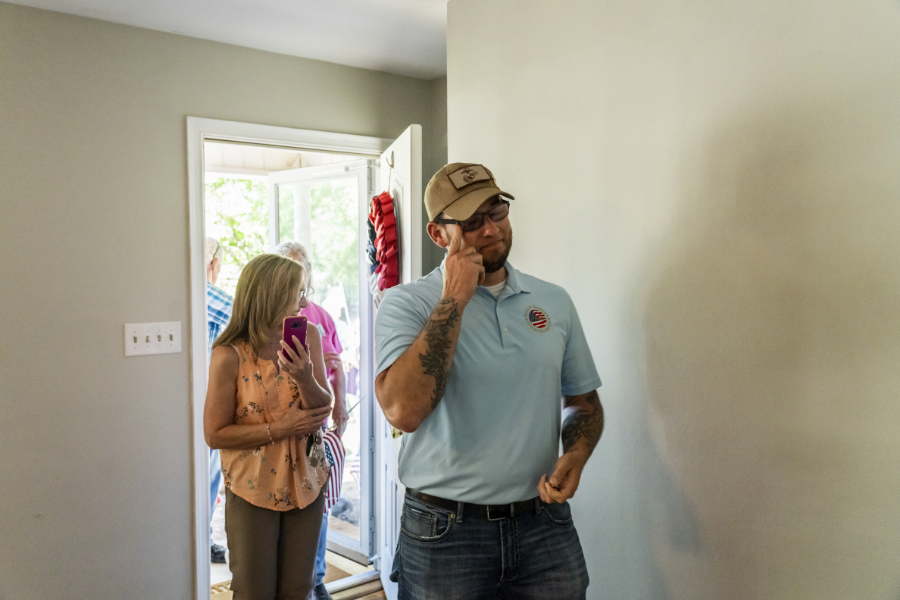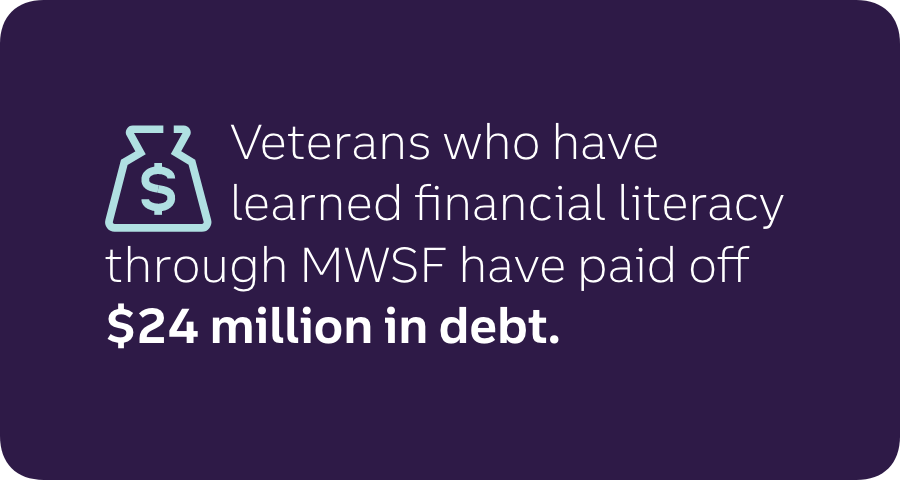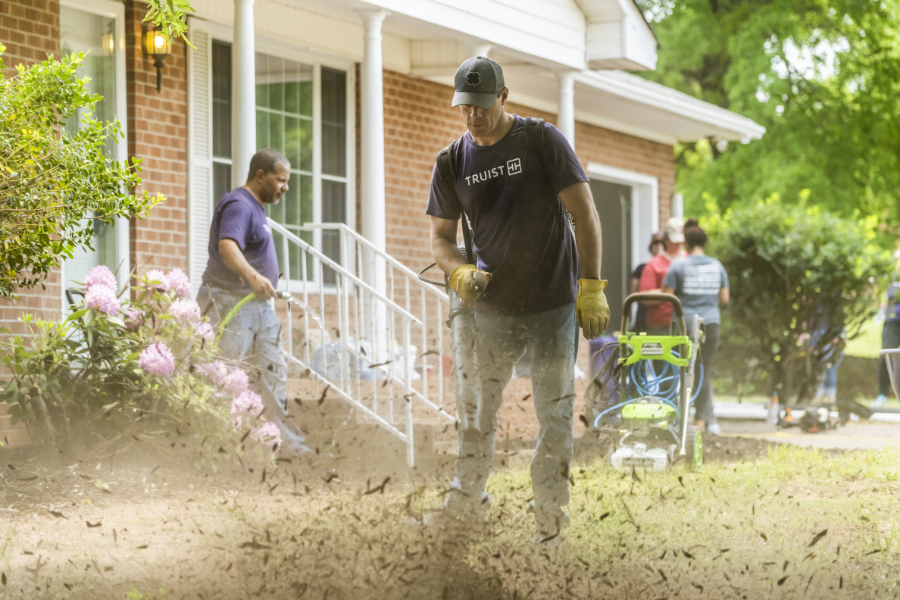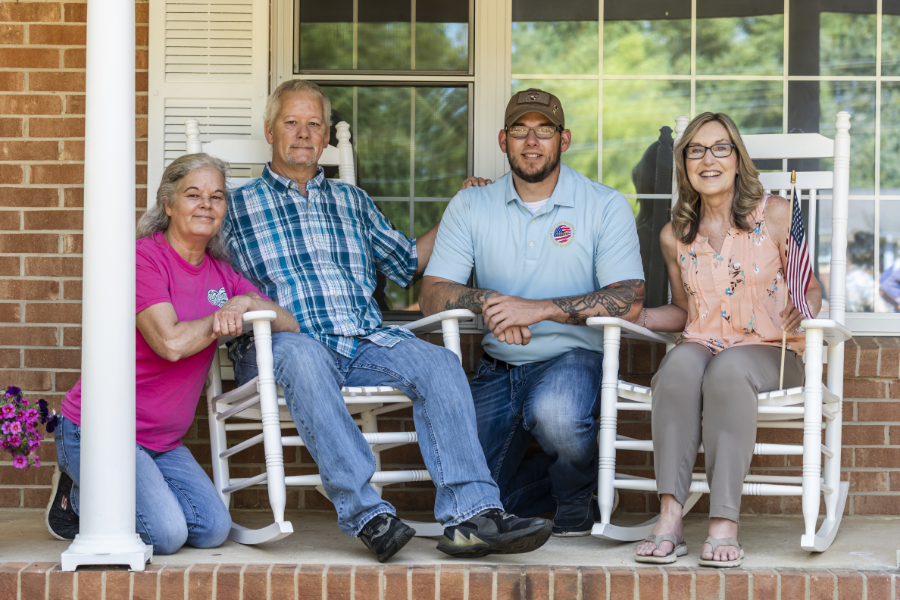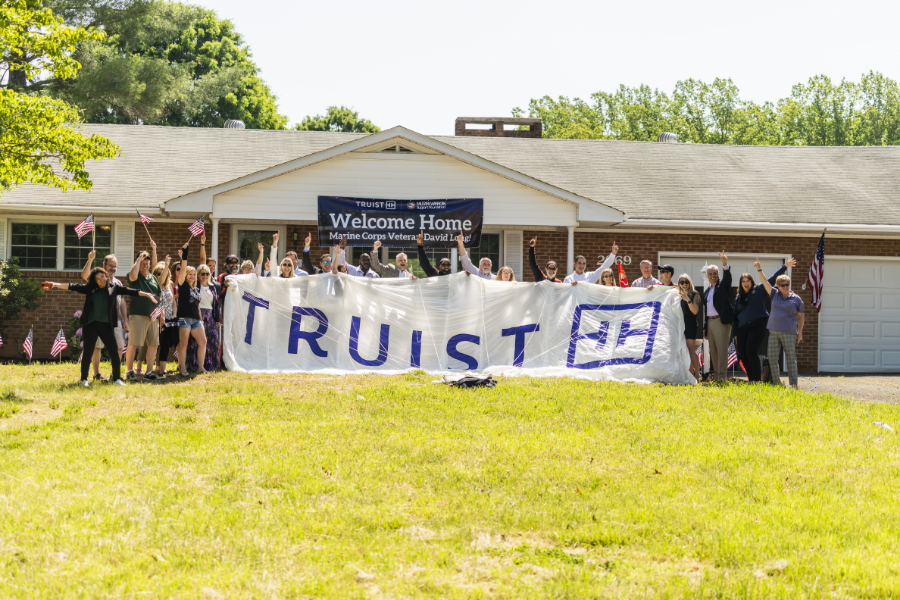 American flags lined the walkway where Sgt. David Long stood looking at the crowd that had gathered in his new front yard: his parents, fellow veterans, new neighbors, and old friends. The sky was clear and cloudless, a perfect day for a ceremony. But of course, any day is a perfect day to be given a new home.
Long removed his hat for the national anthem and stood at attention. After receiving an oversized key to his new house, the veteran shyly took the microphone handed to him.
"I love you. Thank you," he said, before being overcome with emotion, unable to speak further.
And with that, Long got to see the inside of his home—paid in full thanks to a partnership between Truist and the Military Warriors Support Foundation (MWSF).
Free homes for veterans
The partnership works like this: Truist sources homes from its real estate–owned inventory, and then MWSF identifies veterans who'd be a good fit. The 1,380-square-foot, one-story house on a quiet street was great for Long, who is single. It's the 13th home that MWSF and Truist have given to a United States veteran in their 10 years working together.
"This is the epitome of our purpose of inspiring and building better lives and communities," says Mieke de Boer, mortgage home preservation fulfillment officer at Truist. "It's really an opportunity to help the veteran who fought so hard for our country to come back on shore, set up home, and be a part of the community that he served."
MWSF's assistance goes beyond free homes for veterans. They provide injured vets and families of fallen vets a smoother transition to civilian life through programs like Skills4Life, where vets get together for fishing, golfing, and other outdoor activities. There are peer-to-peer mentorships and personal growth and development workshops. And MWSF also gives free vehicles to vets and the families of fallen vets . Since its founding in 2007, MWSF has given away about 900 mortgage-and-tax-free homes and 130 vehicles. Every recipient is given financial literacy help, as well.
A dream comes true—but at a price
Long, of Walkertown, North Carolina, wanted to be in the Marines since he was about 5. "It was the uniform," he says. "I just thought it was the coolest thing in the world. I wanted to wear it." As Long got older, he also found himself wanting to leave his small town and see the world.
Long joined the U.S. Marine Corps, serving from 2005 to 2009, rising to sergeant. While deployed in Iraq and Afghanistan, he suffered a traumatic brain injury and developed PTSD. He received the Purple Heart, which is presented to service members who are killed or wounded as a result of enemy action.
Long returned to North Carolina a hero, happy to be close to family. But he said that the adjustment was tougher than he imagined. Long found it difficult to return to civilian life, which is a problem he shares with 44% of post 9/11 vets. Pew Research found that vets who had a traumatic injury during their service struggle more to reenter society(1).
For a while after his return, Long struggled, looking for peace and stability. "Since I've been out of the military, I haven't had a place to call home that I've lived in longer than 12, 18 months," he says.
Helping veterans connect
Long sought help to better cope with his injuries and found solace at the Veterans of Foreign Wars—an organization more commonly known as the VFW. The VFW fosters camaraderie among veterans of foreign conflicts. Long describes it as "an outlet for communicating" with understanding peers. The friendships Long made there helped turn his life around and gave him a sense of purpose. He found himself wanting other vets to get what he found at the VFW.
"The passion I have for giving back to veterans goes back to some of the things that I didn't have when I was in service and then right after," says Long. "Having somebody to talk to has been huge for me, especially being a member of the VFW. I'm trying to make sure that other veterans can have someone else to talk to."
"David is incredibly inspired to help other veterans," says Andrea Dellinger, senior vice president of MWSF. "He was voted in as the junior vice commander of his local VFW. He is passionate about getting the 9/11-era veterans actively involved."
Having a place to call home will give Long one less thing to worry about, and more time to help other vets. "To see a combat-wounded veteran receive a mortgage-free home is incredibly special because you recognize what they haven't yet seen, and that's the change for them," Dellinger says. "This is really about establishing a very strong foundation for them for the next chapters of their lives. And it's so exciting knowing what's ahead for them."
Long's heroic actions in and out of battle made him a clear choice for MWSF's Homes 4 Wounded Heroes program.
Financial tips that help veterans thrive
Before deeding a house, MWSF ensures each veteran can maintain their home by setting them up for success. Each recipient gets three years of rigorous financial literacy sessions.
"They have a mentor to walk through the three-year program with them, all the way through teaching them budgeting, property taxes, paying off debt—all the little nuances of being a homeowner," Dellinger says. "The foundational tools we build in that program allow them to take those tools wherever they decide to go."
Veterans in the program have been able to pay off $24 million in debt.
Inspiring and building a better life, and a better community
Long learned that he was going to get the home in late 2021. "When they told me, it was waterworks, most definitely," he says.
For the next five months, Truist and MWSF gave the house a makeover. The inside was upgraded with fresh paint, new cabinets, refinished wood floors, and improvements to the wiring and plumbing. Long even got new furniture and garden supplies thanks in part to funding from Truist's Lighthouse Project, in which Truist donate time and funds to help their communities. Long officially received the keys in May 2022.
The day before Long got those keys, Truist teammates volunteered to spruce up the yard and exterior, cutting away brush and painting shutters. They added mulch to the flower beds, then lined the walkway with American and Marine Corps flags.
"What I love about this project is Truist gives teammates the opportunity to give back to our community. I really appreciate that, being a veteran myself. Knowing that this home is going to a veteran who has given for this country really means a lot to me," says Danny Carter, cyber security senior manager at Truist, who volunteered that day.
Making a home to help others feel at home
On the day he received the house, Long explored the inside with his parents, then joined them in rocking chairs on the porch. He talked of homeownership still feeling unfathomable. What would help make the house really feel like his? Hanging a photo of his sister, who died of cancer in 2020.
"Unfortunately, she's not here with us," he says, "but I've got a picture of her with me everywhere I go. So that'll definitely make it feel like home."
The home giveaway exemplifies purpose. Having a place to call home will give Long more time to fulfill his purpose of helping other veterans. "I know several members of my generation that I'm trying to get in [to the VFW] and just make sure that they're successful in their journey to recovery," says Long.
And these giveaways are one way Truist is fulfilling its own purpose: to inspire and build better lives and communities.
"We're changing more than one life," says Mike Zarro, executive vice president of mortgage services at Truist, "because of the ripple effect. These neighbors aren't just getting a great vet who's going to be a vibrant part of their neighborhood and community, but also this house has been sitting vacant for three years. And now you're getting a home that's going to be part of this wonderful street. It's going to be vibrant and active. And again, changing a life and changing community at the same time.
"It's purpose in action."
Read more stories of how Truist is living our purpose to build better lives and communities by updating the technology lab of a Charlotte Boys & Girls Club or supporting a nonprofit that provides financial help to breast cancer patients.
(1) "The Difficult Transition from Military to Civilian Life," Pew Research Center, December 8, 2011.