Franklin Middle School Integrates Computational Thinking Into Core Subjects to Prepare Students for 21st Century Careers
Janesville School District adopts "Ignite My Future in School"- An Initiative by Tata Consultancy Services in Partnership with Discovery Education - Adding to its Increased Focus on Computer Science and STEM Curriculums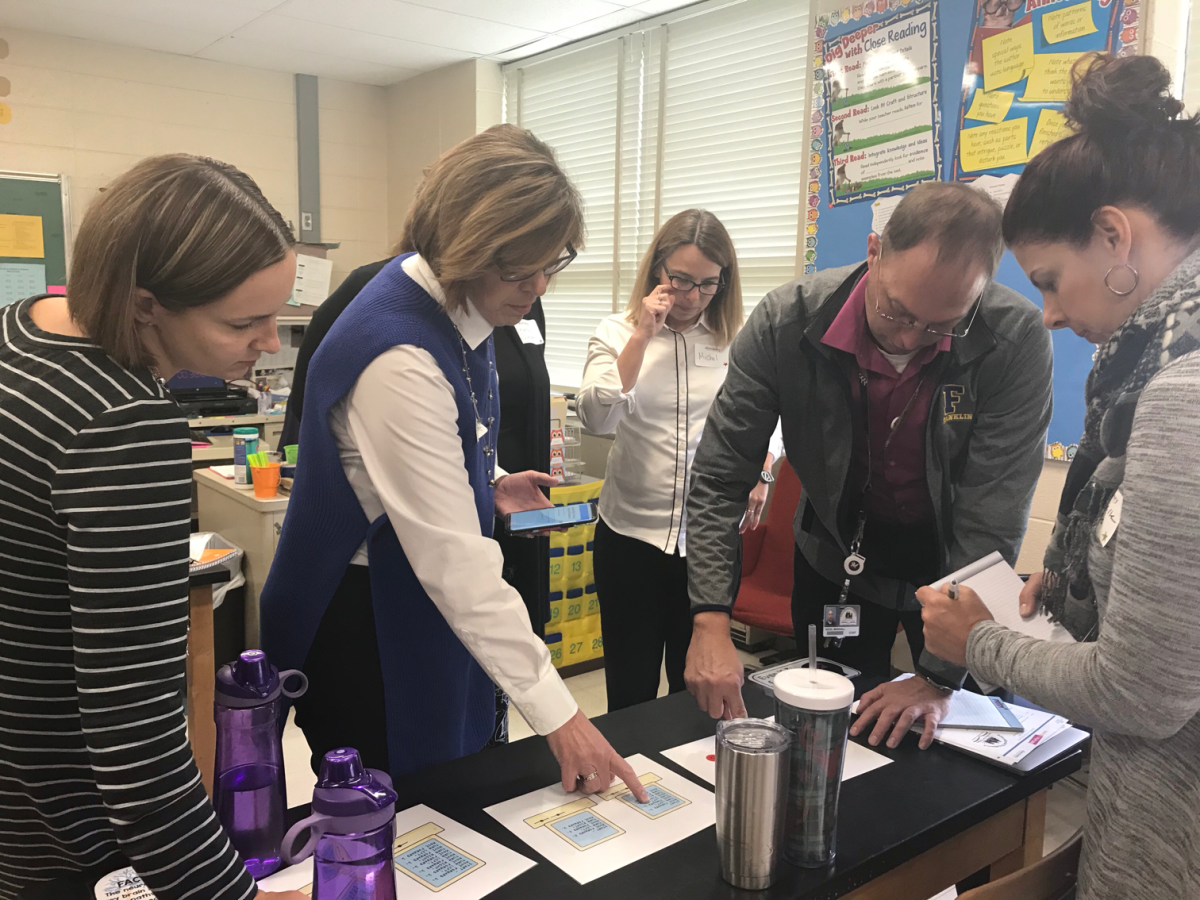 JANESVILLE, Wis. and NEW YORK, October 25, 2017 – Tata Consultancy Services, (TCS), (BSE: 532540, NSE: TCS) a leading global IT services, consulting and business solutions organization, and Discovery Education, the leading provider of digital education content and professional development for K-12 classrooms, continued their Ignite My Future in School initiative in Janesville, Wisconsin at Franklin Middle School. As early adopters of this system, Janesville teachers will receive professional development, educational resources and year-round support to integrate computational thinking into core subjects such as math, sciences, arts, and social studies. In turn, students will learn foundational skills for 21st century careers – across industries – through this transdisciplinary approach.
"I may be very biased, but I can't think of a better place than Janesville to talk about transforming our kids' futures," said US House Speaker Paul Ryan (R-WI), a native of Janesville. "If we leave this to the federal government, we will just keep chasing trends from the last decade. We owe it to our students to help them stay ahead of the curve, and prepare as early as possible for their careers. This initiative is exactly what we need to take skills-based education to the next level."
Franklin Middle School will serve as the initial center for the regional initiative, however, this program adds to the district's budding legacy of computer science. Janesville's George S. Parker High School has played host to several Lego Robotics challenges. Parker and Joseph A. Craig High School each have Robotics teams, that recently finished in the top 100 of the Massachusetts Institute of Technology's Zero Robotics competition.
"I often encourage business leaders to get involved in their local schools to help influence the skills we should be teaching and encourage young people to consider careers in manufacturing and industry," said U.S. Senator Ron Johnson (R-WI) in this video message. "This program focusing on computational thinking and problem solving is a great step in the right direction. You've started with the end in mind; getting students prepared for 21st century jobs that already exist and jobs that have not yet been created. I'm excited that the Janesville school district is taking the lead with this innovative program."
Local teachers and parents will have the opportunity to apply computational thinking during the Day of Discovery at Franklin Middle School and Community Night, which will be held at the district's three middle schools, Franklin, Marshall and Edison. The district has more than 1,400 full-time teachers and all certified middle school staff members in the district will be involved in the training with 10,500 students who could potentially benefit from the program.
Unlike Janesville, most school districts in the state do not have an instructor dedicated to teaching computer science. Yet, large technology companies are looking at Wisconsin to invest billions of dollars and fill thousands of positions with skilled workers as early as 2020. Recent reports indicate only 60 schools offer AP Computer Science in Wisconsin, while the state currently has 7,279 open computing jobs (2.8 times Wisconsin's average job demand rate). Ignite My Future in School hopes to address the disparity by developing relevant skills for 21st century job opportunities, particularly the new digital economy, Artificial Intelligence, machine learning and the Internet of Things (IoT). 
"Our nation's public schools should be places where young people learn to innovate and prepare to participate in an increasingly digital world. We also know that educators can lead the change through proactive approaches to adequately prepare students for the future," said Balaji Ganapathy, Head of Workforce Effectiveness, TCS. "I owe a lot of thanks to the Janesville School District for being early adopter of Ignite My Future in School and for their continued commitment to computer science education."
On a National level, Ignite My Future in School has a goal of engaging 20,000 teachers and one million U.S. students by 2021. As a first step towards this goal, TCS and Discovery Education announced that 10 U.S. school systems across the country – with more than 6,700 teachers and 194,000 students – joined the effort as early adopters of this transdisciplinary approach in a five-year educator training and learning commitment to help empower middle school teachers.
These select schools will experience the unique opportunity to learn and apply computational thinking through an annual free day of professional development for educators and community night for parents. TCS and Discovery Education have also launched an online program, TECHademy, which will engage teachers nationwide in an exclusive, cost-free, virtual professional development experience that includes curriculum resources, eLearning courses, webinars, and more. These resources are aligned to national standards, as well as the recently launched K-12 Computer Science Framework.
Ignite My Future in School builds on TCS' robust community initiatives that have inspired more than two million young people in STEM education and careers. TCS is a founding partner for two national mentoring initiatives in the United States, US2020 and Million Women Mentors. Its flagship student engagement program, TCS goIT, has engaged more than 12,000 middle and high school students across 56 cities in the United States and Canada with hands-on experiences in computer science, inspiring them towards tech careers in all sectors. Moreover, TCS is part of the CSforAll Consortium and has national partnerships with NCWIT, NPower, the U.S. Chamber of Commerce Foundation, CECP, National 4H Council, Boys Scouts of America, and Boys and Girls Clubs of America.
About Tata Consultancy Services Ltd (TCS)
Tata Consultancy Services is an IT services, consulting and business solutions organization that delivers real results to global business, ensuring a level of certainty no other firm can match. TCS offers a consulting-led, integrated portfolio of IT, BPS, infrastructure, engineering and assurance services. This is delivered through its unique Global Network Delivery Model™, recognized as the benchmark of excellence in software development. A part of the Tata group, India's largest industrial conglomerate, TCS has over 389,000 of the world's best-trained consultants in 46 countries. The company generated consolidated revenues of U.S. $17.6 billion for year ended March 31, 2017 and is listed on the BSE Limited and National Stock Exchange of India Limited. For more information, visit us at www.tcs.com. To stay up-to-date on TCS news in North America, follow @TCS_NA. For TCS global news, follow @TCS_News.
About Discovery Education
Discovery Education is the global leader in standards-based digital content for K-12, transforming teaching and learning with award-winning digital textbooks, multimedia content, professional development, and the largest professional learning community of its kind. Serving 4.5 million educators and over 50 million students, Discovery Education's services are in half of U.S. classrooms, 50 percent of all primary schools in the UK, and more than 50 countries. Discovery Education partners with districts, states, and like-minded organizations to captivate students, empower teachers, and transform classrooms with customized solutions that increase academic achievement. Discovery Education is powered by Discovery Communications (NASDAQ: DISCA, DISCB, DISCK), the number one nonfiction media company in the world. Explore the future of education at DiscoveryEducation.com. Stay connected with Discovery Education on social media through Facebook, follow us on Twitter at @DiscoveryEd, or find us on Instagram and Pinterest.
Media Contacts
Ben Trounson
Tata Consultancy Services
b.trounson@tcs.com
Charmion N. Kinder
Discovery Education
charmion_kinder@discovery.com