Fox Partners With Kennedy Center to Celebrate and Support Arts Education in Schools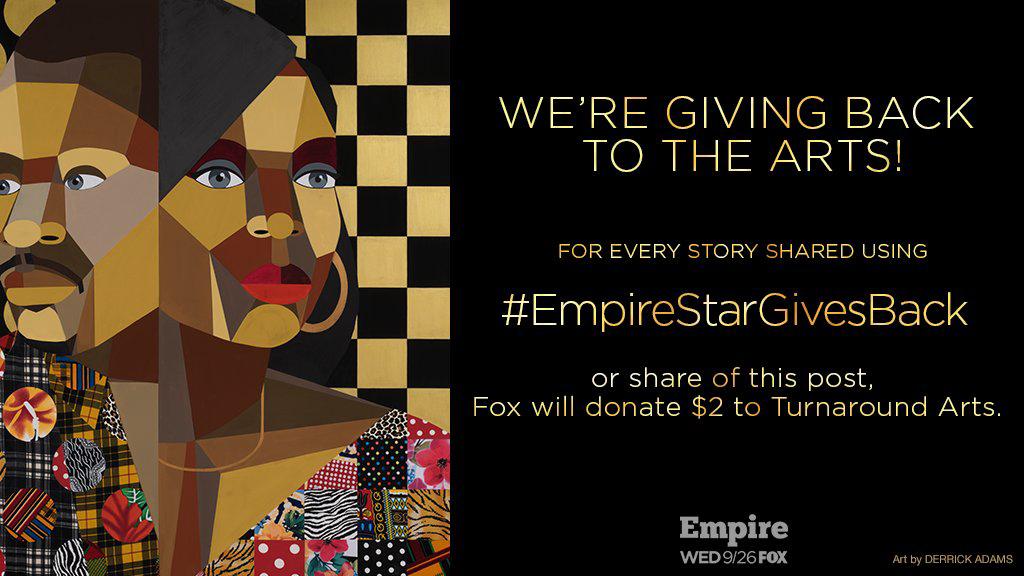 21st Century Fox Social Impact
To mark the upcoming new seasons of hit music dramas Empire and Star, FOX Broadcasting Company and parent company 21st Century Fox have launched #EmpireStarGivesBack, a social media campaign benefiting the Turnaround Arts program at the John F. Kennedy Center for Performing Arts. For every social media post using #EmpireStarGivesBack and #Promo, 21CF and FOX will donate $2 (up to $50,000) to Turnaround Arts, which empowers struggling schools across the United States with new opportunities for arts education and arts-based learning. Empire and Star had their respective season premieres on FOX on Wednesday, Sept. 26.
As part of the campaign, FOX is encouraging fans to share messages across social platforms, including Facebook and Twitter, thanking and honoring a mentor or teacher who inspired their love of the arts. Additionally, actors from both Empire and Star will celebrate the music and arts educators who have made a difference in their own lives. The campaign will conclude on December 31, 2018.
The #EmpireStarGivesBack campaign not only reflects the two shows' commitment to telling stories about the power of the arts to change lives but also the series' off-screen work to support art and artists. Each season of Empire has featured the work of prominent artists of color, including Kerry James Marshall, Kehinde Wiley, Mickalene Thomas, Dawoud Bey, Toyin Odutola, and Carrie Mae Weems. For the new season, renowned artist Derrick Adams created a portrait of Cookie and Lucious Lyon that is featured in the premiere. FOX is also launching a collection of merchandise using the Derrick Adams-created image that fans can purchase online at shop.fox.com, with all of FOX's profits going to Turnaround Arts.
The cast and crew of Empire officially announced the campaign on September 24 at an AOL Build event in New York City. Actors Terrence Howard and Taraji P. Henson, who play Lucious and Cookie Lyon, joined producers Sanaa Hamri and Brett Mohoney, as well as Turnaround Arts Director of Implementation Winston Cox, for a live conversation to an audience of eight grade students from a Turnaround Arts school in Brooklyn. Together, they spoke about their early experiences in art, music, and drama programs, and the lessons they learned in those programs that have continued to affect their lives and careers.
"That's where I found art was in school," Henson said. "I did my very first play in fifth grade. I was a very rambunctious child. I wouldn't be quiet, and my teacher knew how to channel that: she put me on stage!"
Turnaround Arts is a national school reform effort that transforms priority schools through the strategic use of the arts, working in 84 of the country's lowest performing elementary and middle schools. The program uses arts education and art-based learning across a range of subjects to boost academic achievement and increase student engagement.