Four Ways P&G is Stepping Up to Inspire and Enable Disability Confidence
Four Ways P&G is Stepping Up to Inspire and Enable Disability Confidence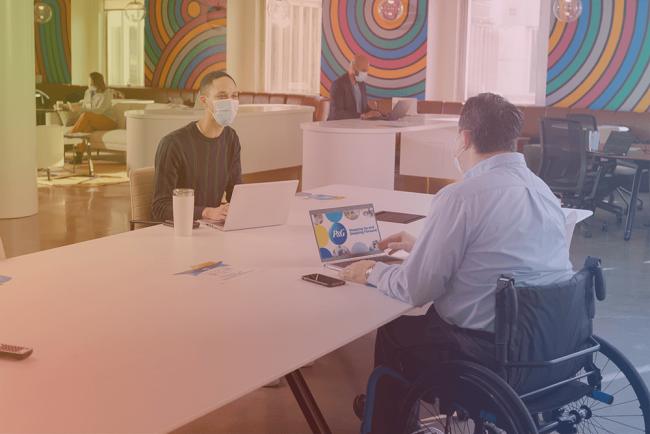 Tuesday, December 7, 2021 - 10:15am
We're recognizing International Day of Persons with Disabilities and the contributions of P&G employees with disabilities. We aspire to build a culture of disability confidence both inside P&G's walls and beyond and are committed to taking action, driving growth and creating value for people with disabilities: for our employees, through our brands, with our partners in communities we serve.
We know it is the power of our differences, and the strength of our togetherness, that drives growth and value creation, and we are committed to providing a disability confident culture that creates a sense of belonging and enables equal access and opportunity for all. In line with our Equality & Inclusion strategy, we've made significant progress in our HR systems to further drive disability inclusion. See how first-ever Accessibility Leader Sumaira Latif is using her passion to improve the lives of other blind people around the world.
We have just launched a breakthrough process for people with disabilities at P&G—the opportunity to privately self-identify in our internal systems which will contribute to our collective understanding of our P&G community. When we better understand our community, we better serve our people and create a more inclusive future for employees with disabilities.
Diversity and inclusion of employees with disabilities provides the competitive edge to innovate and serve our consumers through the most innovative, inclusive and accessible brands and services.
As a company who makes products that exist in our consumers' daily lives, we want to make sure that we're helping everyone feel comfortable and adjusted. Let's start with the outside of our products, which thanks to thoughtful design are much more than surface-level.
Our Pantene UK brand made progress towards improving the in-store experience for the blind and low vision community, through the introduction of NaviLens. A colored, bleeding edge QR code that can be scanned from several meters, wide angles and varied lighting conditions. It is activated via an app, reading key information about a product aloud.
In fact, we take inclusive design so seriously that when we found out some consumers found the Olay jar difficult to open, we created our Easy Open Lid that has an open-source design, which means other beauty brands can use it and even adapt it to their own products. With a design that's open to all, we can make beauty more inclusive for all.
Building an accessible and inclusive environment for all is not something any one company can achieve alone. To advance equality and inclusion, we know we have to partner with likeminded organizations to accelerate inclusion for PwD at scale, drive growth and inspire a culture of equality where everyone can thrive. We've established collaborative partnerships and made strategic investments to build stronger and healthier communities. As part of the Valuable 500, we connect with like-minded companies to continue to elevate our voice and accelerate our impact out in the world, and across the business community to advance disability inclusion.
Finally, we recognize that experiencing the point of view of disabled people firsthand is core to supporting this community. P&G in partnership with Harder Than You Think, the team behind the documentary film Rising Phoenix, recently produced its own podcast series titled "Equal Too," which explores six key sides of the inclusivity movement. Some favorites include celebrity guest Jameela Jamil, and an episode explaining why the Tokyo 2020 games were a turning point for more than the handful of athletes who made front-page news. We believe that greater visibility is a key step to changing perceptions on the journey to disability equality, and we are excited to help elevate these conversations. Find the episodes on our blog.
We're making progress each day, and recognize we have a long way to go to make our company even more inclusive for people with disabilities and to make superior products that create a great experience for all. Together, we can inspire and enable disability confidence in the world.
Check out the stories of our D/deaf employees and employees who are hard of hearing around the world.
Learn about our Neurodiversity Program — a recruitment initiative that originated in the U.K. and seeks to enable the recruitment of neurodiverse individuals into a number of functions within our company.