A Focus on Sustainability at American Airlines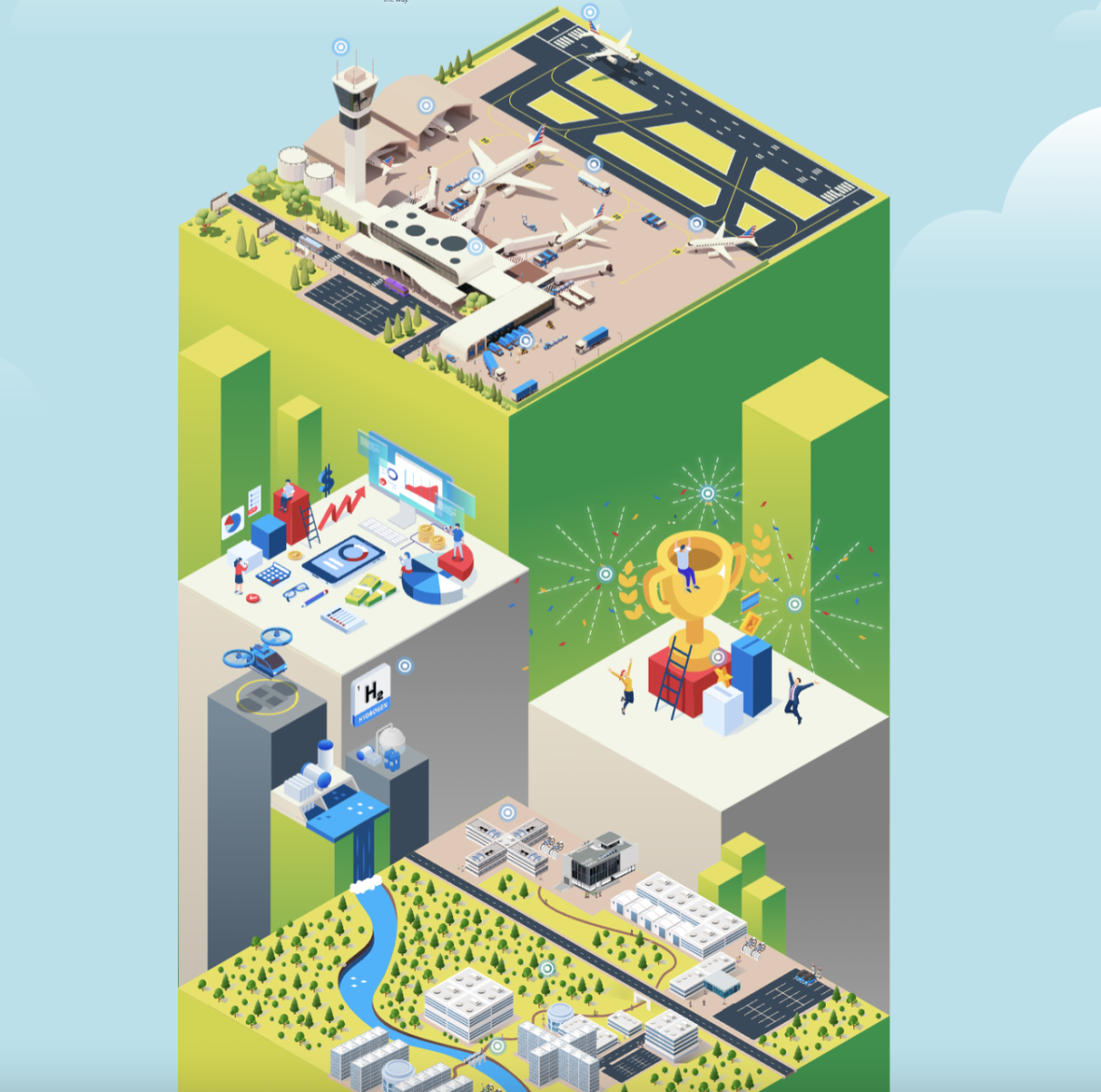 American Airlines is working to make its operations more sustainable with more-fuel efficient aircraft powered increasingly by low-carbon fuel and new technology. To achieve net-zero greenhouse gas (GHG) emissions by 2050, the airline has set a number of ambitious intermediate targets. To do so, the airline is working to drive progress in several key areas — some of which the airline can influence directly, and some of which will require action and collaboration within the aviation industry, across sectors and by policymakers.
Discover the many ways the airline is leading the industry in its focus on sustainability — with investments in planes, products and operations — garnering a number of accolades along the way.
Youngest Fleet Among U.S. Network Carriers
American operates the youngest fleet among U.S. network carriers, resulting from substantial investment and re-fleeting decisions in recent years. In 2020, American accelerated its fleet simplification efforts by retiring more than 150 older, less fuel-efficient aircraft and saying farewell to several fleet types.
Fleet Age Matters
As of 2022, more than 50% of American's fleet is less than 10 years old with an average fleet age of 12 years, the youngest among U.S. network carriers. Last year, American welcomed nine new Boeing 787-8 aircraft that are almost 20% more fuel efficient than the planes they replaced and 24 new Airbus A321neos designed with sharklets and engines that help make the aircraft 15% more fuel efficient than previous generation. More new planes are on the way: Over the next five years, American is scheduled to take delivery of more than 170 new mainline aircraft, including more Boeing 787-9s and 737 MAXs, and 50 Airbus A321XLRs.
Sustainable Air Traffic Management Practices
American is working with the FAA to design and execute more efficient descent procedures that allow aircraft to safely glide to airports from cruising altitude, instead of more traditional stair-step descents that require more thrust. It is estimated that these procedures could save up to 11 million gallons of fuel annually at our CLT and PHX hubs. American has also worked with the FAA to develop a program called Terminal Flight Data Manager that saved more than 275,000 gallons of fuel annually at its second-largest hub, CLT, by significantly reducing taxi times.
Prioritizing Fuel Efficiency
American's ongoing fleet renewal efforts have helped the airline improve fuel efficiency by more than 10% since 2013, which is an estimated more than 22 million metric tons of carbon dioxide.
Thoughtfully Made Onboard Products and Dining
American teamed up with sleepwear brand RECLINER to produce sustainable sleep suits for use on international long-haul flights. The suits are made by a process that minimizes water waste and uses sustainably recycled plastic bottles (RPET) blended with cotton. Each sleep suit is made from 12 400-ml bottles rescued from landfills. Overall, this program equates to an estimated daily saving of 4,821 bottles from landfills. In flight, American provides bamboo cutlery to Main Cabin customers on select international flights and meal containers made with recycled RPET materials. In partnership with the James Beard Foundation, everything from suppliers to seafood vendors for inflight fish offerings are Smart Catch & Waste Not accredited.
Ramping Up Sustainable Aviation Fuel Usage
American used more than 2.5 million gallons of sustainable aviation fuel (SAF) in 2022 and nearly doubled its usage year over year. SAF agreements for current and future delivery bring the airline's total low-carbon fuel commitments to more than 620 million gallons.
Agreements with Aemetis and Gevo fulfill roughly 20% of the airline's goal to replace 10% of its jet fuel with SAF in 2030. SAF deliveries under these agreements are expected to begin in 2025 and 2026.
Smart Gating Added at Several Hubs
American has built new smart gating technology that reduces taxiway congestion and the time aircraft spend waiting for available gates. The tool uses real-time routing, runway information and other data, along with machine learning, to automatically assign aircraft to the nearest available gate. Smart gating is currently in use at several hubs and is projected to save more than 1.4 million gallons of fuel annually —enough to fill up 29 Boeing 777-300 aircraft. This reduces carbon dioxide emissions by more than 13,400 metric tons annually.
Lounges Designed with Sustainable Materials
American sources renewable American-made materials for its lounges. The airline evaluates design details for maximum durability and to mitigate landfill accumulation. It also uses LED lighting to maximize energy efficiency. New and redesigned lounges incorporate low-flow plumbing fixtures and building automation, and they maximize the use of natural light and views to the outside.
Cargo Transitions to Biodegradable Plastic
American's cargo division is transitioning to biodegradable plastic wrap for use in its operations, which, in 2022, reduced long-term plastic waste by more than 130,000 lbs., equal to 6.4 million plastic water bottles. While traditional plastic can take up to 1,000 years to break down, the BioNatur Plastics™ wrap now used by American biodegrades in 5 to 10 years in normal landfill conditions. Learn more in Cargo News.
American Named 2023 Eco-Airline of the Year
Air Transport World (ATW) named American Airlines its 2023 Eco-Airline of the Year. With the airline's fleet renewal effort — the most extensive among U.S. network carriers — and rising consumption of sustainable aviation fuel, ATW recognized American's work to run a more fuel-efficient operation with more fuel-efficient aircraft powered increasingly by low-carbon fuel.
First Airline to Receive Validation from Science Based Targets Initiative
American is the first airline in the world to receive validation from the Science Based Targets initiative (SBTi) for its intermediate emissions reduction goal. American's science-based target is to reduce its carbon intensity by 45% by 2035 compared to a 2019 baseline.
Second Consecutive Year on 2022 Dow Jones Sustainability North America Index
For the second year in a row, the airline appeared on the Dow Jones Sustainability North America Index in 2022, improving its score by more than 20% year over year. The 2022 DJSI comprises North American sustainability leaders as identified by S&P Global through the Corporate Sustainability Assessment. The Index represents the top 20% of the largest 600 North American companies in the S&P Global Broad Market Index (BMI) based on long-term economic, environmental and social criteria.
High CDP Score in Environmental Disclosure
In 2022, American received an A- score on CDP's climate change questionnaire — the highest score among passenger airlines in North America. The airline's disclosures put American among a few companies worldwide to score that high.
Investing in Forward-Looking Industries
American is helping to catalyze the development of hydrogen to help aviation reach net-zero. American is the only airline to invest in both ZeroAvia a leader in hydrogen-electric, zero-emission aviation, and Universal Hydrogen, which is building a green hydrogen distribution and logistics network for aviation. Both have recently completed successful test flights of their cutting-edge technologies.
Buildings Designed with LEED-Certification in Mind
Sustainable practices at American's headquarters in Fort Worth, Texas, extend from its operation to its facilities. The campus includes eight buildings that span 300 acres, with the newest buildings designed with sustainability in mind. The newest addition —Skyview 6, the campus Hospitality Complex —is designed to meet LEED Gold standards. Materials used for the new facility are intended to mitigate heat island effects, light pollution and energy usage. As of 2022, 100% of the electricity powering American's North Texas campus facilities comes from renewable sources.
Life on Robert L. Crandall Campus
American's campus boasts a rich native Texas botanical experience that protects sensitive lands and reduces outdoor water usage. Ninety acres of the campus are preserved woodlands with more than 3,000 newly planted trees onsite and 9.3 miles of walking trails.
Team Members Choosing to Live Green
American's Living Green Employee Business Resource Group includes more than 480 team members who partner with internal and industry partners to educate team members about sustainability. In 2022 and 2023, the group organized sessions about local water supply, water conservation and sustainable landscaping.