Family Separation Policy Spurs Big Boost in Giving to Immigrants' Rights Organizations on Benevity Platform
Donations to Islamic Charities Also Increase During the Month of June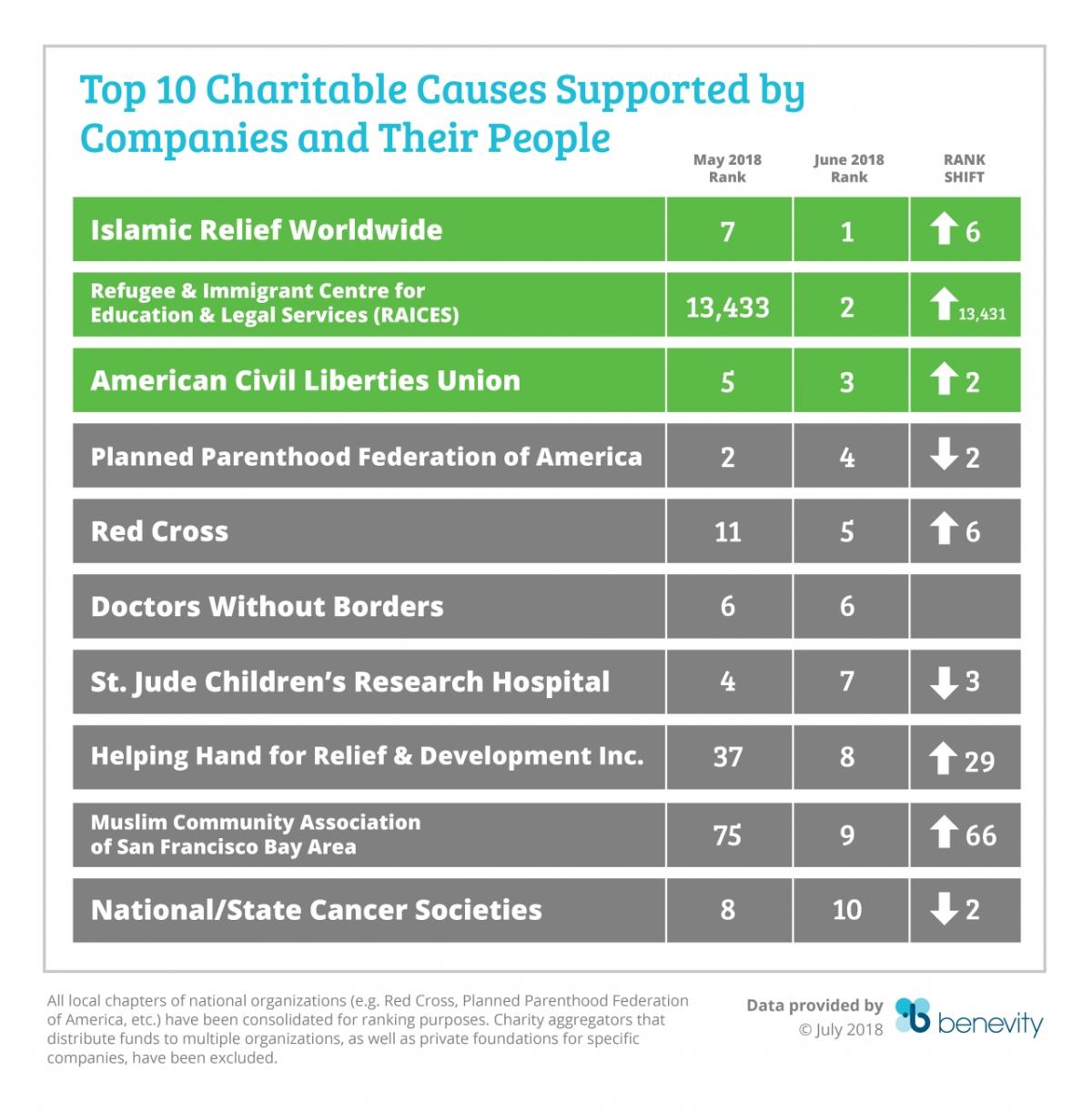 CALGARY, Canada, July 26, 2018 /3BL Media/ – Benevity, Inc., the global leader in corporate social responsibility and employee engagement software, today announced the "Top Ten Causes" that have received donations through its platform during the month of June 2018, with Islamic Relief Worldwide, Refugee & Immigrant Centre for Education & Legal Services (RAICES) and American Civil Liberties Union leading the list. The results highlight several giving trends that tie current events to causes currently supported by Benevity's enterpriseclients and their people. 
Most notably, Benevity saw a big boost in giving to immigrants' rights organizations following the news about family separations at the U.S. border. Donations to RAICES skyrocketed, as the organization moved from place #13,433 in May to the #2 recipient of funds disbursedon the Benevity platform in June. Other causes linked to immigrants saw significant donation increases within the same timeframe, with KIND Inc.moving from #3,994 to #12, Save the Children Federation Inc. going from #88 to #13 and Florence Immigrant and Refugee Rights Project Inc. going from #1,594 to #18. Other organizations that moved up the list included Texas Civil Rights Project and The Young Center for Immigrant Children's Rights. In addition, 40 percent of all donations to RAICES for the month came from employees of a company offering a 2:1 donation match for their employees -- a testament to what can be achieved when organizations support the priorities and passions of their people.   
"The world is facing some tough challenges, and now is a great time for more companies to realize their vast potential to become catalysts for positive social change," said Bryan de Lottinville, Benevity Founder and CEO. "The Benevity platform is designed so that corporations can empower their people and the public to take action on the issues they are most passionate about. When people are able to choose when and to whom they donate their time, money and talent, they are more likely to give back and more likely to feel that their values are supported by their employer. The giving trends related to immigration and other current events that we tracked in June underscore the power of this 'open choice' approach."
Islamic charities also saw a bump in donations on Benevity in June, which is likely tied to increased giving during Ramadan (which took place from May 16 to June 14 this year), developments related to the Muslim ban and refugee and immigration debate, as well as ongoing diversity and inclusion efforts championed by a growing number of businesses. Islamic Relief Worldwide was the #1 recipient of charitable dollars in June, while Helping Hand for Relief and Development Inc. and Muslim Community Association of San Francisco Bay Area were #8 and #9, respectively. 
As Benevity's research has shown, there's a strong link between employee-centric Goodness programs and engagement and retention. A recent study of more than 2 million users on the Benevity platform found that turnover dropped by an average of 57 percent among employees most involved in their companies' giving and volunteering efforts.  
"When companies take a democratized approach tocorporate giving, they have an opportunity to build deep, authentic connections with their people by supporting the causes they care about," added de Lottinville. "By cultivating a culture driven by passion and purpose, employers and employees can maximize the impact of their prosocial actions and strengthen the company and their communities." 
About Benevity
Benevity, Inc., a B Corporation, is the global leader in online workplace giving, matching, volunteering and community investment software. Many of the world's most iconic brands rely on Benevity's award-winning cloud solutions to power corporate "Goodness" programs that attract, retain and engage today's diverse workforce by connecting people to the causes that matter to them. With software that is available in 17 languages, to more than four million users around the world, Benevity has processed over 2 billion dollars in donations and 10 million hours of volunteering time this year to almost 150,000 charities worldwide.
Media Contact
Amanda Orr
Kickstart for Benevity
1.202.459.1304 
press@benevity.com