Expert Interview With Tracey Dubuque, Onshore Wind Energy Practice Leader
Helping clients navigate the complexities of wind projects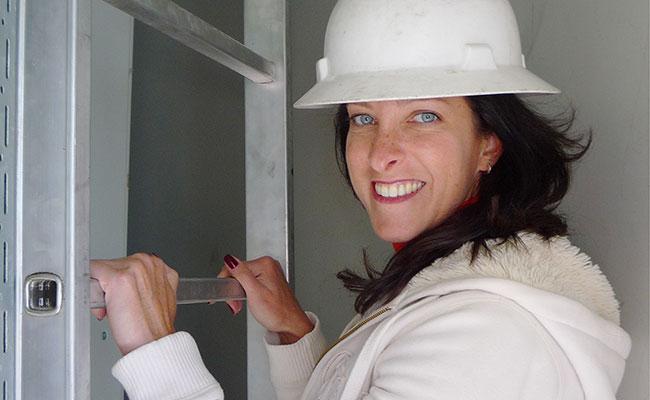 Tracey Dubuque has worked with Tetra Tech for more than 15 years. She began her career as an engineer working in Tetra Tech's remediation group. In 2005, she transitioned to working on energy projects, supporting front-end permitting and siting for various wind developers. In 2013, she became the practice leader for Tetra Tech's onshore wind program.
Throughout her career, Ms. Dubuque has supported many of the top developers on projects across the United States. She is a professional engineer and received her bachelor's degree in civil engineering from Merrimack College. She has industry-specific experience in wind farm siting, permitting, and environmental due diligence.
What has continued to spur the growth in the development of wind energy?
The industry has continued to grow because people are becoming more focused on increasing our clean, renewable energy and reducing dependence on foreign sources. Many states and provinces have specific policies and incentives that require utilities to supply a specified percentage of electricity from renewable sources. By the end of 2013, there were a record-setting 12,300 megawatts of wind power under construction across 20 states. Technology is improving, so wind power is becoming more cost effective.
The boost in wind development helps create new jobs locally, as well as nationally through manufacturing. Areas where projects are built benefit from an increase in tax revenue and a revitalized economy.
Tetra Tech is currently working in the U.S. and increasing our involvement in the wind industry in Canada and globally. In the U.S., the National Renewable Portfolio standard, if established, will encourage development. In Canada, the feed-in-tariff program continues to change, so the environment is uncertain.
What sets Tetra Tech apart from other engineering firms that work in wind energy?
Tetra Tech has worked on more than 650 wind projects worldwide, with more than 25,000 megawatts of wind generation in operation or scheduled for construction. We're a full service company—environmental, engineering, construction, and operations. We can identify any critical path issues or schedule risks a developer might encounter, and we do this at the outset. Really, we're a strategic partner. We help developers through the process, tailor solutions to meet their needs, and help them navigate difficult situations.
With 16,000 associates worldwide, if our clients need something immediately, we are likely to have people locally and can staff these projects using individuals with local presence, knowledge, and connections.
Another area that sets us apart is our technical specialists. They have the reputation for being among the top in the industry. For example, our natural resources group has worked on the front-end of the recent U.S. Fish and Wildlife Service eagle plan guidance, and we have performed cutting-edge behavioral research on eagles. Tetra Tech is experienced with the regulations and can help developers identify risks and balance costs in development of a wind farm.
What's the benefit to the client of using Tetra Tech for the full turnkey engineer-procure-construct package?
Because we have experience in all phases of getting a wind project to market, we can manage a project efficiently. We can help our clients understand and navigate a cost-effective, efficient environmental and engineering process. Our team is integrated from front-end to back-end, and can quickly identify and plan for potential issues and schedule risks. We also provide final design, either as an individual service or as part of an EPC package. With Tetra Tech accountable for the whole process, our clients have a single point of contact and peace of mind that issues and risks will be anticipated and handled effectively.
What kind of nontraditional sites are being developed for wind energy projects?
Some of the earlier wind farms are nearing the end of their lifetime. With the newer technologies, we (the industry) have an opportunity to replace many of these and increase productivity while reducing maintenance costs to the owners. This also allows the owner the option of moving turbines to better integrate them into the community.
One of the other nontraditional areas in which Tetra Tech is working is offshore development. While offshore projects have been built in other countries, this is still nontraditional in the U.S.—no full project has been constructed yet. We have also conducted some studies related to floating turbine technology. This approach eliminates the geotechnical challenges of conventional foundations, so floating turbines can be located in deeper water and are less limited in terms of siting location. This leads to increased generating capacity.