Essity Annual and Sustainability Report: Attractive and Engaging Employer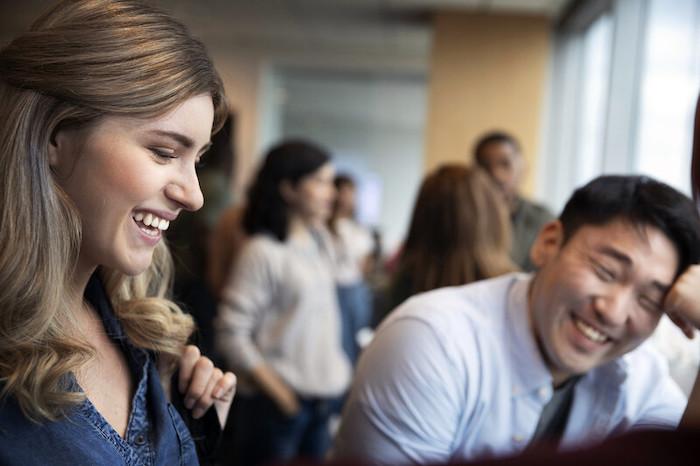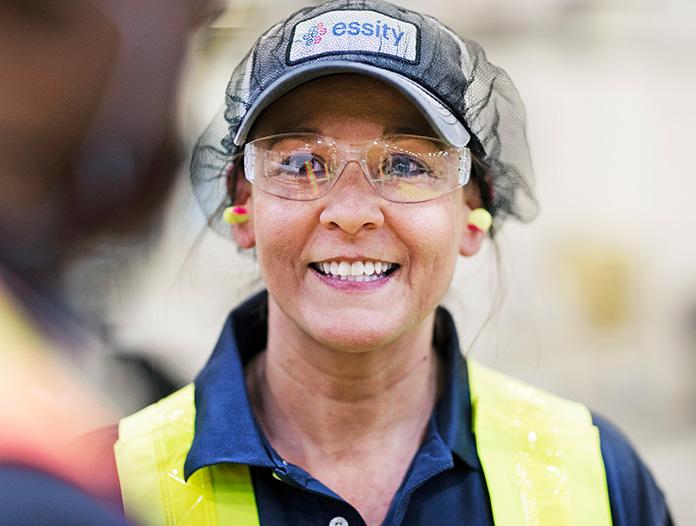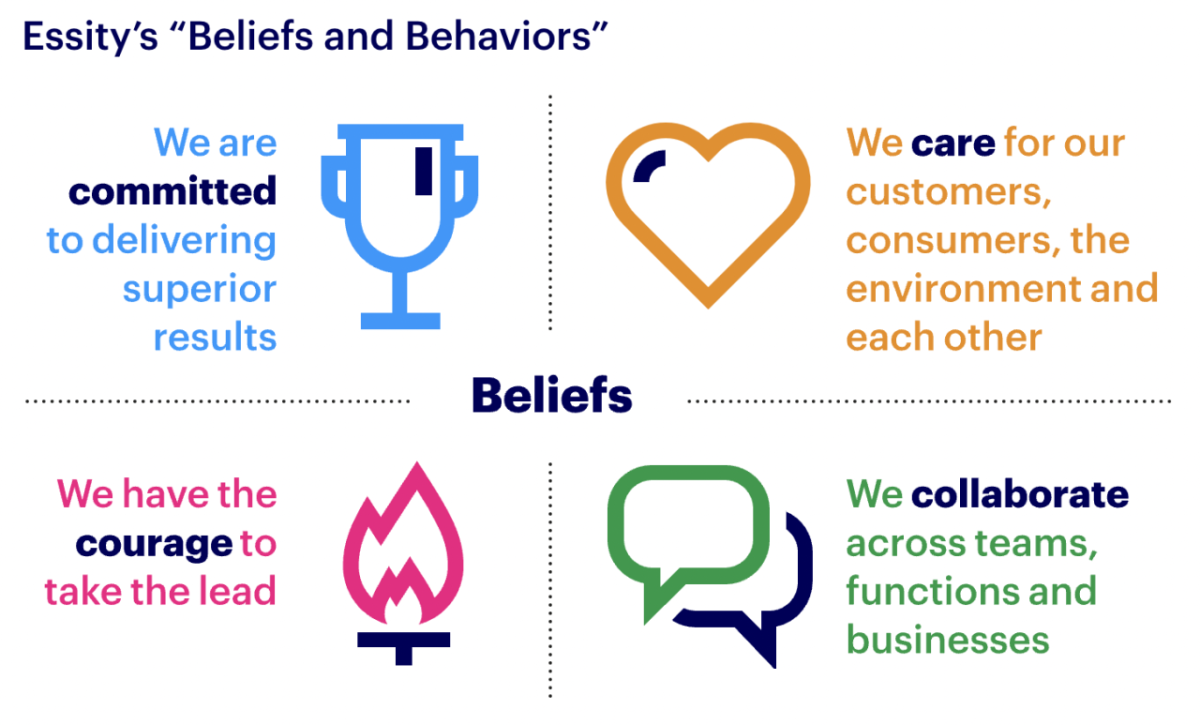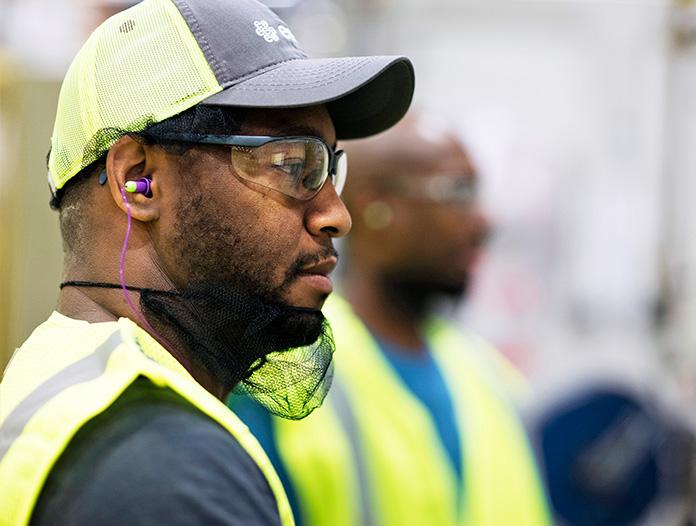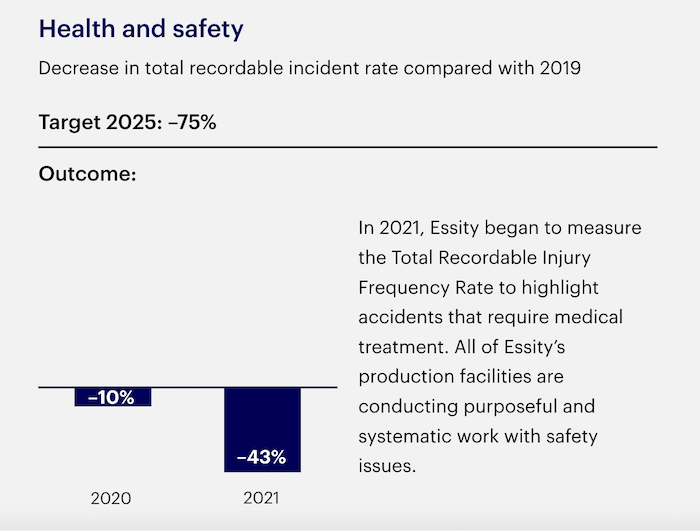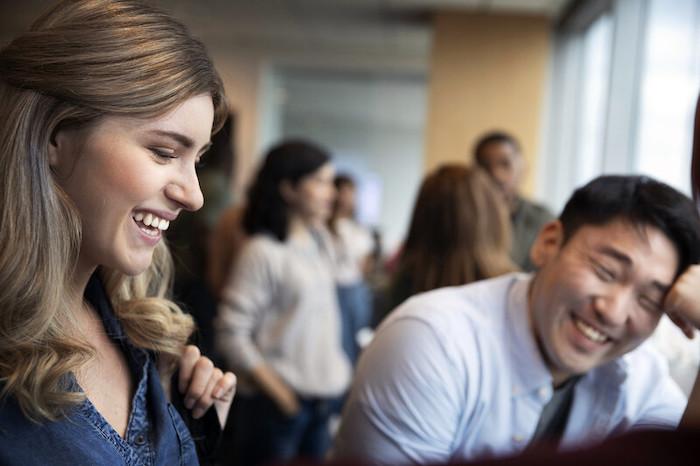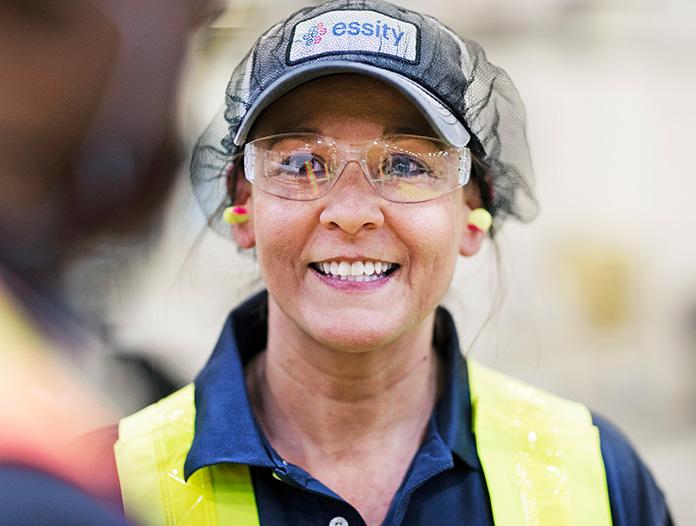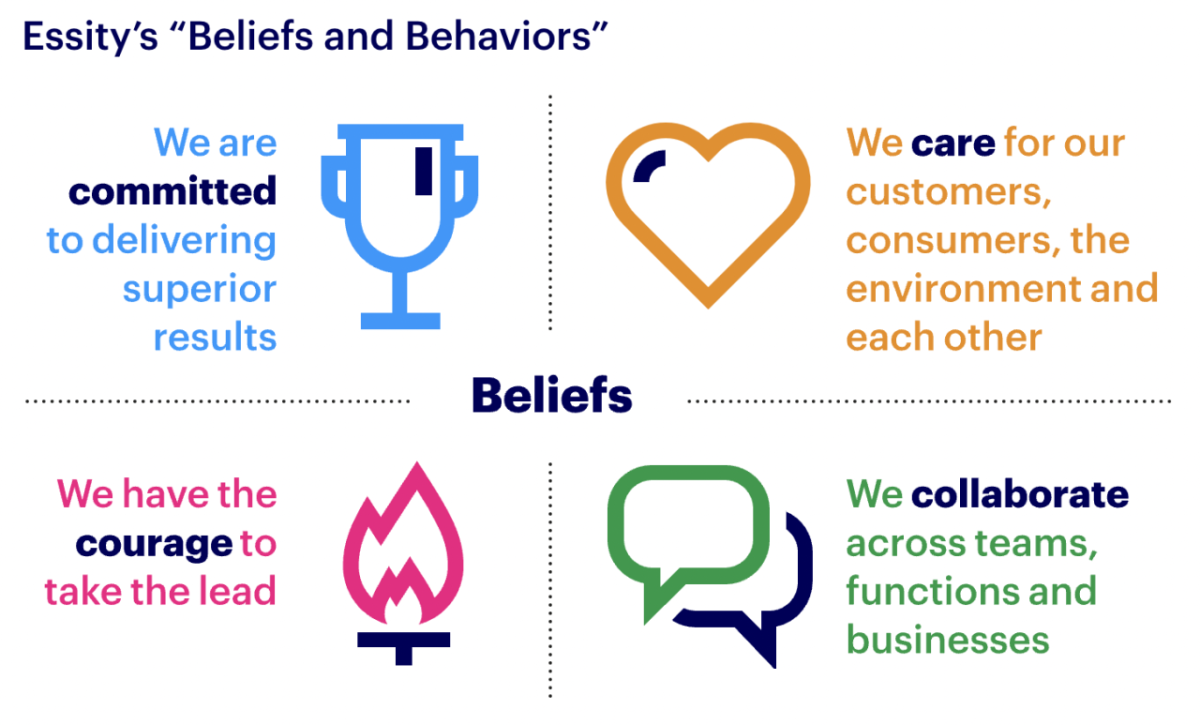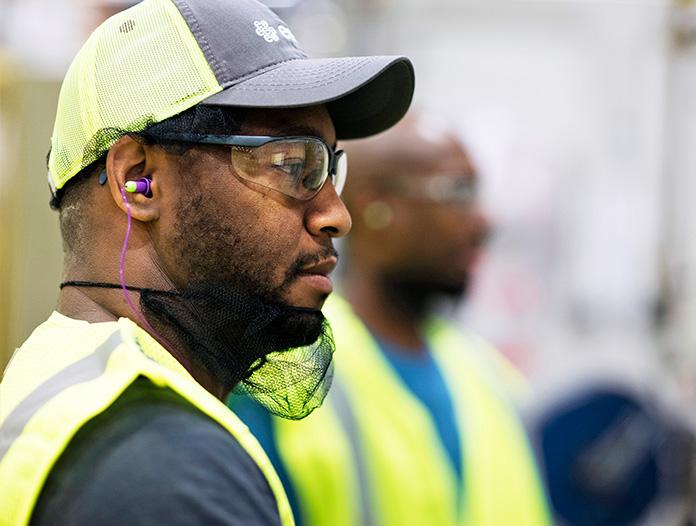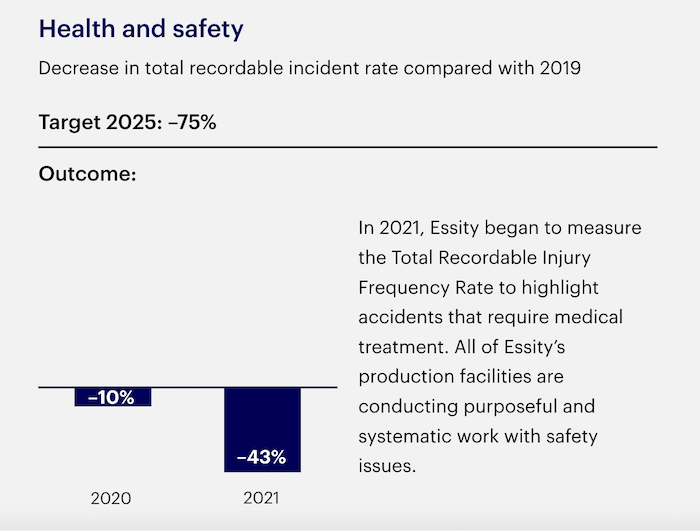 Originally published on Essity.com
A culture that makes a difference and motivates
Essity's culture is based on the company's purpose to break barriers to well-being and is characterized by an inclusive working environment where employees develop and are challenged. We believe in authentic leadership distinguished by courage, a will to change and engagement. Employees at Essity work on a daily basis to simplify everyday life for people all over the world. The foundation of our culture is set out in our "Beliefs & Behaviors";
These are included in individual goals for employees and serve as a compass for how we work, make decisions and interact with each other, our customers and other stakeholders. A strong culture results in strong engagement and we are proud to have our highly dedicated employees. This parameter is followed up through regular employee surveys. The result of the latest survey was higher than the Global Benchmark.
Our daily priorities
Essity has three overall priorities as a basis for all employees and day-to-day work: care for our people, contribute to society and secure business success. These were used to guide decisions and measures during the COVID-19 pandemic and also demonstrate the importance of integrating business results with well-being of our employees and our contribution to society.
Building for the future
The continuous development of employees and leaders is crucial for Essity's long-term success and opportunity to attract and retain the right competence. The environment in which we operate is constantly changing and is highly complex. This requires us to be quick to develop, train and adapt. Learning and development must be a fundamental part of our employees' everyday life and takes place through a mix of training programs, learning from new challenges at work and through coaching. Essity has a structured approach to identifying the competence and talent needed to deliver on our business strategy.
Essity runs both leadership and functional academies. In recent years, we have shifted from a traditional approach to learning to more digital channels. Most of our development programs are available in a virtual format and employees have received training in how to use the digital tools to enhance efficiency. For example, our sales representatives have been trained to interact with customers in new ways outside conventional face-to-face meetings. Furthermore, 12,000 employees received training in work efficiency when using digital platforms, which ensured a continued high level of productivity during the COVID-19 pandemic.
Recent years have shown that a face-to-face meeting is not always necessary for collaboration, which has accelerated our approach to the new workplace. In 2021, we launched a new workplace philosophy that includes an attractive office environment and the flexibility and opportunity to work remotely. We also encourage and support online meetings to reduce travel.
Leadership
Leadership is of the utmost importance to create a strong culture and achieve results. Matrix organizations and digital transformation require cross-functional collaboration and employees and leaders who can quickly adapt to complex and unexpected situations. We must constantly learn and develop to become the best possible leaders. During the COVID-19 pandemic, Essity's global offering of leadership programs, which is adapted for various leadership roles, was developed with a focus on increasing the company's organizational change competence. The purpose is to enable employees to improve their ability to lead, implement or contribute to change. A change concept has been introduced with a shared language and joint understanding about change in the company together with useful tools.
Remuneration and benefits
Essity offers a "Total Reward" concept, which entails a mixture of monetary and non-monetary components. We offer market-competitive remuneration comprising salary, variable remuneration, pension and other benefits. We also offer a good working climate, inclusive leadership, individual development plans and international development opportunities. The company follows local salary structures and respects internationally established rules for minimum wages and reasonable compensation. The programs for variable remuneration cover most employees at Essity.
An inclusive workplace
Our solutions contribute to increased diversity and inclusion, which also characterize the company's culture and work environment. We are convinced that diversity, equity and inclusion offer clear commercial benefits such as greater innovative strength, better decision making, profitability and attractiveness. Clear ambitions and measurable targets increase our focus on being an inclusive workplace and generate greater shareholder value.
At Essity, all employees are to be treated with dignity and respect and have equal opportunities to develop. We work systematically to prevent discrimination with regard to gender, ethnicity, religion, disability, sexual orientation, age or other grounds for discrimination protected by law. This is stipulated in our Code of Conduct and Diversity Policy.
All employees are recruited, evaluated and promoted based on objective criteria. In order to identify areas for improvement, an annual follow-up is conducted for all employees and management positions focusing on nationality, age structure and gender distribution. Pay differences due to gender, age or background are followed up every year and any unjustified differences are addressed. Breaches of our Code of Conduct and Diversity Policy can be reported using a reporting hotline, which is managed by a third party and offers anonymity.
A number of programs and networks are offered to increase diversity in senior positions. Local activities are being carried out in various countries to target specific employee groups. Work to increase inclusion involves constant improvement activities. Essity's employee survey shows that we are making good progress and it provides valuable knowledge for our continued efforts. We are continuing to strive for gender balance at all management levels and to reflect the broader diversity in society. In 2021, management established and appointed a new position as Vice President Diversity, Equity and Inclusion (DEI). The position is responsible for developing a more detailed DEI strategy and ensuring that Essity's priorities and targets are achieved. In addition, a global DEI Council was set up, led by Essity's President and CEO.
Essity leader in diversity work
In 2021, Essity was designated a Diversity Leader by the UK business daily Financial Times. In the newspaper's annual ranking of diversity work in the business sector in 15 European countries, Essity was ranked 25 out of 15,000 companies.
Sustainable working environment
Our highest priority is that everyone working at our production facilities and offices or otherwise working at or visiting Essity shall be safe and in good health. The safety, health and well-being of our employees is crucial to the success of operations and aligned with our "Beliefs & Behaviors", and the ethical standards and requirements expressed in our Code of Conduct.
During the COVID-19 pandemic, additional precautionary measures were taken in line with recommendations from medical experts and local health authorities at our offices, production facilities and distribution centers. Essity has regularly monitored employee perception of health and well-being and offered support whenever necessary. The company strives to promote physical and mental health and well-being. We have developed new digital ways of working, which include a global employee survey and other tools, training sessions and programs. These offer us a more effective and systematic manner with which to assess, analyze and work with continuous improvements in employee health, well-being and engagement.
Essity's target its to offer a work environment that contributes to a long-term sustainable working life. We encourage an open culture and all employees are encouraged to be aware of and take immediate action against conditions, acts and behavior that increase the risk of potential accidents. In 2021, a National Safety Council survey was conducted to assess our safety culture and level of maturity in safety processes and working methods in the area of safety at our production facilities. The survey provides a basis for our strategy, and helps us to introduce effective action programs to improve safety.
We have also digitalized incident data and reporting in a shared system. This has improved the analysis and follow-up of trends, and raised awareness of risks to better prioritize preventive measures. The introduction of the term "Major Potential Incidents" provides us with information about all serious incidents and accidents at our facilities and allows us to share lessons learned worldwide.
Employee relations
Essity has a positive and constructive dialogue with employee representatives. As a global company, we experience many changes that require information and consultation with employee representatives at all levels of the company. Essity recognizes the right of every employee to be a trade union member and to participate in union activities. The company meets with employee organizations at various levels on a regular basis to inform them of and discuss issues such as the company's results, any organizational changes, health and safety and employment terms and conditions. Essity has an agreement with the industry organization IndustriAll. When there is no union representation, Essity establishes other channels where possible, such as an employee council. We also support the global partnership Global Deal, which has members from the private and public sectors. The purpose is to improve dialogue between parties in the labor market and national governments.
"Barrier Breakers"
In 2021, the global "Barrier Breaker of the Year" award was launched with the purpose of spotlighting initiatives and engagement among Essity's employees to break barriers for well-being. Four winners were chosen in different categories from a large number of nominations.
Better hygiene and health for everyone: During 2020–2021, a group of volunteer employees offered training in hygiene and health issues to parents and children in poor and disadvantaged urban areas of Colombia. Through this collaboration with a local non-profit organization, "Hands to Create Dreams", Essity's employees changed the lives of many families by disseminating knowledge and offered them a better chance of a healthy and long life.
 
Better understanding of each other: An internal menopause policy was launched in the UK together with training sessions to help managers recognize, discuss and support employees experiencing menopausal symptoms. The initiative also included collaboration with a national TV channel that showed how Essity is breaking the stigma of menopause, and several courageous employees shared their experiences.
 
Innovation and digitalization: Modern 3D technology was used to develop a tool that enables colleagues to safely touch shared displays at Essity's production facilities during the COVID-19 pandemic to reduce the spread of the virus.
 
A circular and sustainable society: A computer game was used to increase understanding among employees of their own environmental impact. Employees could measure their daily environmental impact, compete in being climate smart and in make sustainable choices. The initiative raised awareness of sustainability and led to changes in personal behavior as well as a reduction in greenhouse gas emissions.
Download the Essity Annual and Sustainability Report 2021 here