Ericsson Makes Progress Towards Digital Inclusion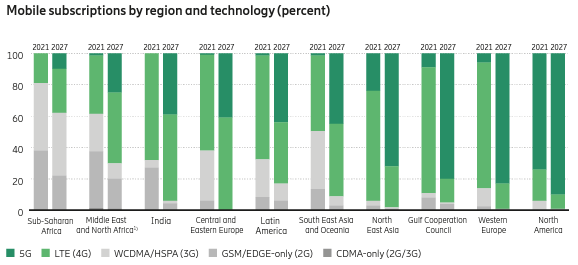 1) All Middle East and North Africa figures include GCC countries.
Originally published in Ericsson's 2021 Sustainability and Corporate Responsibility Report
With around 2.9 billion people still being offline, the digital divide continues to be a key challenge to global economic development 1). High costs, lack of digital literacy or lack of access to connectivity are some of the reasons for this.
Ericsson's aims to be the preferred partner to bridge the digital divide, as mobile broadband (3GPP technology) is considered one of the most cost-efficient option to empower people and societies through digital infrastructure.
Ericsson is focusing its efforts on areas where it can have the greatest influence while also positively impacting its customers' and own business. These areas include expanding connectivity and upgrading networks as well as advocating for future proof, secure, and cost-efficient networks. This work has the potential to develop societies, improve people's lives, drive economic growth and increase access to education and digital skills development.
Economic growth
Research done in conjunction with Imperial College London, shows that, on average, a 10% increase in the mobile broadband adoption can increase economic growth (GDP) by up to 0.8 %, with the effect being significantly larger in low-income countries. Further, mobile financial services are a strong creator of financial inclusion. Currently, more than 300 million people worldwide use Ericsson's Wallet Platform solutions, which are delivered by telecom operators.
Access and affordability
The ongoing COVID-19 pandemic increased global focus on the digital divide, and multilateral organizations are advocating for greater governmental efforts in providing affordable connectivity options for the unconnected across all geographies. To bridge the divide, there is a widespread need to upgrade existing networks to achieve faster and more meaningful connectivity. For example, according to the Ericsson Mobility Report 2), 62% of the mobile subscriptions in Sub-Saharan Africa will still be 2G and 3G subscriptions by 2027.
Ericsson's long-term target is to provide internet access through mobile broadband to an additional 500 million subscribers by 2024 compared to a 2018 baseline. During 2021, the number of subscribers that get access to internet through Ericsson's mobile broadband solutions has increased by approximately 59 million. The biggest challenges to achieving this are affordability for all users and business model profitability. To expand networks in unconnected areas, sustainable business models for telecom operators need to be developed, including cost efficient roll-out and operations as well as use cases for consumers and enterprises. In many regions high device costs can also be a major roadblock to access. Ericsson is working with customer and international organizations to address some of these challenges.
During 2021, Ericsson has explored how its portfolio and offerings can be used to develop cost efficient and profitable business offerings targeting regions with no or low internet penetration. The scope of these efforts includes radio and power management solutions as well as business cases and use case scenarios.
Ericsson is working in different forums to advocate for increased digitalization, universal coverage and affordability, such as the United Nations Broadband Commission for Sustainable Development and the Alliance for Affordable Internet.
Access to digital learning and skills development
Ericsson's commitment to bridging the digital divide includes a sustained focus on access to education and digital skills. To reinforce this effort, the Company aims to positively impact 1 million children and youth by 2025 by providing access to digital learning and skill development programs. This commitment is part of the World Economic Forum-aligned EDISON Alliance 1 Billion Lives Challenge – a global movement of 45 champions bringing together digital inclusion commitments from governments, companies and other organizations.
Through its flagship education initiative Connect To Learn, Ericsson has to date empowered teachers, students, and schools in more than 30 countries.
This commitment is in addition to Ericsson's partnership with UNICEF in support of the Giga initiative which aims to connect every school to the internet by 2030. Through this effort, Ericsson is helping to tackle the challenge of mapping schools and assessing their connectivity in 35 countries by the end of 2023. This will enable Giga to aggregate demand and convene governments and the private sector with compelling business cases to secure financing for school connectivity. Giga has now mapped more than 1 million schools working together with national governments, Ericsson and other partners. For its part in the Giga project, Ericsson is building on its communication infrastructure capabilities coupled with data science expertise to support UNICEF to collect, validate, analyze and v isualize connectivity data for schools.
Ericsson is also widening the reach of its digital skills development programs: Ericsson Educate and Ericsson Digital Lab, which are focused on training children and youth in existing and emerging technologies important to the telecom and IT sector. The Company also co-led the working group of the UN Broadband Commission for Sustainable Development which published the report Connecting Learning Spaces: Possibilities for Hybrid Learning, providing recommendations to governments on strategies for implementing digital learning.
1) https://www.itu.int/itu-d/reports/statistics/facts-figures-2021/
2) Ericsson Mobility Report, November 2021 edition.