Entrepreneurs Talk Obstacles, What Black Businesses Need To Level Up
Four regional launch events capture the spirit of the Howard University and PNC National Center for Entrepreneurship with pop-up shops and conversations.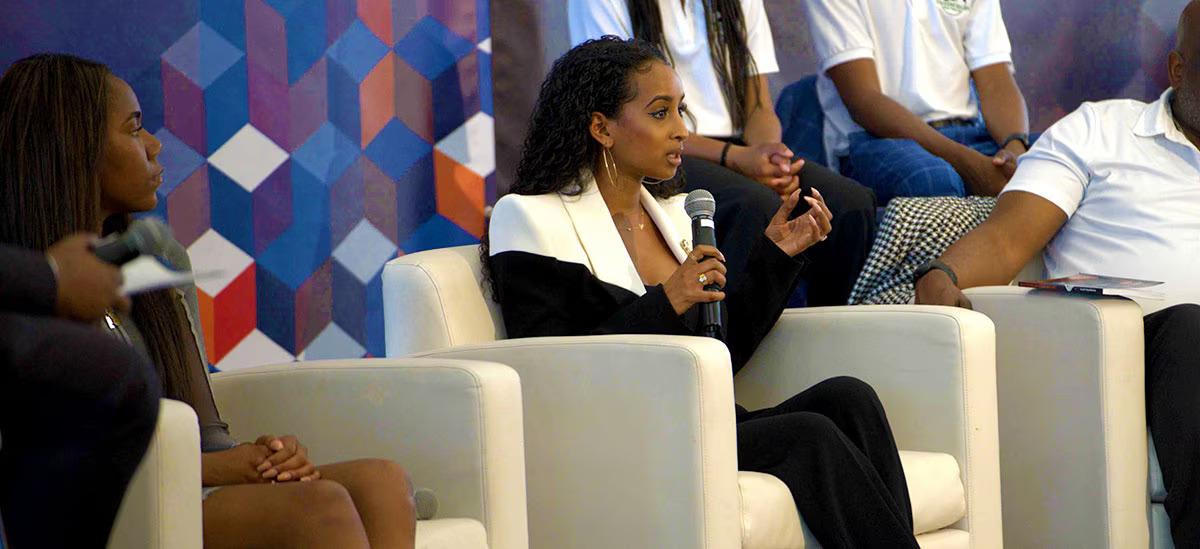 Rising Howard University senior Miah Powell isn't just studying business in a classroom, she's building one in real time alongside her studies. In fact, her vision and model for luxury streetwear brand HBCU Famous clinched a $5,000 prize in a pitch competition during Howard University and PNC National Center for Entrepreneurship launch events in the spring of 2023.
"I started my business the semester before I came to Howard, and I had no idea that I had no idea," says Powell. "The resources I have access to here have given me a huge boost — I've participated in pop-ups, I've been on panels, and I won $5,000 that I put directly back into my business. Now I have the capital to scale up as I've been longing to do, increase production and put money into social media and marketing resources. The message is clear that I need to move forward with this."
Equipping Black entrepreneurs with the tools they need to move forward and succeed is the fundamental idea behind the Howard University and PNC National Center for Entrepreneurship, which recently marked its official launch with four regional events.
The four pop-up events – featuring booths across campuses at Howard, Clark Atlanta, Texas Southern, and Morgan State universities – gave young entrepreneurs an opportunity to share information and sell products and services ranging from skin care to food, clothing, health care and publications.
Helping Black Entrepreneurs Level Up
The four campus events represented a milestone for the center, a vision that began between Howard University and PNC in August 2021, when the PNC Foundation committed to a $16.8 million, five-year grant to create the center.
With Howard serving as the umbrella, the regional centers will pilot best practices to support entrepreneurs with education and resources, then share them across their network of strategic partners throughout the country. The goal is to take what historically Black colleges and universities (HBCUs) already do so well to the next level – engage students, business owners and communities of color to help entrepreneurs grow their enterprises.
"When we thought about making an investment like this, it was a pretty simple matter to think about Howard as the hub," says Richard Bynum, chief corporate responsibility officer for PNC. "HBCUs are the absolute preeminent network to make sure that our vision of creating a real impact for Black entrepreneurs comes to life."
This grant is part of PNC's $88 billion Community Benefits Plan focused on bolstering economic opportunity for low- and moderate-income (LMI) individuals, along with communities and people of color.
The U.S. Census Bureau's 2021 Annual Business Survey shows there are approximately 3.12 million Black-owned businesses, generating $206 billion in annual revenues and employing 3.56 million workers.1
But a 2023 Intuit QuickBooks survey showed that these businesses are battling persisting economic and social inequities.2
"There are huge obstacles to entrepreneurs in the Black community," says Erin Horne McKinney, executive director, Howard University and PNC National Center for Entrepreneurship. "Whether you're talking about financial capital, access to resources, or the ability for businesses to grow and scale from their initial launch. That's what we're trying to do — to provide those frameworks to help them get to that next level and create generational wealth."
Backing Ideas with Business Savvy
In addition to the vibrant entrepreneur pop-ups, the launch events featured some star power with notable Black entrepreneur speakers such as John Hope Bryant of Operation HOPE and T.D. Jakes of T.D. Jakes Enterprises.
Another notable HBCU graduate who shared her story was Askale Davis, an entertainment mogul and entrepreneur who appeared on Real Housewives of Potomac. She's not only a proud Howard alumna who studied biology and chemistry, but now serves as community engagement manager for K-12 advocacy at the United Negro College Fund – where she helps guide students on a path to college primarily through HBCUs.
As Davis provides an example of what success looks like for today's young entrepreneurs via her visible social media and TV presence, she's conscious of what something like the center could have meant for business owners like her parents – Ethiopian refugees, who started the first Ethiopian restaurant in Seattle.
"Their business was successful at the start, but by the time I graduated high school, they'd lost everything," Davis recalls. "I attribute that to not being business savvy. That's why it's so important to have these centers to teach and guide our communities, providing resources, even teaching things like branding and marketing. We have the ideas and the skill sets to get these businesses off the ground, but the goal is to grow and to scale, and to leave something for the next generation."
Marcus Davis, a Houston-based restaurateur, has tourists lining up for signature Southern dishes outside The Breakfast Klub. His own HBCU education at Texas Southern University helped him become established in a corporate job before he found the confidence to follow his entrepreneurship vision.
"It helped me with being able to figure out life, being able to set a goal," says Davis, who spoke on a panel at the TSU launch event. "It's about more than just curriculum and classes. It's learning how to set a long-term goal, how to maneuver through the system, the importance of being able to persevere."
The Intuit QuickBooks survey shows 95% of Black business owners view their business' success as important to the success of future generations of Black entrepreneurs, so having successful speakers who model success for launch event attendees was important.
"It's one thing for me to look at a Bill Gates or Elon Musk, but when Black Enterprise magazine put out a top 100 list of Black businessmen every year, that was inspiring to me," Davis says. "It gives you a sense of your peers.
"That's why it's extremely important for me to go back and talk to students and show them that I went to the same school, have a similar background, and they, too, can do spectacularly well in business."
https://www.census.gov/newsroom/press-releases/2022/annual-business-survey-characteristics.html
https://quickbooks.intuit.com/r/small-business-data/black-history-month-survey-2023/