Engaging Hearts and Minds in Our People – Safe Enough for Our Families
Engaging Hearts and Minds in Our People – Safe Enough for Our Families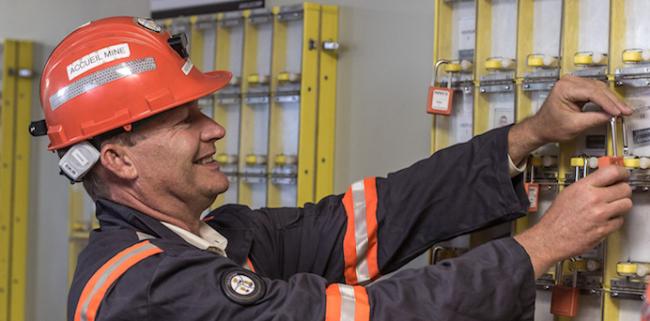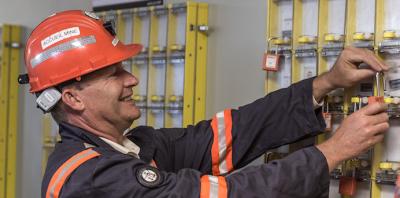 Summary
In our 2016 Sustainability Report, "Safe Enough for Our Families" is the phrase that captures one of our core values, guides our efforts and and supports the safety and health of our people at work, at home and in their communities. Working safely remains the top priority at Goldcorp –it is one of our core values, along with , responsibility and productivity, which are upheld by every employee.  Todd White, Chief Operating Officer and Executive Vice President, shares his thoughts on our sustainability and safety performance in 2016.
Tuesday, November 14, 2017 - 11:10am
From the Safety and Health perspective, what were Goldcorp's main accomplishments in 2016?
For me, the year's major accomplishment was the rollout of our StepIn program. This is a leadership program for mine site supervisors, which provides them with the tools and skills they need to do their jobs and meet our safety excellence standards. What is especially exciting is that StepIn is developed and delivered by the leadership at each site. The sites choose their specific areas of focus and take ownership of their training and management. As a result, we've seen increased engagement in safety along the responsibility chain, from site leadership to supervisors to workers – and a positive improvement in the level of individual accountability for safety.
What were some of Goldcorp's Safety and Health challenges in 2016, and what did the company learn from them?
The biggest challenge has been ground stability. While we have strong technical expertise and standards throughout the company, the fatality at the Marlin mine in Guatemala showed there is more work to be done. On April 14, 2016, Jaime Otero Pérez López, an underground miner helper, was killed by a rockfall while working near an open stope at the mine. Operations at the mine were suspended and a thorough investigation was conducted to determine the cause of the incident. The incident occurred as a result of a massive stope failure in a recently blasted stope.
As a result of findings from the investigation, in 2016 we audited our sites against their Ground Control Management Plans and the managing process each site uses to ensure they are updated and followed. The plans not only include the geotechnical requirements to maintain safe ground conditions, but also operational requirements such as quality control, barricading, change management and auditing and inspection procedures. These plans are critical operating tools to maintain the safety of our mines.
What is Goldcorp doing to ensure that workforce safety remains the top priority?
We are making significant improvements to our overall safety systems. Last year, we re-wrote our safety standards, making them more straightforward and simpler to follow. We rolled out an improved methodology for investigating incidents. In 2017, we're working on a new, improved framework for risk management within our safety system. We are putting in place proactive measures that will focus on incident prevention.
We improved our internal online safety-related web pages to make it easier for workers and supervisors to learn about safety and follow safety trends. We launched a company-wide safety app, digitizing our Golden Guide – a field pocket guide to safety at Goldcorp, and including up to date information on recent incidents, safety shares and employee interaction at your fingertips.
We are also using our Five Point card to encourage leadership engagement with safety. The Five Point card has been used in Canadian underground mining for over 40 years – it is an easy-to-use personal safety checklist that addresses the safety of the workplace and requires each worker to commit to safety. The cards are now used at all our mines and in all operating areas. We are asking our leaders to go to the field and engage directly with their teams using the card as a starting point for safety discussions. We know that when a leader has a direct face-to-face conversation, it will be remembered as a positive experience and a strong reinforcement of safety-conscious behaviour.
I think the most important thing we have at Goldcorp is our connection to family, and connecting safety to the family. We recognize that at our Day of Remembrance and in our Golden Guide.
On the first page of the Golden Guide is a photo of the people you care most about, to remind you why it's important to work safely every day. It is a great way to start conversation by sharing your family photo with a work crew. My family and their support is why I do the work I do and I like to think of the employees at Goldcorp as part of my extended family.
How is Goldcorp advancing health initiatives, both in the workplace and with local communities?
In 2016, we laid the groundwork for health improvements with a new data-collection system for health-related information that will be used at all of our sites. This will help us improve consistency in our monitoring programs and controls around health, on issues like dust exposure and noise. It will also allow better analysis and use of the data.
In addition, we have been encouraging dialogue on mental health. We brought in experts to talk about mental health in Toronto and Vancouver, and we have strong programs at several of our sites. It's important to create safe zones where people can talk about sensitive subjects, especially in some of our smaller, remote communities. We understand that the more we talk about mental health, the less of a stigma it becomes.
As for health in local communities, our operating sites work with community partners to advance health-related initiatives. For example, at Los Filos, during their annual health and safety fair, various types of health screening and counselling were available to community members. Many volunteers and community health providers provide information on preventative health care – managing stress, reducing fatigue and eating well.
Innovation is key to Goldcorp's future. What innovations are in the future for Safety and Health?
We are actively researching and implementing new technologies to improve safety in our mines. Because the best way to reduce the potential for injury is to reduce exposure to hazards, we are using automation and remote operation technologies that allow people to operate heavy machinery at an underground mine from the surface. We are also using drones to provide measurements of hard to access locations. The future is to further advance these technologies and rethink how to mine differently.
For example, our Borden project is being designed as an all-electric underground mine, which means the underground equipment will have no diesel emissions, which improves overall air quality underground. It also means there is no need for huge, noisy ventilation systems, which will make the operating environment quieter and safer. An all-electric operation also virtually eliminates the need for compressed air for pumps and other equipment, removing another source of potential injury from energy stored in compressed gases.
Those are just a few of the innovations that we are working on that have direct safety implications. This is a very exciting time for health and safety in mining, where new technology is preventing injury and improving health in so many ways.
For further information on Goldcorp's commitment to sustainability, visit the 2016 Sustainability Report.