Duke Energy Plans Solar, Energy Storage Projects to Advance Reliability, Cleaner Energy for Indiana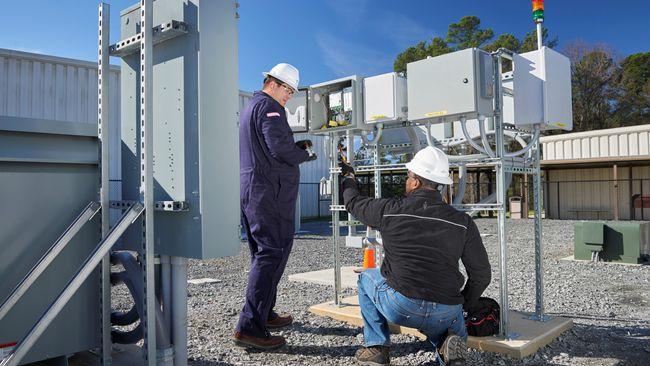 PLAINFIELD, Ind., November 1, 2017 /3BL Media/ -- As part of a commitment to advance cleaner energy for its customers, Duke Energy is planning to install battery storage equipment and solar panels that will operate as a microgrid at the Indiana National Guard's Camp Atterbury training operation in Johnson County, Ind. The company will also install battery storage equipment at a substation in Nabb, Ind., in Clark County.
Plans for the projects must be approved by the Indiana Utility Regulatory Commission before work can begin. The microgrid at Camp Atterbury would be the first microgrid installed at a National Guard facility in Indiana.
"Given our recent success with the installation of a 17-megawatt solar power plant at Naval Support Activity Crane, we were eager to find another opportunity to join with the U.S. military to incorporate new technology into our grid operations," said Melody Birmingham-Byrd, Duke Energy Indiana state president. "The project at Camp Atterbury will help us gain valuable operating experience and may help determine how best to expand the new technology to other areas."
"Camp Atterbury, the Indiana National Guard and Duke Energy have worked together on several mutually beneficial projects over the years," said Col. John Silva, Camp Atterbury's commanding officer. "This proposed project will increase our strategic value and give us the ability to continue our mission-critical operations in the unlikely event of a large grid outage."
A microgrid is a self-contained power system, confined to a small geographic area that has one or more power plants, which are usually relatively small in size. It might also have some means to store energy, such as batteries. Battery storage benefits include shifting energy from lower-usage periods to higher-usage periods, as well as providing more stable grid frequency operation.
Duke Energy is a national leader in energy storage research and development, having deployed approximately 40 megawatts of energy storage capacity, representing 15 national projects demonstrating 10 different grid applications and functions and eight different battery chemistries.
At Camp Atterbury, the battery and solar panels will primarily provide grid benefits to  customers in the region. In the unlikely event of a major grid failure, the microgrid could continue serving customer power demand. The storage battery has a capacity of 5 megawatts. The solar installation will generate approximately 2 megawatts.
At the Nabb, Ind., substation, a similar-size battery will be installed near the existing substation. This battery will also be used to provide grid benefits as well as back-up customer power in the event of an outage.
About Camp Atterbury
Camp Atterbury is located in Johnson County, Ind., about 4 miles west of Edinburgh. It was founded as part of the buildup of forces prior to World War II. Its mission was to train, equip, and mobilize soldiers heading to the battlefields of Europe and the Pacific. In the more than 75 years since its first General Order was published, Camp Atterbury has continued that original mission by training, equipping, and mobilizing U.S. Armed Forces of all branches.
About Duke Energy
Duke Energy Indiana's operations provide about 6,800 megawatts of owned electric capacity to approximately 820,000 customers in a 23,000-square-mile service area, making it the state's largest electric supplier.
Headquartered in Charlotte, N.C., Duke Energy (NYSE: DUK) is one of the largest energy holding companies in the United States. Its Electric Utilities and Infrastructure business unit serves approximately 7.5 million customers located in six states in the Southeast and Midwest. The company's Gas Utilities and Infrastructure business unit distributes natural gas to approximately 1.6 million customers in the Carolinas, Ohio, Kentucky and Tennessee. Its Commercial Renewables business unit operates a growing renewable energy portfolio across the United States.
The Duke Energy News Center serves as a multimedia resource for journalists and features news releases, helpful links, photos and videos. Hosted by Duke Energy, illumination is an online destination for stories about people, innovations, and community and environmental topics. It also offers glimpses into the past and insights into the future of energy.
Follow Duke Energy on Twitter, LinkedIn, Instagram and Facebook.
Contact
Angeline Protogere
Office: 317.838.1338
24-Hour: 800.559.3853