Duke Energy Florida's New Renewable Energy Certificates Program Offers Customers, Businesses More Options To Reach Their Sustainability Goals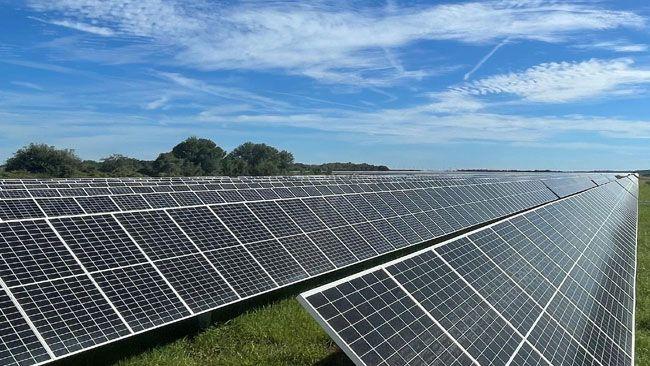 Provides an easy way for Duke Energy customers to purchase renewable energy certificates (RECs) from local Florida generation
Aims to reduce rates for all customers by generating revenue through the sale of the RECs
ST. PETERSBURG, Fla., September 8, 2023 /3BL/ - Duke Energy Florida announced Clean Energy Impact, its newest renewable energy certificates (RECs) program, is now available to customers looking to achieve their sustainability goals and support local, renewable energy.
Clean Energy Impact is available for residential, small and medium business customers in Duke Energy's Florida service area but may be especially useful for large commercial and industrial customers as an alternative to the company's existing community solar program, Clean Energy Connection.
The optional program promotes the use of renewable energy through the sale of RECs from the company's solar facilities. The RECs help customers reach their sustainability goals without having to install or maintain their own equipment.
A REC represents the environmental attributes of 1 megawatt-hour (MWh) of electricity generated from renewable energy sources. Revenue generated from the sale of the RECs helps to reduce rates for all customers.
"The new Clean Energy Impact program is delivering on what our customers want – a measurable way to share in renewable energy," said Melissa Seixas, Duke Energy Florida state president. "By adding this program, we are providing even more customers access to the environmental benefits of solar, while helping lower costs for customers, increasing fuel diversity and continuing to build a cleaner energy future for our state."
Duke Energy residential customers can subscribe to 250-kWh blocks monthly. Each block equals a quarter of a REC. Duke Energy business customers must purchase a minimum of 1,000 RECs annually to participate. These RECs are derived from Duke Energy-owned renewable resources, and available on a first-come, first-served basis.
For more information about the Clean Energy Impact program, visit duke-energy.com/CEIBiz.
Duke Energy Florida
Duke Energy Florida, a subsidiary of Duke Energy, owns 10,500 megawatts of energy capacity, supplying electricity to 1.9 million residential, commercial and industrial customers across a 13,000-square-mile service area in Florida.
Duke Energy (NYSE: DUK), a Fortune 150 company headquartered in Charlotte, N.C., is one of America's largest energy holding companies. Its electric utilities serve 8.2 million customers in North Carolina, South Carolina, Florida, Indiana, Ohio and Kentucky, and collectively own 50,000 megawatts of energy capacity. Its natural gas unit serves 1.6 million customers in North Carolina, South Carolina, Tennessee, Ohio and Kentucky. The company employs 27,600 people.
Duke Energy is executing an aggressive clean energy transition to achieve its goals of net-zero methane emissions from its natural gas business by 2030 and net-zero carbon emissions from electricity generation by 2050. The company has interim carbon emission targets of at least 50% reduction from electric generation by 2030, 50% for Scope 2 and certain Scope 3 upstream and downstream emissions by 2035, and 80% from electric generation by 2040. In addition, the company is investing in major electric grid enhancements and energy storage, and exploring zero-emission power generation technologies such as hydrogen and advanced nuclear.
Duke Energy was named to Fortune's 2023 "World's Most Admired Companies" list and Forbes' "World's Best Employers" list. More information is available at duke-energy.com. The Duke Energy News Center contains news releases, fact sheets, photos and videos. Duke Energy's illumination features stories about people, innovations, community topics and environmental issues. Follow Duke Energy on Twitter, LinkedIn, Instagram and Facebook.
Contact: Audrey Stasko 
24-Hour: 800.559.3853 
Twitter: @DE_AudreyS
View original content here