Domtar's Featured Difference Maker: Anne Springs Close, South Carolina's Philanthropic Powerhouse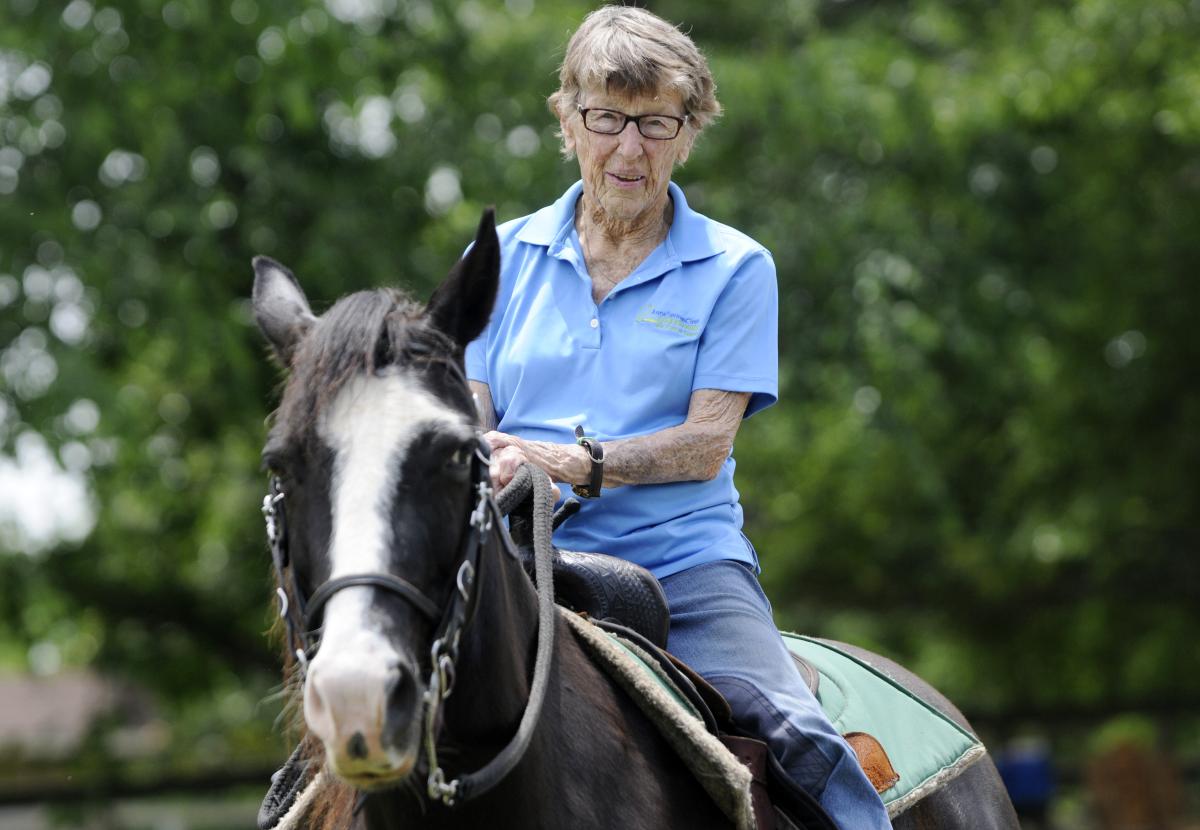 As a young child, Anne Springs Close heard the statement often: "It's a sin to be indoors on a sunny day." Today, at the age of 91, it continues to be a guiding principle and the early inspiration for her life's work.
Raised in Fort Mill, Close is the daughter of fighter pilot and textile tycoon Colonel Elliot White Springs and Frances Hubbard Ley Springs. She attended Smith College in Massachusetts, and has a resume brimming with environmental and philanthropic accomplishments. She climbed Mt. Kilimanjaro three times, was a 1996 Olympic torch runner, and is the last living passenger of the German zeppelin Hindenburg's 1936 transatlantic flight. She is also the mother of 8 children, grandmother of 28 children and great-grandmother of 20 children.
Of Close's countless accomplishments, the creation and preservation of the Anne Springs Close Greenway, of which Domtar is a corporate sponsor, is closest to her heart.
"My desire to conserve the land grew over time as I watched area farms get swallowed up by development and disappear," said Close. "I decided then to find a way to preserve some land so other children could play in the woods as I did as a child."
What compelled you to persuade your children to sign the agreement to preserve 2,100 acres of family land, what is now known as the Anne Springs Close Greenway?
My father was very big on community and for a long time there was no community recreation department so companies had to fill that gap. My father set up the Springs Close Foundation to serve the areas where his employees worked and lived – in North and South Carolina. He was very limited in where the money would go but left it up to the board as to how the money would be spent in those communities. My children grew up here, went to school here, and have become active in conservation issues so they were all in favor of setting land aside and preserving it.
In 1989, we had the documents drawn to preserve the land, this was right after Hurricane Hugo hit and we had no power for three weeks. The land was a disaster because Hugo went right through it. We announced that there would be a Greenway on Earth Day in 1990. It took us two years to clean up after Hugo, and three years to get the trails ready. We opened on Earth Day in 1995. Now, people come to enjoy the Greenway for free every Earth Day. It's our little way of giving back.
It's clear you had a vision for the Greenway and helped develop a network of trails, education programs, camps for children, many facilities for concerts and events. What are your hopes for the future of the Greenway?
I don't know what programs will be here 20 years from now but I can die happy knowing that the Greenway will always be green. The land trust has strict guidelines as to what can be done and what can't be done so I feel very safe in that it will always be undeveloped.  Support from companies like Domtar help us support our mission for preserving this natural treasure for generations to come.
Do you have a favorite spot in the Greenway?
If I had to pick my favorite spot it would be the swinging bridge. As a child, we would ride our bikes there to swim and today it's one of the most popular spots with kids. I love the grist mill too because it's historically accurate and it's the reason Fort Mill was started and called Fort Mill. People used to take their corn to this mill to have it ground. I hope one day we can find a way to have a grinder so that we can produce Greenway flour and grits.
You are known for supporting many foundations and programs with both funds and your personal time. Is there one that is closest to your heart?
It's called the Exceptional Riders Equestrian Program, we do it in the fall and spring. When my children went away to school they left the horses for me to deal with. One time, one of my daughters brought some people from an adult daycare to ride. They had such a good time getting on the horses and getting out in the woods. So, we started doing therapeutic recreation. It has grown over the years and I love the program and love all the volunteers.
We also have a wonderful program that gives some college students tuition and they work it off through volunteer work. There was a young woman who used to volunteer with the rider's program. She liked it so much she changed her major in college to special education and is now a special education teacher.
So, you took on Bruce Springsteen, and won?
Well, yes, and I have to say it was especially sweet because we were able to feed hundreds of hungry people as a result. In 2010, Bruce Springsteen was headed to Charlotte for a concert and he said if the Second Harvest Food Bank of Metrolina could raise between $10,000 and $50,000 to feed the hungry, he'd match the funds. The food bank contacted me because I was an active volunteer. Through my family's Springs Close Foundation, we were able to provide a $50,000 grant, which Mr. Springsteen matched. The combined contributions allowed the food bank to feed hundreds of people in York, Lancaster and Chester counties where so many good people who work with us in our family textile mills live.
Tell us about climbing Mt. Kilimanjaro (in Tanzania, Africa) and why you decided to take on the challenge not just once, but three times?
Well, I've always loved Africa and always wanted to do it. My daughter, when she graduated from college, I gave her a trip and she went and did it. I never thought I'd do it while raising 8 children I thought I would never have the chance, but I did it. There are three routes up the mountain and I've done all three.
You are an avid hiker, enjoy swimming and horseback riding. What keeps you motivated to stay active?
Growing up, ladies were not supposed to perspire, let alone sweat. But I love the outdoors. I like to hike, I go on a bike trip every year, I ride horses once a week and I swim almost every day. As my nanny Miss Tony said, it's sinful to be indoors on a sunny day. The activities keep me healthy and if you don't keep it up you'll lose your ability to keep going.
How do you hope to make a difference?  
Being outdoors and surrounded by natural beauty helps to keep people grounded, healthy, and strong, both mentally and physically. By getting people out here on the Greenway and appreciating it as children, hopefully as they grow up, they can do what they can to preserve it or it'll be gone. The rhythms of nature are so important. Looking at those little glass cell phone boxes is not enough. Your imagination grows when you're outdoors. I hope to inspire people to do their part to help conserve our Earth.
Domtar Newsroom offers compelling and inspiring sustainability stories about Domtar, its people, products, partnerships, industry and communities. For more stories about Domtar's sustainability work, including important and stimulating environmental news for customers, media, consumers and employees, please visit the Domtar Newsroom.