Domtar Sustainability: Sourcing Raw Materials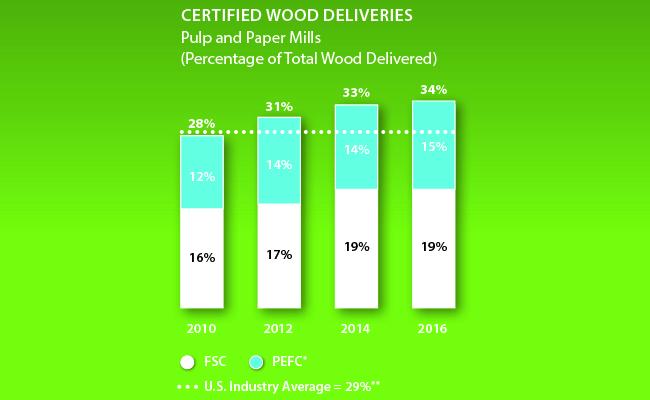 Domtar 2017 Sustainability Report
Each year, about two-thirds of our revenue is spent on materials and services needed to make our products.
Whenever possible, we source from local suppliers near our facilities. This helps us shorten our supply chain and reduce risk. Proximity allows us to know our suppliers and ensure they produce our materials and render services responsibly, in addition to strengthening the local economy.
We have strategic partnerships with recognized suppliers of key commodities. We leverage our size and volumes to get a fair price for consistent quality materials with exceptional service. Our suppliers help us improve our manufacturing efficiencies, use fewer materials and produce better quality products at a lower cost.
As a manufacturer of fiber-based products, we are committed to sourcing wood from responsibly managed forests. We strive to safeguard endangered forests and wildlife, respect the culture and rights of indigenous peoples and conserve natural forests and biodiversity.
Our demand for locally sourced wood creates incentives for landowners to keep forests as forests. We collaborate with landowners and other partners to promote the benefits of sustainable forest management and thirdparty certification, which provides an additional level of assurance of responsible forest management.
Priorities
Sourcing from responsible companies that have an outstanding environmental, sustainability and safety record.
Favoring local suppliers as much as possible when purchasing the materials and services we need to make our products.
Managing the procurement of major inputs centrally to leverage volumes, improve service and risk profiles, and build strategic partnerships.
Promoting the value of sustainable forest management and forest certification to small, private landowners.
Challenges
Finding more sustainable raw materials that meet performance and cost requirements.
Maintaining and expanding certified wood availability given continuously changing, increasingly complex and costly certification standards.
Balancing differing customer objectives and policies that can limit sourcing flexibility.
Optimizing the environmental benefits from using recycled fiber given growing competition for this finite resource.
Progress
Consolidated our supply base in Personal Care as a result of growing global business presence.
Continued to meet 34 percent of our fiber needs with certified wood, including 19 percent from FSC-certified sources during a time when overall FSC acres declined in the U.S.
Reduced bleaching chemical use 3 percent per unit of bleached pulp production in 2016 compared to the previous three-year average.
Increased FSC-certified lands by more than 600,000 acres since 2012 in two of our southern U.S. procurement regions through several small landowner group certification projects.
Formed a new multi-discipline Purchasing Council in our Pulp and Paper business, including representatives from our mills, to ensure we are using a consistent approach and focused on the highest priorities across the business.
###
Domtar's 2017 Sustainability Report details the company's endeavor to take a longer term view of creating and preserving value for our shareholders, customers, employees and communities.  For more inspiring stories about Domtar's sustainability efforts, visit the Domtar Newsroom. To view the full 2017 Sustainability Report click here.