Domtar Sustainability: Creating Value for Our Communities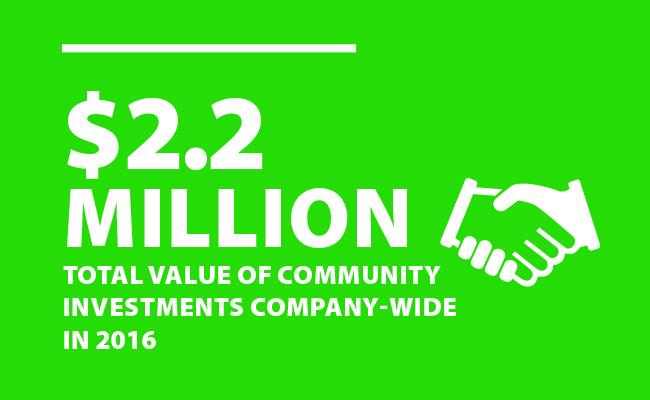 Domtar 2017 Sustainability Report
Domtar has been a centerpiece in some of our communities for more than a century. We depend on them, and they depend on us. For every 100 jobs in our facilities, an additional 325 jobs are created.* We have focused on repurposing our assets and executing our growth strategy to keep our facilities viable for the long term.
Shared infrastructure, such as roads, dams, water services and volunteer fire departments, are physical reminders of how our connection goes beyond that of simply being a principal employer. We are actively involved with our local communities to ensure these infrastructure and service needs are being met today and tomorrow.
Inviting and thriving communities help us recruit and retain the skilled employees we need. In turn, many of our employees participate in local initiatives and groups, such as school boards, economic development councils and community events, and Domtar supports their efforts.
Being agile and innovative in our business enables us to create value in our communities now and for the next century.                       
Priorities
Contributing to making our local communities great places to live and work.
Aligning our community investments with Domtar's products and business priorities by focusing on health and wellness, literacy, and sustainability.
Challenges
Declining demand for our communication papers is leading to overcapacity and restructuring.
Improving performance measures of our community investment initiatives to ensure we are delivering lasting benefits.
Progress
More thoroughly captured and quantified the breadth of community investments across the company.
Established our Comfort and Care program to help alleviate financial and emotional stress on families and individuals by providing diaper donations to diaper banks and care facilities.
Established 10 new Ben Carson Reading Rooms in elementary schools in communities where we operate in partnership with some of our suppliers and the Carson Scholars Fund.
###
Domtar's 2017 Sustainability Report details the company's endeavor to take a longer term view of creating and preserving value for our shareholders, customers, employees and communities.  For more inspiring stories about Domtar's sustainability efforts, visit the Domtar Newsroom. To view the full 2017 Sustainability Report click here.