Does Your 2022 Sustainability Plan Take Full Advantage of Clean Energy Opportunities?
Does Your 2022 Sustainability Plan Take Full Advantage of Clean Energy Opportunities?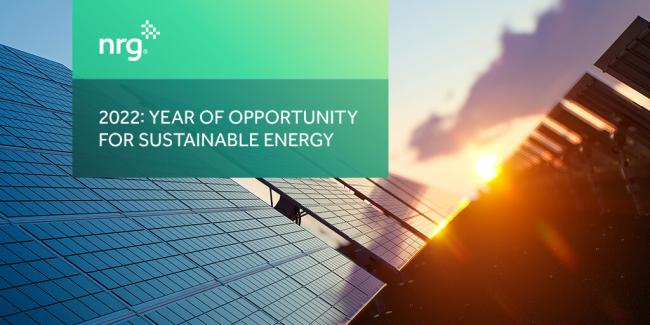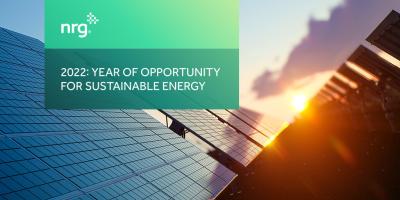 Friday, March 11, 2022 - 10:00am
Sustainability experts rank climate change as the top development challenge of our day, along with biodiversity loss, water scarcity, destructive resource extraction, water pollution, and poverty. Here at NRG, my team has heard firsthand from many businesses we work with that being part of the solution is important. Companies from all sectors are increasingly setting sustainability goals and preparing themselves for a more uncertain climate future so they can do their part to curb extreme weather, drought, and other climate threats.
Given the significant impact energy use has on climate, our starting point with customers involves questions like, "How much weight does your sustainability plan give to non-energy versus energy solutions? Are you doing all you can as a company? Are there other opportunities we can explore together?"
Now is a good time to take stock of your energy portfolio, especially since energy solutions can not only help your company achieve sustainability goals, but also may curb your energy costs.
The power sector offers a range of easily accessible and cost-effective products, contracts, and programs to help you reduce emissions. We've found that an open mindset and a willingness to consider a range of solutions leads to the best outcomes. Here are some examples to consider.
Supply side
Solar is the most commonly used onsite renewable. But other onsite clean energy options are also available, such as batteries, highly efficient combined heat and power systems, and generators that use renewable fuels. For those who are precluded from installing onsite energy, community solar offers an alternative. Your business can buy or lease a portion of a solar project built elsewhere in your community, typically at a discount to utility rates.
Power purchase agreements offer another highly popular way to secure clean energy. You may contract for renewable energy built at your site or elsewhere. One form, known as a virtual PPA (VPPA), involves an offsite facility that delivers energy to the market rather than to your physical location. Pricing for VPPAs takes the form of somewhat complex contracts that can net favorable economics for your company, but it's best to work with an expert partner to maximize the upside.
Other companies opt for renewable energy certificates (RECs), which is one of the easiest ways to incorporate clean energy into your sustainability plan. This is a paper transaction; no energy is delivered to your site. Utilities, retail electric power providers, and REC brokers can sell the certificates to you.
And finally, many utilities offer programs that allow you to select a 'green' billing option. Your payment supports a renewable plant the utility operates or green energy purchases it has made.
Demand side
Cities like New York are paving the way with aggressive energy efficiency standards in keeping with the adage that the least expensive megawatt is the one never used. It's a maxim that businesses are wise to adhere to when working on their sustainability strategy. Before you add more electric supply, ensure you have maximized all cost-effective energy savings opportunities at your facility. Otherwise, you may inadvertently oversize your renewable energy installation or buy more energy than you need. An experienced energy partner can audit your site, recommend best practice energy savings measures, and assist with your installation.
Beyond energy efficiency, 'flexible demand' offers an additional approach to managing energy use. Think of it as technology-enabled actions that can change the answers to the questions, "When, where, and how much energy?" It allows businesses to tap into the power of smart technologies to best manage the energy they buy and the energy they consume. Businesses use onsite resources, such as hot water heaters or EV chargers, to change their consumption patterns at the direction of communication and control technologies while still performing their required functions. Demand response is a common form of demand flexibility.
Electric vehicles (EVs)
Transitioning your fleet from fossil fuels to electricity can significantly reduce your carbon footprint. EVs do not emit carbon dioxide from burning fossil fuel because they use batteries charged with electricity. Exactly how green your fleet becomes will depend on how green the power is that's delivered to your facility. Some businesses choose to install onsite solar panels to power their EV charging stations to further reduce their fleet's carbon footprint. When you charge matters, too, in terms of curbing emissions and minimizing costs. As our company works to fully electrify our vehicle fleet by 2030, we're learning and applying many of these lessons ourselves.
Pursuing these sustainable energy practices can significantly reduce your carbon footprint. To put it in perspective, solar powers only about 2.3 percent of electricity in the US, yet it would take two billion trees to achieve as much carbon offset as the solar industry does, according to SEIA. Businesses consume 60 percent of U.S. electricity; if they switch to renewable energy, they can make a real difference in tackling the climate challenge.
But where do you begin? What's the best approach to clean energy for your facility? There is no one-size-fits-all solution. Much will depend on your facility's goals and operations, your geographic location, and your current energy contracts.
It's best to take a holistic view of your energy plan and consider both your sustainability and fiscal goals. Remember, sustainability is a journey and it's one that our team is ready to take with progressive, forward-thinking companies like yours.