Discover Gildan's Refugee Program on World Refugee Day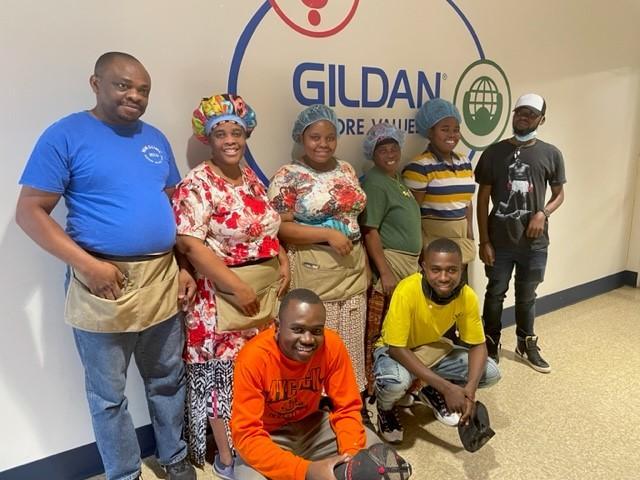 Discover Gildan's Refugee Program on World Refugee Day
This World Refugee Day, discover Gildan's refugee program activated at some of its yarn-spinning facilities in North Carolina. This program supports individuals from Afghanistan, Pakistan, Lebanon, Ethiopia, Egypt, Syria, Iran, Uganda, Congo, Sudan, Burundi, Rwanda, Morocco, and Guyana, who have left their homes due to challenging conditions and are building their lives in a new place.
Launched in 2022, this employee-initiated program was first mobilized by the Human Resources team in Salisbury in search of new talent. Given the refugee community in the region and individuals' interest in finding employment, Gildan turned to this group through partnerships with local organizations and NGOs and began recruiting interested candidates.
"Within a short span of time, what began as a recruitment strategy grew into an initiative that strengthens our workforce locally," says Jim Powers, Director, Human Resources at Gildan. "More importantly, it allows us to meaningfully support and guide this group of individuals as they settle into their new lives in the U.S."
As part of this program, interested applicants are invited to Gildan's facilities to fill out job applications, participate in an interview, and tour the yarn-spinning facility. If hired, individuals then undergo Gildan's regular employee onboarding, accompanied by rigorous health and safety trainings. Individuals leading this initiative locally are also given cultural sensitivity training to ensure that respect for different backgrounds is upheld and inclusivity is fostered in the workplace.
In partnerships with NGOs and several regional organizations, Gildan also lends a hand to these individuals beyond work to help smoothen their transition to a new country. For instance, Gildan assists in securing housing, a valuable support in cases where individuals don't have an existing credit history. Another offering is increased access to English language courses.
By far, one of the most beneficial aids the Company provides to this group of employees, as well as to those who may have migrated from other countries, is transportation assistance, increasing their ability to commute long distances, because acquiring a drivers' license in a foreign country can often pose a barrier. Finally, Gildan helps this group of employees with other areas of life, including providing food vouchers, and partnering with local banks to improve employees' access to financial services in the U.S.
"I am incredibly proud of my HR team for bringing this initiative to life that has made a positive impact on both our organization and the individuals hired through it," continues Jim. "Navigating one's way through a foreign country is difficult, and we are glad that this program can help our employees feel both welcome and supported as they go through this big life change." 
Find out more about Gildan's respect for people here.