Dell Plans Pilot to Ship Products in Mushroom Packaging
By Oliver Campbell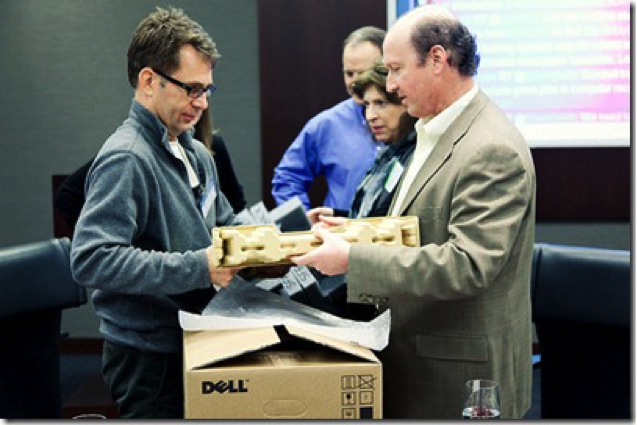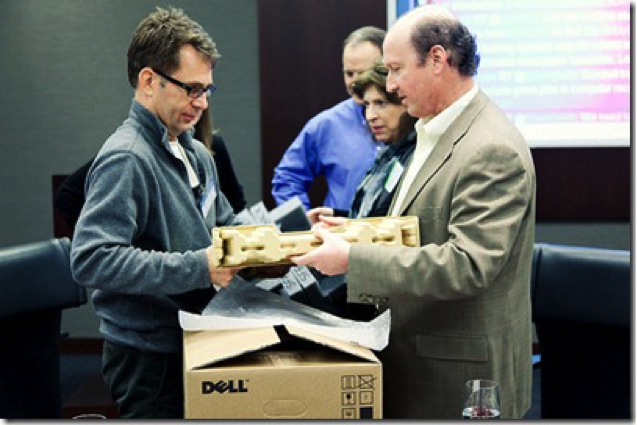 Originally published on Direct2Dell
The power of green drives our sustainable packaging strategy.  Today we're excited to announce the latest material innovation that allows shipment of some of our products in a earth friendly way. Harvesting and using this organic material is being praised in the media and its story is one you
will hear much about in the coming months. Dell's is announcing the beginning of a pilot for mushroom
based packaging.
While it sounds unusual  this is an advanced biotechnology, that has been sponsored by the National Science Foundation, the US EPA, and the USDA, among others, as a way to utilize common agricultural waste products such as cotton, rice, and wheat chaff to replace styrofoam and polyethylene used as
cushioning for packaging and other applications.  We've tested the mushroom cushioning extensively in the lab to ensure it meets our same high standards to safely protect our products during shipment – and it passed like a champ.  Now we're ready to take the next step and we're proud that Dell is
the first technology company to start pilot shipments.  The initial pilot shipments will be for the PowerEdge R710 server in the Multipack packaging configuration.  Four systems fit in one box which dramatically reduce packaging material.  For our customers the reduced number of boxes Multipack provides makes it easier and faster for them to deploy their servers.  The combination of Multipack and Mushroom cushioning make for a super green solution. And best of all, the organic based
mushroom cushions are easily composted after use. 
The mushroom cushioning is unique because it is grown and not manufactured in the traditional sense.  The process works like this.  Waste product like cotton hulls are placed in a mold which is then
inoculated with mushroom spawn.  Our cushions take 5 – 10 days to grow as the spawn, which become the root structure – or by the scientific name, mycelium – of the mushroom.  All the energy needed to form the cushion is supplied by the carbohydrates and sugars in the ag waste.  There's no need for
energy based on carbon or nuclear fuels.  Now you know why there has been such interest in mushroom packaging.
Mushroom packaging can become a great complement to our bamboo packaging program which we initiated in November 2009. We believe mushroom packaging is best suited to our heavier products like servers and desktops.  Bamboo's characteristics are more suited as a cushion for notebooks and smartphones. Currently we are shipping approximately half of our Inspiron line of consumer laptops in bamboo. We are beginning to ship our Latitude laptops to business customers in bamboo and are also shipping our Streak tablet, and our Venue Pro smartphone in bamboo.
Over the past several years Dell has made great progress in developing and delivering packaging solutions that are much more earth friendly than traditional  packaging of the past. We adopted a policy called the three C's where we focus on the cube, or reducing the size of our boxes, the content, which
consists of what materials we use inside the box and curb, which focuses on using materials convenient and acceptable for local recycling services. 
Our goals are aggressive. Dell plans to eliminate about 20 million pounds of packaging material from our shipments by the end of 2012. We're also cutting desktop and laptop packaging by around 10 percent,
increasing sustainable content in cushioning and corrugate packaging by 40 percent, and ensuring 75 percent of our packaging components are curbside recyclable by 2012. 
This topic is part of what we're currently discussing at the Fortune Brainstorm Green conference (#FortuneGreen) this week in California. Last week we heard resounding positive feedback from customers, experts and bloggers who participated in our CAP Days event on sustainability.
Today's announcement is just the latest way in which Dell is reinforcing its deep commitment to protecting our customers technology and delivering it in an environmentally responsible way.  That's the power of green to help our customers do more.
Follow Oliver on Twitter: @Oliver_Campbell
#DellCAP Photos and videos by Austin-based Fittotweet.com.
This story shares one example of how Dell is committed to driving human progress by putting our technology and expertise to work where it can do the most good for people and the planet.
We invite you to explore our FY17 Annual Update on our 2020 Legacy of Good Plan at legacyofgood.dell.com.