Delivering PPE to the Front Lines in Louisiana
Delivering PPE to the Front Lines in Louisiana
International Paper Donates Boxes to LSU PPE Production Effort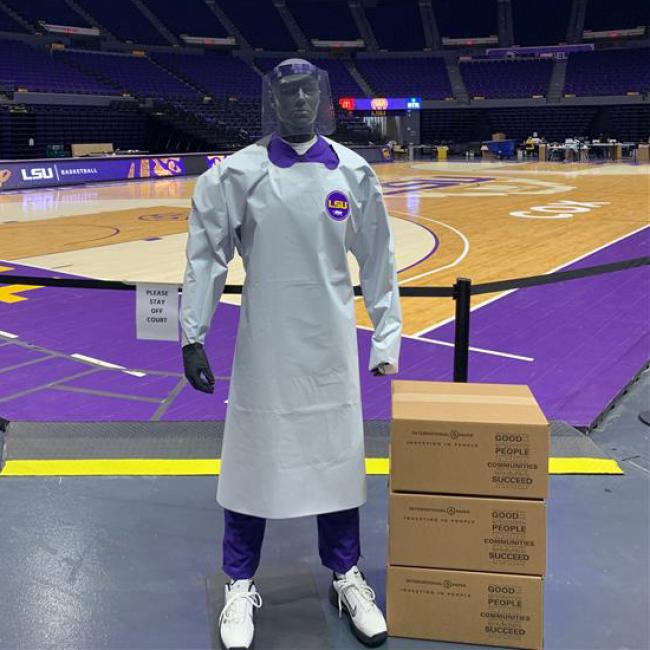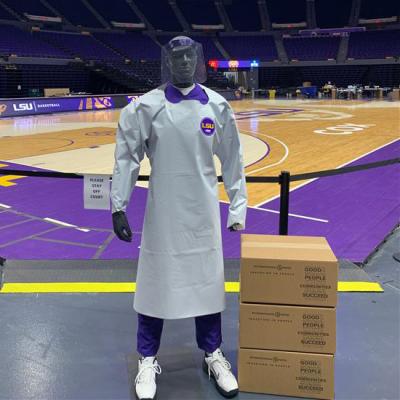 Monday, May 11, 2020 - 10:30am
In April, Louisiana State University (LSU) began large-scale production of personal protective equipment (PPE) as part of its statewide response to support medical professionals on the front lines of the COVID-19 pandemic. International Paper provided 800 corrugated boxes to assist with the safe transportation of the PPE.
When Adelyn Shankle, college relations manager for International Paper, first learned of the university's effort to produce gowns for Louisiana's doctors and nurses, she asked how International Paper, one of the largest producers of packaging, pulp and paper, could help. Learning that LSU needed boxes to transport the gowns, she worked with the company's community engagement team to source an appropriately sized box that would package 25 gowns at a time.
"Our boxes are essential to safely transporting these products," said Shankle. "We have eight facilities in the state of Louisiana, and we're proud to not only support a campus partner but also the communities where our more than 1,700 employees in the state live and work."
Staffed entirely by LSU employees, the university's Pete Maravich Assembly Center, or PMAC, has been put to work producing 1,000 heavy-duty, reusable medical gowns daily. International Paper boxes will enable the transportation of 20,000 gowns to hospitals in Louisiana, coordinated by the Governor's Office of Homeland Security and Emergency Preparedness (GOHSEP).
"We are grateful for the donation of 800 boxes by International Paper as LSU continues its statewide fight against COVID-19," said LSU Interim President Thomas C. Galligan, Jr.
Thank you to our team members in the Olive Branch, Miss. Box Plant who are safely working to produce these essential boxes every day.
Click here to learn more about LSU's novel PPE production effort.
About International Paper
International Paper (NYSE: IP) is a leading global producer of renewable fiber-based packaging, pulp and paper products with manufacturing operations in North America, Latin America, Europe, North Africa and Russia. We produce corrugated packaging products that protect and promote goods and enable worldwide commerce; pulp for diapers, tissue, and other personal hygiene products that promote health and wellness; and papers that facilitate education and communication. We are headquartered in Memphis, Tenn., employ more than 50,000 colleagues and serve more than 25,000 customers in 150 countries. Net sales for 2019 were $22 billion. For more information about International Paper, our products and global citizenship efforts, please visit internationalpaper.com.