Corporate Social Investments Continue to Rise, With Average Giving Up 7% in Last Three Years, Industry-Leading Report Finds
Companies in top 25% of corporate giving each contributed $62 million or more in social investments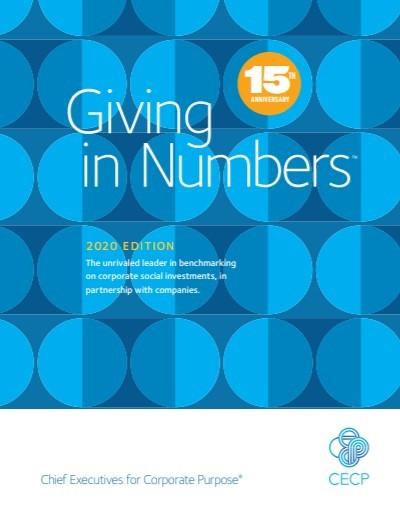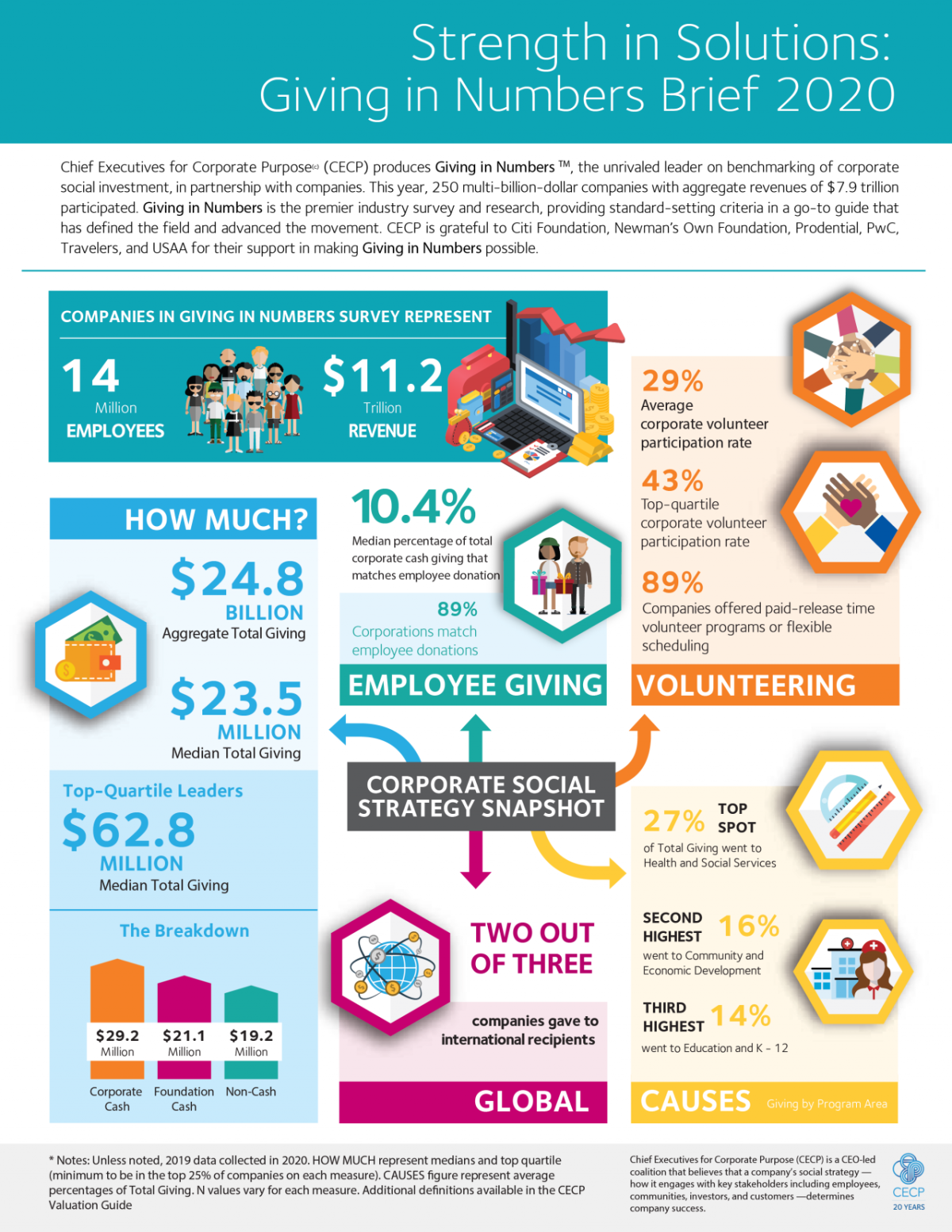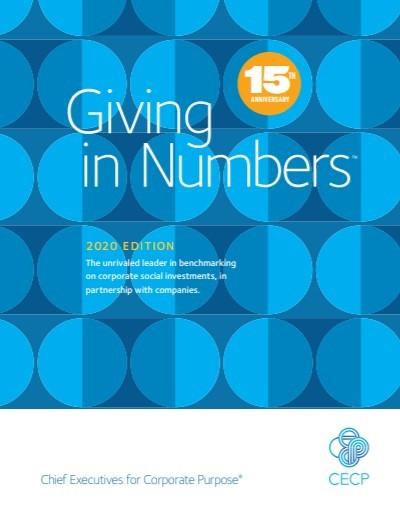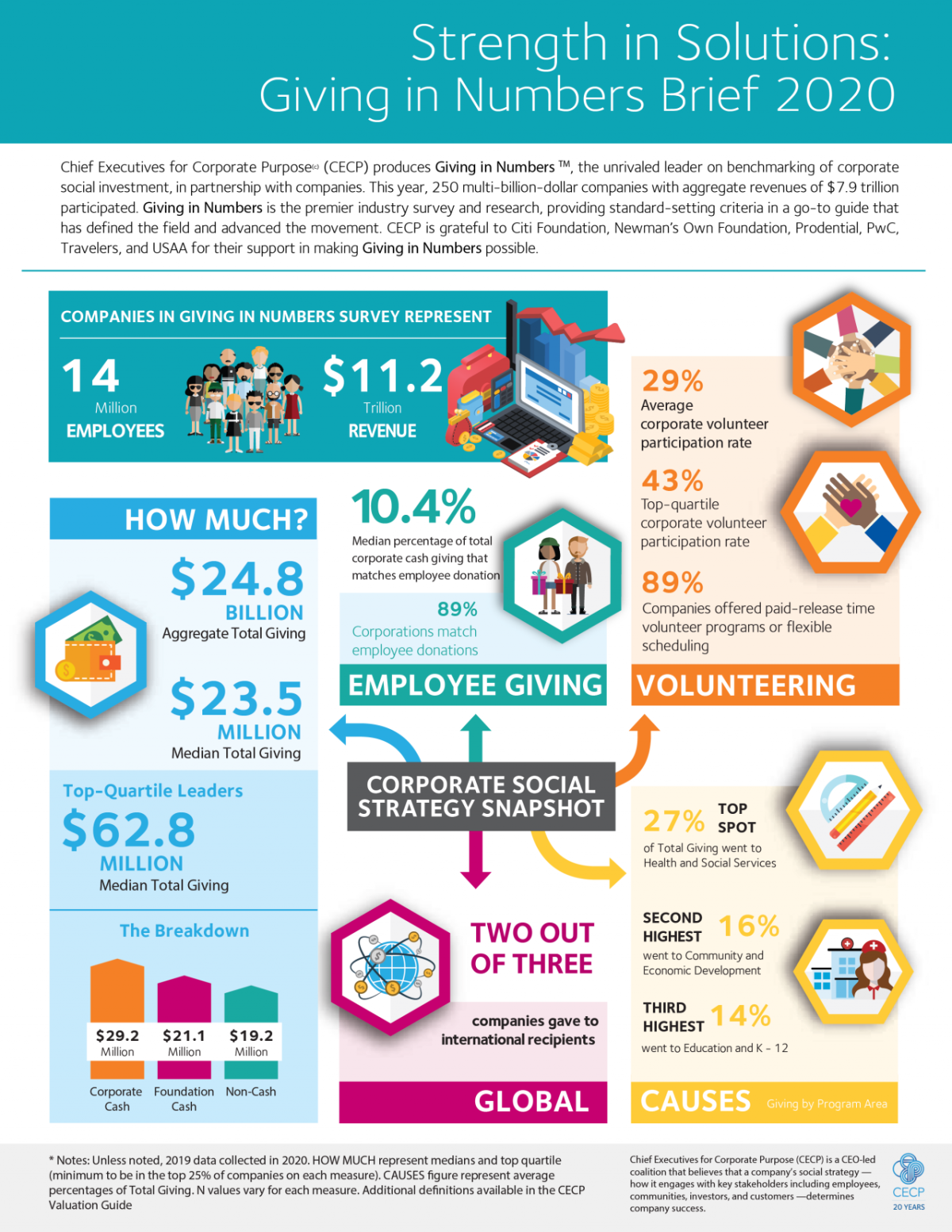 NEW YORK, October 29, 2020 /3BL Media/ — As the unrivaled leader in benchmarking on corporate social investments, in partnership with companies, Chief Executives for Corporate Purpose® (CECP) found in its annual Giving in NumbersTM: 2020 Edition report that leading corporations are intensifying efforts to meet growing societal needs around the world.
Among the key findings in this year's report are that total corporate social investments increased by 7% over three years to a record $28 billion; international giving rose 49% from 2017; corporate purpose is proliferating among employees with 70% of companies reporting that all or most employees know its purpose statement; and employee volunteering saw a 26% increase in the number of hours volunteered since 2018 while the participation rate remains steady at 34%.
The top 25% of companies—or top quartile--when measuring total giving, gave at least $62.83 million in 2019, or 1.79% of pre-tax profit. Median total giving in 2019 among all 250 respondents was $23.50 million (0.91% of pre-tax profit).
As companies face the wider economic and cultural impacts of Covid-19 and the rise of social justice movements, CECP will continue to track the corporate decision making and planning during this year of uncertainty. CECP is collecting real-time data from companies through a series of Pulse Surveys, helping our partners gauge current practices in the field. Findings include:
89% of companies confirmed that they had taken some form of action related to COVID-19; CECP has tracked more than 180 racial equity commitments from companies.
73% of respondents expected their diversity, equity, and inclusion budgets to increase in the next year
75% of companies are supporting employees in voting
"The last seven months have been a true test of corporate commitment to their significant stakeholders. CECP's Giving in Numbers report provides evidence that companies are investing in solutions to social issues," said Daryl Brewster, CEO, CECP. "And we are seeing that support accelerate in the wake of the global pandemic and the social justice movement."
CECP, a coalition of more than 200 of the world's largest companies with a combined annual revenue of more than $11.2 trillion, released Giving in Numbers: 2020 Edition, the premier industry survey and research of 250 of the world's largest global corporations, providing standard-setting criteria in a go-to guide that has defined the field and advanced the movement. Now in its 15th year, Giving in Numbers has the largest and most historical data set on trends in the industry, shared by more than 500 multi-billion-dollar companies representing more than $550 billion in corporate social investments over that time span. 
"The state of our nation and world causes us to expect more from the social sector than ever before. We rely on nonprofit organizations to step up on social justice, racial equity, income inequality, and poverty relief- even as the organizations themselves also face their own most challenging times. That makes data on the corporate sector's community investments electrifyingly crucial," said Carmen Perez, Senior Director, Data Insights, CECP. "We hope Giving in Numbers will inspire anew the leaders of corporate social impact programs to champion the expansion of their actions using the industry-leading benchmarking to make their case and elevate their influence."
Key findings from this year's survey (on 2019 data) include:
Community investments continued to increase: total community investments increased by 7% between 2017 and 2019. The Health Care industry was again this year the main driver of this increase in contributions. 
 
Corporate purpose spreads across the company: seven out of ten companies reported that most or almost all employees would know their company's corporate purpose. Data collected in response to this new survey question showed that 84% of companies perceived that their C-Suite executives would frequently or very frequently refer to their company's corporate purpose in documents, emails, meetings, or plans, whereas only 66% of companies reported that employees perceive middle management to do the same.
 
Matching gifts decreased: the overall median dollar value of matching gifts decreased by 18% between 2017 and 2019. Reasons may include that teams may be communicating/ encouraging matching-gift programs less than they used to; another factor may be budget reductions. Year-Round Policy was the only matching-gift program that increased its median cash contributions in the last three years.
 
International giving is on the rise: international giving grew by 49%, signaling greater focus on international end-recipients across multi-billion-dollar companies represented in Giving in Numbers.
 
Volunteer participation remains strong, driven by time flexibility: the average volunteer participation rate has remained steady in the last three years, rising only from 33% to 34%. Volunteer participation rates increase when employees have access to more flexible volunteering opportunities. There is an increasing trend of companies offering both Paid-Release Time and Flexible Scheduling, so employees can decide whether they volunteer on or outside company time.
 
Volunteer hours increased, driven by access to hours away from work to volunteer: the most common number of hours offered annually for volunteering was eight. The total number of hours volunteered both on and outside company time increased by 26% in the last three years.
 
Measurement of social outcomes keeps growing and being strategic: companies' measurement of social outcomes and impacts continued to rise and to be applied mostly to strategic programs. A similar proportion of companies measure the business value of community investments through employee metrics (40%) and brand/customer metrics (38%).
This year's survey included new questions to enrich research on CECP's cutting-edge metric Total Social Investment, to holistically capture the broadening depth and breadth of corporate social investments. These questions covered socially driven internships, impact investing, and more. Total Social Investment ($) sums up a company's resources used for "S" in ESG efforts defined by CECP Valuation Guidance and is cited as an expanded metric in the World Economic Forum's Measuring Stakeholder Capitalism: Towards Common Metrics and Consistent Reporting of Sustainable Value Creation'.
Key insights from the Giving in Numbers Survey of 2020 data were released at the first ever virtual CECP Summit in May 2020. CECP also created an accompanying infographic illustrating five indicators from Giving in Numbers to accompany the organization's newest trends release, Investing in Society, the corporate sector's annual purpose report available here.
CECP-affiliated companies access custom analysis of the data at no additional cost through CECP's secure online portal or by contacting CECP. 2019 data are now available online.
CECP is grateful to Citi Foundation, Newman's Own Foundation, PwC, Prudential Financial, Inc., The Travelers Companies, Inc., and USAA for their support in making Giving in Numbers possible.
Note to Editors: Carmen Perez and Andre Solorzano are available for comment and a more in-depth look at the community investment data collected from 250 of the world's largest companies.
#  #  # 
ABOUT CHIEF EXECUTIVES FOR CORPORATE PURPOSE (CECP)
Chief Executives for Corporate Purpose® (CECP) is a CEO-led coalition that believes that a company's social strategy—how it engages with key stakeholders including employees, communities, investors, and customers—determines company success. Founded in 1999 by actor and philanthropist Paul Newman and other business leaders to create a better world through business, CECP has grown to a movement of more than 200 of the world's largest companies that represent $11.2 trillion in revenues, $23 billion in total community investments, 14 million employees, 30 million hours of employee engagement, and $21 trillion in assets under management. CECP helps companies transform their social strategy by providing customized connections and networking, counsel and support, benchmarking and trends, and awareness building and recognition. For more information, visit cecp.co.