Corporate Conversations on Purpose Continues With Episodes Focused on Stakeholders
Business Leaders Translating Purpose into Business Success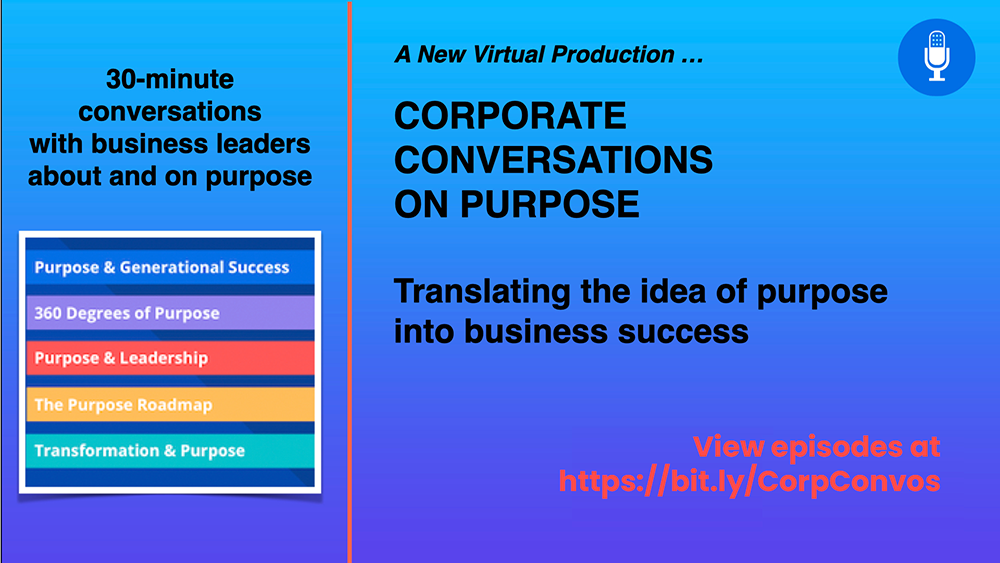 June 29, 2022 /3BL Media/ - Purpose is the new frontier for performance and competitive advantage in today's ever-changing and ever-challenging business landscape.
Phil Preston, CEO of The Business Purpose Project and Lynne Filderman, Founder of Curation On Purpose LLC are pleased to announce the release of the next three installments Corporate Conversations on Purpose (CCoP), a series of 30-minute virtual conversations with business leaders and advisers who offer their expertise and candid insights into navigating purpose-based transformation.
"Purpose impacts every corner of a corporation and therefore we need to hear from the wide range of people who are doing and enabling the transformation process", said Phil Preston, co-host of Corporate Conversations on Purpose, who adds, "These conversations provide crucial insights and instill confidence in those who are leading and driving change."
All episodes can be found on:
https://businesspurposeproject.com/resources/corporate-conversations-on-purpose/
The latest episodes feature:
Bobbi Silten, Managing Director, Shared Value Initiative - "Centering Equity in Corporate Purpose"
Jennie McLaughlin, Founder of Purpose Led Transformation - "Leaders Can Kickstart Transformation"
Rachel Hutchisson, VP, Global Social Responsibility, Blackbaud – "Bringing Purpose to Life with Storytelling"
"Our conversations with these three business leaders underscore how purpose and ESG are viewed through very different prisms. At the same time, they focus on stakeholders – whether employees or investors or C-suite leaders – to measure what matters and use the art of storytelling to bring data and empathy to the forefront," noted Lynne Filderman, chief curation officer of Curation On Purpose and co-founder of Corporate Conversations on Purpose.
Previous episodes feature: Megan Fielding (Nuveen), David Harrington (Strategist, ex-IAG), Brad Gurrie (SocialSuite), Whitney Dailey (now with Allison+Partners), Christine Holman (Non-Executive Director), Tim King (Melior Investment Management), Rik Haslam (Brandpie), Sarah Downie, (Shared Value Project) and Ben Smithee (The Smithee Group)
We are honored to feature our partners 3BL Media and AmpSlide. As a news and information distribution platform, 3BL Media, a triple bottom line company, features the purpose-driven content of leading companies and organizations. Ampslide is an innovative platform designed to engage audiences anywhere, anytime–an all-in-one event and content hosting platform maximizing ROI for sales and marketing teams.
Interested in being a featured guest, creating your own in-house conversations or exploring the benefits of sponsorship? Contact us at ask@businesspurposeproject.com