Announcing the Corporate Conversations on Purpose Insights Pack
Announcing the Corporate Conversations on Purpose Insights Pack
Summary of Insights from 15 Episodes About Purpose Transformation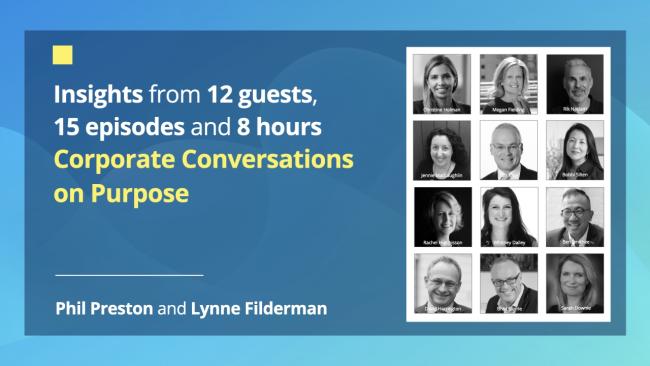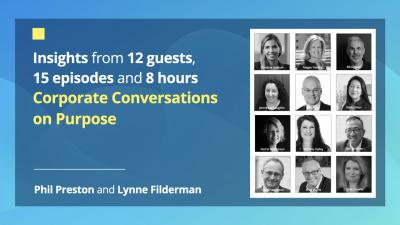 Tuesday, September 27, 2022 - 4:00pm
Phil Preston, CEO of The Business Purpose Project and Lynne Filderman, Founder of Curation On Purpose are pleased to release their summary insights pack from the Corporate Conversations on Purpose series.
"Global leaders are increasingly turning to corporate purpose transformation to boost profits, competitive advantage and increase valuations" according to Phil Preston, co-host of Corporate Conversations on Purpose.
The Insights Pack summarises the 15 episodes with 12 corporate professionals in which we examined the purpose roadmap, purpose and leader leadership and transformation. Here are a few observations:
Purpose is a compass for navigating complexity and must connect to strategic opportunity
CEOs must make a genuine commitment, it's not a compliance activity
Stakeholders increasingly expect alignment between business and society, and
they are demanding greater transparency
Embedding purpose in operations and KPIs is hard work that pays off
Don't expect perfection, just get started!
Lynne Filderman notes, "We had the opportunity to have conversations with corporate professionals working behind the scenes on the difficult work of purpose transformation," noted Lynne Filderman, "And, we wanted to provide a summary of insights they shared with us on their purpose journey."
You can download the Insights Pack from:
https://businesspurposeproject.com/download-corporate-purpose-summary-insights/
The Corporate Conversations on Purpose episodes feature: Bobbi Silten (Shared Value Initiative); Jennie MacLaughlin (Purpose Led Transformation); Rachel Hutchisson (Blackbaud); Megan Fielding (Nuveen); David Harrington (Strategist, ex-IAG); Brad Gurrie (SocialSuite); Whitney Dailey (Allison+Partners); Christine Holman (Non-Executive Director); Tim King (Melior Investment Management); Rik Haslam (Brandpie); Sarah Downie (Shared Value Project); and Ben Smithee (The Smithee Group).
We are honored to receive the support of our partners in 3BL Media and AmpSlide. As a news and information distribution platform, 3BL Media, a triple bottom line company, features the purpose-driven content of leading companies and organizations. Ampslide is an innovative platform designed to engage audiences anywhere, anytime–an all-in-one event and content hosting platform maximizing ROI for sales and marketing teams.
If you are interested in creating your own in-house conversations or exploring the benefits of sponsorship, contact Lynne or Phil via ask@businesspurposeproject.com