Congratulations to the 2019 Construction Excellence Awards Winners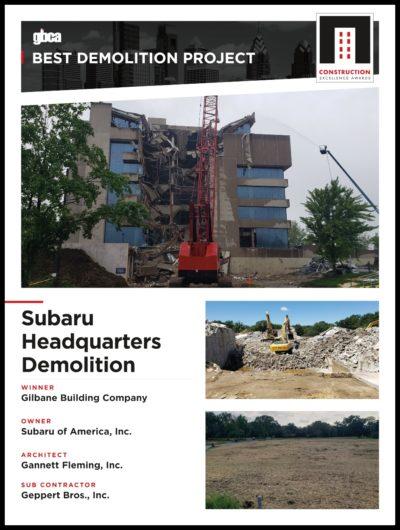 Originally published on Green Building Contractors Association website
Congratulations to the winners of the 2019 Construction Excellence Awards! On November 21, GBCA celebrated the best projects and programs from Philadelphia's commercial construction industry at a gala event at Vie. Thanks to Gina Gannon of 6abc for hosting the event, and to the event's sponsors!
Owner: Subaru of America, Inc.
Architect: Gannett Fleming, Inc.
Other GBCA Members Involved:
Gilbane Building Company provided demolition management services for the Subaru Headquarters building in Cherry Hill, NJ. For the two-month demolition of the seven-story steel frame and concrete deck building, Gilbane focused on ensuring worker and equipment safety, and quality demolition. Gilbane conducted weekly safety inspections and potential hazards were rectified immediately. It also held weekly Monday morning safety stand downs with every tradesperson on site and reviewed a specific safety item that would have been relevant to the project. To ensure a quality demolition, Gilbane, Subaru, and Geppert Bros., Inc. collaborated to minimize waste and environmental damage. The project successfully diverted 97 % of the total construction demolished materials from going to landfills.