Community Action Lehigh Valley Receives $150,000 Grant From KeyBank Foundation To Support The Seed Farm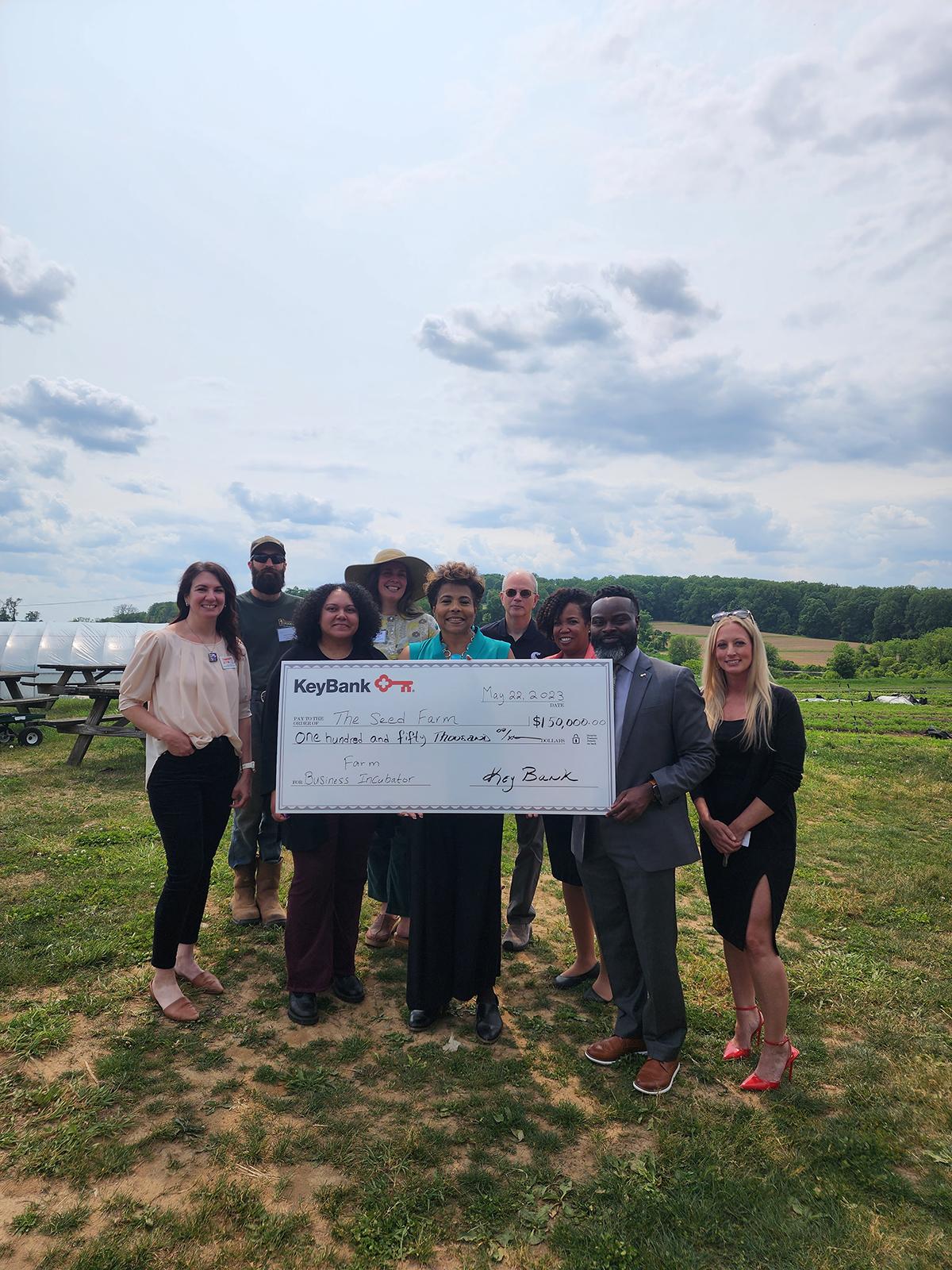 From left - Amy Boccadoro, Associate Executive Director for Planning at Community Action; David Sell, Farm Manager at The Seed Farm; Julianna Gimpert, Planner at Community Action; Katy Hunter, Program Administrator at The Seed Farm; Dawn Godshall, Executive Director at Community Action; Dawn Godshall, Executive Director at Community Action; Chris Hudock, Associate Executive Director for Business Development at Community Action; Lesa Christian, Branch Manager, KeyBank Emmaus branch; Chiwuike Owunwanne, Corporate Responsibility Officer & Community Relations Manager, KeyBank; and Heather Andujar, Loan Officer, KeyBank.
BETHLEHEM, Pa., June 7, 2023 /3BL Media/ - Community Action Lehigh Valley has received a three-year, $150,000 grant from KeyBank Foundation to support The Seed Farm, a partner of Second Harvest Food Bank and program of Community Action Lehigh Valley, an anti-poverty nonprofit aiming to improve the quality of life by building economic opportunity. The Seed Farm provides new farmers with valuable, practical experience and skills on their training farm as well as the opportunity to launch sustainable farm businesses on site in Emmaus, PA.
The Seed Farm carries out a critical part of Second Harvest Food Bank's mission through its agricultural incubator program, which provides new agricultural businesses with intensive training in production, marketing, business planning, and equipment operation, helping to remove barriers to economic opportunities that new farmers often face. With assistance from The Seed Farm, many viable and diverse farm businesses have been launched, which in turn, contribute to the production of nutritious, locally grown food distributed to under-resourced communities by Second Harvest Food Bank's charitable food network.
"Our agricultural incubator provides access to land, equipment, education, and infrastructure to address the barriers of new farm entry, with an emphasis on access for Black, Indigenous, People of Color, and women," said Katy Hunter, Program Administrator. "Our goal is to help new farmers create viable careers to address the concerning decline in farms across our region and the nation, and we are thrilled that KeyBank sees value in our work."
Developed by Lehigh County and Penn State Extension to support the farmland preservation program, The Seed Farm was established to cultivate the next generation of farmers to take over preserved farmland. Since 1989, Lehigh County has preserved over 26,000 acres of farmland. In 2019, The Seed Farm merged with Community Action Lehigh Valley's Second Harvest Food Bank. Through the merger, The Seed Farm continues its core mission of growing new farmers and strengthening the local agriculture system, while also taking on a more focused approach to utilizing the charitable food network for food distribution.
"As a community-minded bank, KeyBank's mission is to help our clients and communities thrive," said KeyBank Corporate Responsibility Officer & Community Relations Manager, Chiwuike Owunwanne. "The Seed Farm's mission aligns closely with Key's philanthropic focus areas such as job creation and workforce development, the removal of barriers to economic opportunities for diverse populations and addressing food insecurity for our most vulnerable citizens. We are proud to support their work."
About Community Action Lehigh Valley
Community Action is an anti-poverty nonprofit that improves the quality of life by building a community in which all people have access to economic opportunity, the ability to pursue that opportunity, and a voice in the decisions that affect their lives. Community Action offers programs and services in: Advocacy, Business Start-Up and Development, Food Access and Nutrition, Housing, Neighborhood Revitalization, and Youth. To learn more, visit communityactionlv.org or @communityactionlv.
About The Seed Farm
The Seed Farm provides training opportunities, access to land and equipment, and business start-up assistance to emerging farmers on their 42-acre farm in Emmaus, PA. Through the Farm Business Incubator program, beginning farmers with business plans may launch their own farm on site. They produce and market their own products, while having access to land, equipment, and infrastructure at reduced rates and receive continued guidance from farm mentors and Seed Farm staff. To learn more, visit theseedfarm.org or @theseedfarm.
About KeyBank Foundation
KeyBank Foundation serves to fulfill KeyBank's purpose to help clients and communities thrive, and its mission is to support organizations and programs that prepare people for thriving futures. The Foundation's mission is advanced through three funding priorities – neighbors, education, and workforce – and through community service. To provide meaningful philanthropy that transforms lives, KeyBank Foundation listens carefully to understand the unique characteristics and needs of its communities and then backs solutions with targeted philanthropic investments. KeyBank Foundation is a nonprofit charitable foundation, funded by KeyCorp.
About KeyCorp
KeyCorp's roots trace back nearly 200 years to Albany, New York. Headquartered in Cleveland, Ohio, Key is one of the nation's largest bank-based financial services companies, with assets of approximately $198 billion as of March 31, 2023. Key provides deposit, lending, cash management, and investment services to individuals and businesses in 15 states under the name KeyBank National Association through a network of approximately 1,000 branches and approximately 1,300 ATMs. Key also provides a broad range of sophisticated corporate and investment banking products, such as merger and acquisition advice, public and private debt and equity, syndications, and derivatives to middle market companies in selected industries throughout the United States under the KeyBanc Capital Markets trade name. For more information, visit https://www.key.com/. KeyBank Member FDIC.