CNH Industrial Employees Volunteer at Local Charities in Saskatoon
CNH Industrial Employees Volunteer at Local Charities in Saskatoon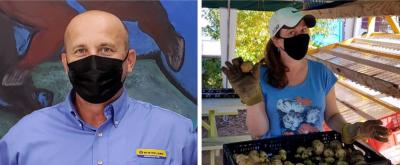 Thursday, May 6, 2021 - 4:00pm
As a global manufacturer of agricultural equipment CNH Industrial helps farmers around the world to become more productive and more sustainable. Beyond that the Company also supports its local communities through volunteering and giving back with a strong emphasis on food security.
Late last year, CNH Industrial employees at the New Holland Agriculture manufacturing site in Saskatoon, Canada volunteered in support of both the Saskatoon Food Bank and Saskatchewan Indian Métis Friendship Center. Both volunteering opportunities were in addition to financial support provided to the organizations and part of CNH Industrial's Solidarity Fund initiative which helps local communities that are struggling with the impacts of COVID-19.
Priscilla Weinmaster, CNH Industrial Senior Analyst, who was a volunteer at the Saskatoon Food Bank's community garden patch, said, "It was a wonderful, positive experience. We helped pack food at the garden stand, which is delivered to a food bank and a nutrition center. Their staff offers recipes along with the food in the box and teaches those in need how to use it in the best way possible."
Dan Lanceleve, CNH Industrial Production Manager volunteered with the Saskatchewan Indian Métis Friendship Center, which works to improve the lives of Indigenous people in the Saskatoon area. He said, "The Métis Friendship Center is where those in need can go for a meal and company. It has been a positive force in the community for over 50 years. Our company's contribution resulted in donating and delivering 200 pounds of food to the center's food bank for distribution. The center is open 6 days a week, and before Covid, we could serve 60 to 200 people in the center. Now, we're doing more meal deliveries to elderly and homeless populations in our community."
Volunteering activities are an important element for CNH Industrial to strengthen community partnerships and build new ones. Many employees volunteer in their local communities throughout the year and welcome the opportunity to volunteer with local food pantries and other programs supporting the hungry.